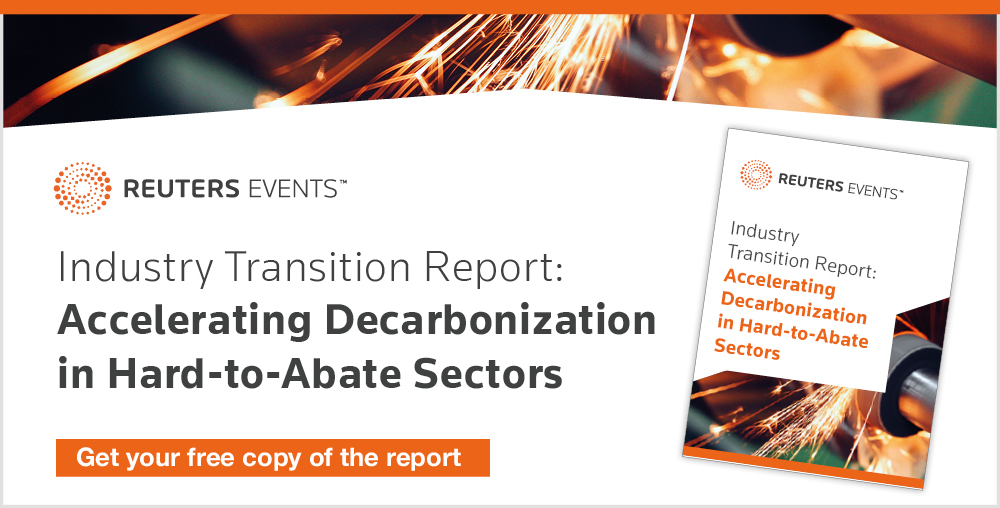 Despite making up more than 30% of emissions, industrial companies are behind the curve on decarbonization. Mining, metals, refining, long-haul transportation, and building industries must act to accelerate progress across the decarbonization trilemma.
Reuters Events latest report, Accelerating Decarbonization in Hard to Abate Sectors, unpacks pathways to delivering circular and sustainable industrial models and questions which sectors are best equipped for success.
Download your copy of the whitepaper today!
Request your copy of the paper today, in order to:
Unpack the importance of circularity to delivering sustainable industry and the potential of a circular economy to reduce waste, increase efficiency and maximise investment opportunity.
Deep-dive into pathways for decarbonizing hard to abate industries including electrified mining, green metals, carbon free cement and decarbonized long-haul supply chains.
Identify synergies between hard to abate sectors in order to identify the potential for new industry coalition formation to drive decarbonization across your emission scopes.
The report was produced in conjunction with Reuters Events: Industry Transition 2023 (12 – 13 September, Pittsburgh) which will launch in the coming months. If you'd like to get involved with the world's leading meeting of hard-to-abate industry executives, I'd love to hear from you.
Kind regards,
Zoe
Zoe Wadsworth
Project Director
Reuters Events
+44 (0) 2031978482
[email protected].com
Share This:
---
More News Articles