Digital Marketing is More Important than Ever!
STAND OUT From Your Competition in 2023 with EnergyNow!
Access EnergyNow's Audience of over 240,000 North American Energy Professionals
As Your Digital Marketing Partner, EnergyNow will:
CONSISTENTLY market your company on all EnergyNow platforms  (websites, emails & social media)
SHOWCASE your products and services to a large energy industry audience of over 240,000 energy professionals
BUILD your brand and increase company awareness
ESTABLISH your company as an industry expert
GENERATE identifiable sales leads with EnergyNow's exclusive LeadiD Program
PROMOTE your recruitment efforts using EnergyNow
GROW your social media presence with EnergyNow's Social Media
Consistent digital marketing on EnergyNow gets your company immediate exposure to a focused, energy industry audience. This generates more business opportunities for your company.
Begin to STAND OUT – THREE EASY STEPS
STEP #1:  Select an EnergyNow Digital Marketing Package That Suits Your Company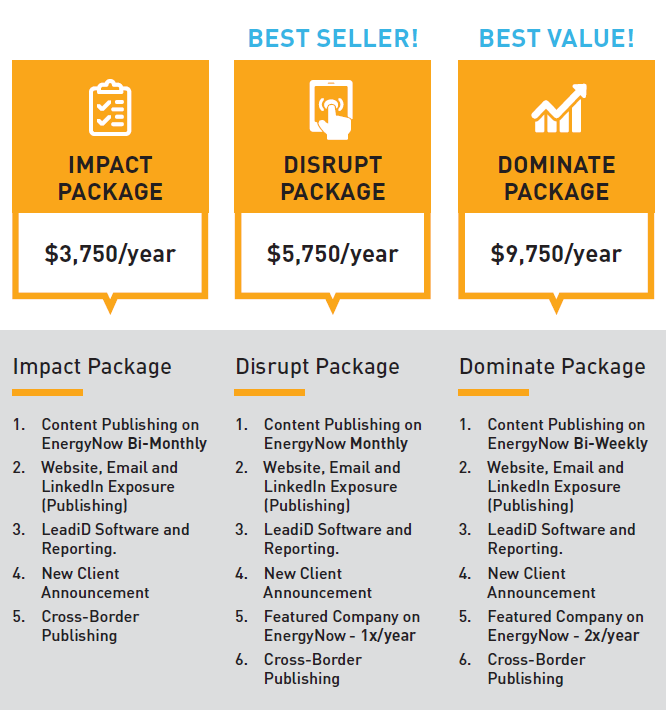 STEP #2:  Select

ONE

of THREE 

Limited

 STAND OUT Offers
1. Receive a FREE COMPANY VIDEO-DISRUPT & DOMINATE Packages Only
    Video Options Include a Short Form Corporate Profile Video or a Interview Style Video – Examples Available

OR – Don't Need a Video?

2. Receive 20% OFF on the price of ANY 12 Month EnergyNow Digital Marketing Package (IMPACT, DISRUPT or DOMINATE)
OR – Instead of 20% OFF

3. Receive 3 BONUS MONTHS on EnergyNow (15 months for the price of 12!)
STEP #3:  Get Started and STAND OUT on EnergyNow (Contact Us)
For more information on Digital Marketing Package pricing and savings, speak to an EnergyNow Sales & Marketing Specialist by completing the online form below or email us at

[email protected]
OTHER AVAILABLE MARKETING OPTIONS
Banner Advertising  – Interested in Banner Advertising?  We are presently offering some special promotions on U.S. Banner Advertising on EnergyNow.com. – Ask for More Details
Featured Employer Packages – Looking for New Employees? Showcase Your Company with an EnergyNow Featured Employer Marketing Package – Ask for More Details
Just Need a One Time Announcement for now?  – We do that too! Ask us about our special SPARK announcements and what that entails.
OTHER AVAILABLE MARKETING SERVICES – For EnergyNow Clients (those with a Digital Marketing Package or Banner Advertising)
Once you get started on EnergyNow, you may require some additional services to enhance your marketing. EnergyNow also offers a range of competitively priced services to enhance your marketing if you need them. As an EnergyNow marketing partner you gain access to experienced writers, designers, videographers, social media managers and webinar/podcast developers.
If you need assistance, EnergyNow can help you with the following content services (only through Enerpoint iMedia Corp. (EnergyNow)
Ad Design
Feature Articles
Videos
Images
Webinars
Case Studies
White Papers
Social Media Management
Interviews
Press Releases & More
Additional content services will be invoiced through Enerpoint iMedia Corp. (o/a EnergyNow)



Share This:
---
More News Articles