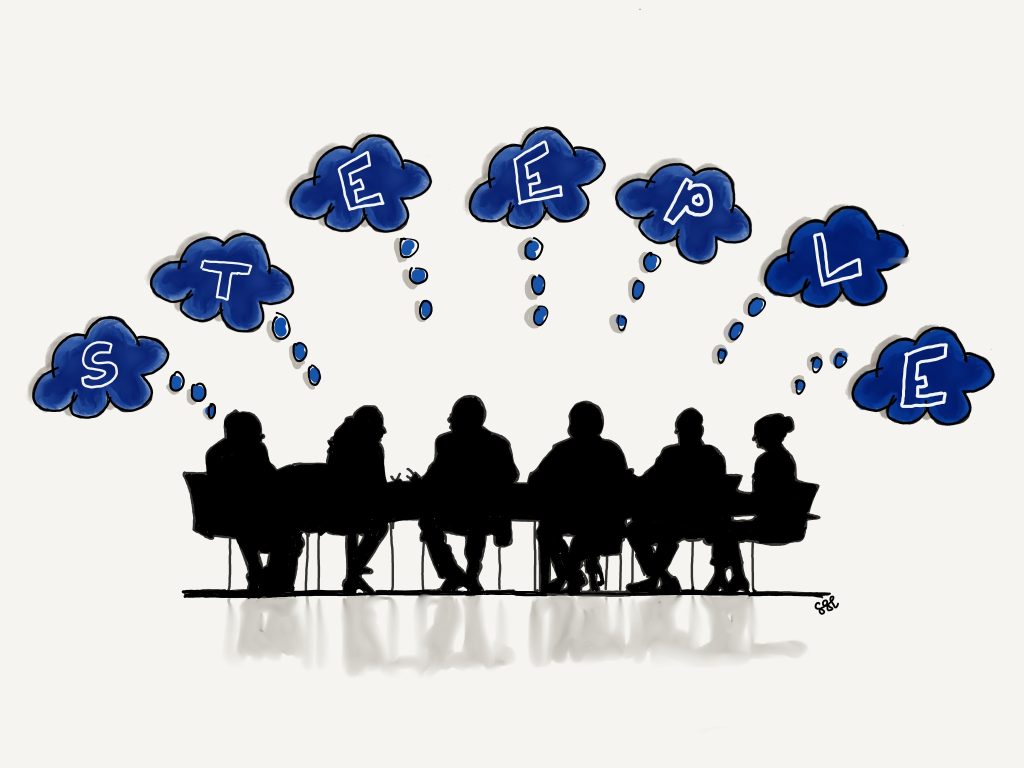 By Geoffrey Cann
At the dawn of a new year, it's helpful to check in on the bigger trends affecting the global energy industry. Keep this post handy as you get into longer term planning (Part 1).
---
Steeple Chase
I admit it. I'm an energy industry junkie. My news feeds are chock full of energy stories, I chase down obscure items that interest me, and I scrutinize energy industry changes to understand their hidden meanings and bigger implications. It's for this reason that every year around this time, I step back from the task of satisfying my daily energy news fix and focus instead on the many bigger swinging trends that are buffeting the world.
If you're working principally in operations in oil and gas, you probably don't devote much time to trendwatching either. Your day to day is more focused on hitting production targets, recovering from mishaps, ensuring the safety of your crews. It's easy to convince yourself that the impacts of the war in Ukraine on energy trade flows in the Pacific tidal basin have little day to day bearing on your work, so why bother?
If you've got kids, you might want to take an interest in this post. Kids today are getting an earful about the energy industry, little of it balanced, and most of it negative. They'll value your leadership around the dinner table as they raise questions like how crude oil prices translate into gasoline pump prices (something my kids once asked me).
Or perhaps you're going to be presenting to your peers, bosses, or employees on your plan for the coming year, and you'll want to set some context for them to explain why some changes are necessary beyond the simplistic 'help produce X cubic feet this year', or 'refine X barrels'.
Just to be clear, this is not about predictions or forecasting. Only a fool tries to predict the oil and gas industry. At best you can observe the trends that appear to be shaping the industry. You can then decide how you might want to react to the trends, if at all, since even trend lines are hard to measure with any degree of certainty and hard evidence.
In this post I'm using a framework called STEEPLE, which refers to Social, Technology, Economy, Environment, Politics, Legal, and Ethical. It's a way to categorize ideas into manageable buckets.
Social Trends
The category of social trends includes topics like demographics, shifts in settlements, human migrations, and cultural changes.
I like to consider the social trends with the biggest impacts on the energy industry which tend to be those that drive demand and supply.
From a demand standpoint, growth is in the global east, principally by China who is the largest importer of LNG, a major solar and wind producer, a massive coal consumer and big oil market.
Birth rates everywhere show the same wealth response — as economies get richer, women have fewer children. China is on track to be structurally old before it becomes sustainably wealthy. India is set to then overtake China as the most populous country this year or next. In the decades to come, African nations become the global growth engine. New energy infrastructure increasingly aims at the new growth centers.
Meanwhile, Europe and North America have experienced flat or declining fossil fuel demand for years, despite continued economic expansion. However, through decarbonisation, demand goes into visible structural decline, while the overall demand for energy remains strong. Energy suppliers diversify so as to manage through the transition. Sorting out the orderly windup or abandonment of oil infrastructure is become more real, and an opportunity to pursue.
People everywhere continue to gravitate to urban centers, resulting in population agglomerations or mega cities that are bigger than some nations, and ever smaller rural populations. Demand growth shifts to fewer larger locations. It's not an accident that big airlines are abandoning rural markets and small economies.
Skills shortages (peak people) are structurally locked in because of rapidly aging and retiring working populations in many countries, coupled with the time required to grow talent in sufficient numbers and the necessary skills (leads to the rise of robots and automation).
True continental conflict has returned to Europe for the first time in 70 years, which will drive demand for diesel fuel to rebuild Ukraine.
And finally, the pandemic changes imposed by health authorities are finally being unwound, and society will likely return to pre-pandemic activity levels within a couple of years. Primary energy demand, hammered during the downturn, will grow.
Technology Trends
Tech trends cover more ground than just digital, and include science advancements, materials, new energy, health care, and many others, but I'm mostly focused on digital for this article.
The pace of digital innovation is not abating, and is likely accelerating as investments in select foundational capabilities come to fruition. These include:
Artificial intelligence (see OpenAI) which is cracking open new areas in language processing (see ChatGPT), image processing, even art creation. AI will overhaul many privileged jobs in oil and gas that depend on high levels of education.
Robotics, which are augmenting human workers in a vast range of fields, from low tech fruit pickers to high tech pilots in the military. Same with energy infrastructure.
Satellite solutions, which bring ubiquitous high bandwidth telecommunications to the entire surface of the planet, and with it, access to everything everywhere all the time. Continuous monitoring of assets is the new baseline.
No code and low code technologies which enable citizen programmers and developers (and cyber criminals) to overcome the shortage of classically trained technologists. Talent models will have to react.
Cloud computing continues to penetrate the enterprise and will take over increasing responsibility for operations environments such as oil and gas.
Chip technology is about to go through a growth spurt driven by a rapid build up in the foundries that manufacture chips. This is driven by stresses on supply chains caused by the pandemic, economic nationalism caused by US and China rivalry, and new market entrants such as Apple.
Cyber risks are rising as those with criminal intent have access to the same digital innovations.
Digital technology and energy (manufacturing, transmission, transportation, distribution) are converging, to create new business models for making and selling energy.
Continuous space exploration, principally by robots controlled on earth, is swiftly coming into view. Technology developed for exploitation of space resources impacts oil and gas production.
Energy technology shifts towards manufacturing of electricity and shifts away from production of fuel, the cleaner the better. Energy technology benefits from being subject to Moore's Law, whereas fossil fuels have limited economies to chase.
Economic Trends
Economic trends covers such topics as markets, commodities, interest rates, employment, and much besides. Looking beyond commodity price reveals a host of important trends in the global economy.
Commitments to decarbonise economies will necessarily drive investments in new energy systems, overhaul services, and fresh equipment. Carbon becomes a hot commodity, tradable as a credit, and valued as as an economic input. The US Inflation Reduction Act is a big visible example of these investments.
At some point, western governments will work to correct their budgets that have been distorted by pandemic stimulus and war costs in Europe. By definition this means some combination of organic tax revenue growth (ie, grow the economy), tax rate increases, and cutbacks in government services. Hope for the first, plan for the other two.
Inflation-driven economics has reappeared, driven by post-pandemic growth, energy price inflation, the Ukraine invasion, rising protectionism, and decarbonization. Historically, it takes some time for inflationary pressures to be managed out of economies, and usually with considerable pain. Interest rates are rising and likely to stay elevated for months. Oil and gas is more used to this kind of volatility than other sectors.
Energy security returns as a long run western worry, now that the EU's principal energy supplier, Russia, has abandoned the EU market in favour of seizing Ukraine by force. This opens up a gilt-edged market for other energy suppliers (Canada, the US, OPEC). Energy trade flows are being dramatically and permanently reconfigured. Petro states give way to electro states.
Capital markets will continue to restrict investments in energy that negatively impacts the environment, out of fear for being held legally liable.
Capital markets and the international money system are increasingly being weaponized to enforce sanctions, protect markets, and champion social goals. As a big user of capital markets for trade credit and insurance, oil and gas will need to improve its documentation trail for provenance.
As more wealth accrues to the digital giants, and less to the makers of physical goods, tax systems will be under pressure to transform. As a real example, the customs protocols for energy products entering the US were last updated almost 30 years ago and now serve to impede, rather than enable, economic performance.
Conclusions
We're just half-way through STEEPLE. Return next week for the final installment in the trends to watch in the coming year.
---
Check out my latest book, 'Carbon, Capital, and the Cloud: A Playbook for Digital Oil and Gas', available on Amazon and other on-line bookshops.
You might also like my first book, Bits, Bytes, and Barrels: The Digital Transformation of Oil and Gas', also available on Amazon.
Take Digital Oil and Gas, the one-day on-line digital oil and gas awareness course on Udemy.
Take the one-hour Digital for the Front Line Worker in Oil and Gas, on Udemy.
Biz card:  Geoffrey Cann on OVOU
Mobile:  +1(587)830-6900
email:  [email protected]
website:  geoffreycann.com
LinkedIn:  www.linkedin.com/in/training-digital-oil-gas
Share This:
---
More News Articles