By David Yager

The two international organizations that create granular and voluminous forecasts about the future of oil and energy are the Organization of Petroleum Exporting Countries (OPEC) and the International Energy Agency (IEA).
They recently released their 2022 energy outlook documents titled World Oil Outlook (WOO) and World Energy Outlook (WEO) respectively. OPEC required 311 pages to tell its story, IEA 522.
They are very different. While they both speak for the same planet, their outlooks and approaches suggest they inhabit parallel universes.
Because in many ways they do.
OPEC sees a growing future for oil production and consumption based on population and demographics and the absence of economically viable energy alternatives. OPEC sells fuel, so its report is a large-scale, long-range supply and demand forecast.
The IEA intertwines energy and climate change, and how the former must be manipulated to impact the latter. The report focuses on why oil demand will peak by 2030 and decline thereafter, with the rates of decline impacted by government policy, not competitive energy alternatives.
That they don't agree is not surprising given their history and purpose.
The big question is which to believe in a world rife with wars, energy shortages, inflation and heavily indebted western governments.
I'm going with OPEC. Here's why.
**********
OPEC was founded in Baghdad in 1960 by Iraq, Iran, Kuwait, Saudi Arabia and Venezuela. They were joined by Qatar (1961), Indonesia (1962), Libya (1962), the United Arab Emirates (1967), Algeria (1969), Nigeria (1971), Ecuador (1973), Gabon (1975), Angola (2007), Equatorial Guinea (2017) and Congo (2018). Ecuador, Indonesia and Qatar have left leaving 13 members.
Article 2 of the 2021 version of the OPEC Statute reads:
The principal aim of the Organization shall be the coordination and unification of the petroleum policies of Member Countries and the determination of the best means for safeguarding their interests, individually and collectively.
The Organization shall devise ways and means of ensuring the stabilization of prices in international oil markets with a view to eliminating harmful and unnecessary fluctuations.
Due regard shall be given at all times to the interests of the producing nations and to the necessity of securing a steady income to the producing countries; an efficient, economic and regular supply of petroleum to consuming nations; and a fair return on their capital to those investing in the petroleum industry.
OPEC became very political globally in 1973 when it cut off oil supplies to the US and several European countries for their military involvement in the military dispute between Israel and multiple Middle East countries, the Yom Kippur War. Oil prices skyrocketed, the world went into recession, and OPEC was branded an evil cartel.
The title sticks 50 years later.
OPEC has been engaged in oil supply management with varying degrees of success for the past 50 years. Non-OPEC oil producing countries have quietly enjoyed OPEC's price support for decades. The 2020 oil price collapse caused by the COVID-19 lockdowns would have been much worse if OPEC had not joined with Russia and other non-OECD producers to withdraw 10 million b/d from markets to stabilize prices.
**********
The IEA was politicized from inception in 1974. It was created in response to OPEC and the world's first big energy crisis. Western countries – mostly oil importers – decided they must pay closer attention to world oil and energy markets. Thus a special-purpose entity, IEA, was created. It was an offshoot of the Organization for Economic Cooperation and Development (OECD).
The IEA was the "anti-OPEC," a response to the oil supply and price challenges of the day.
A 20th anniversary IEA report in 1994 contained the following about the OECD, also founded in 1960. Its purposes were:
to achieve the highest sustainable economic growth and employment and a rising standard of living in Member countries, while maintaining financial stability, and thus to contribute to the development of the world economy.
to contribute to sound economic expansion in Member as well as non-member countries in the process of economic development.
to contribute to the expansion of world trade on a multilateral, non-discriminatory basis in accordance with international obligations.
The original members were Austria, Belgium, Canada, Denmark, France, Germany, Greece, Iceland, Ireland, Italy, Luxembourg, the Netherlands, Norway, Portugal, Spain, Sweden, Switzerland, Turkey, the United Kingdom and the United States. They were joined by Japan (1964), Finland (1969), Australia (1971) and New Zealand (1973). They were all members when the IEA formed.
The IEA's stated purposes were:
co-operation among IEA participating countries to reduce excessive dependence on oil through energy conservation, development of alternative energy sources and energy research and development.
an information system on the international oil market as well as consultation with oil companies.
co-operation with oil producing and other oil consuming countries with a view to developing a stable international energy trade as well as the rational management and use of world energy resources in the interest of all countries.
a plan to prepare participating countries against the risk of a major disruption of oil supplies and to share available oil in the event of an emergency.
The biggest change since 1974 is that when the IEA was founded it was all about oil. Now it's about climate, energy poverty and human behavior.
Today the IEA advocates replacing all fossil fuels, a remarkable reversal. Energy security has been replaced by climate security. While energy security remains important, it appears to be taken for granted in the sense that energy cost and availability is secondary to carbon content.
The lines between OPEC and IEA were drawn from the beginning. OPEC's primary purpose is to produce and sell oil forever. The IEA was created to use less oil and replace it. That they would have materially different views of the future should surprise no one.
But they both claim to be looking out for the best interests of the planet's 7.9 billion people.
**********
OPEC's 2022 World Oil Outlook (WOO) to 2045 opens as follows.
"The world of energy has witnessed a significant shift in focus since the publication of last year's WOO… Back then, policymakers were gearing up for COP26 in Glasgow, Scotland. It was a time when the narrative around the energy transition appeared to be focused on the question: are you for, or against
fossil fuels?
To OPEC, this question offered a false dichotomy. It limited what options were available, placed some energy sources on the sidelines and looked to be focused on a single 'one size fits all' strategy… while recognizing the urgent need to reduce emissions, we stated (at COP) that the prevailing view that the energy transition is a linear trajectory from oil and other fossil fuels to renewables was misleading and potentially dangerous to a world that will continue to be thirsty for all energy sources.
To place expected future energy demand in some context, the WOO sees the need to annually add on average 2.7 million barrels of oil equivalent a day (mmboe/d) in the period to 2045. This requires huge investments.
Moreover, for the oil industry alone we also need to add 5 million barrels of oil a day (mb/d) every year to just maintain current production at around 100 mb/d, given an average annual industry decline rate of around 5%.
The overall investment number for the oil sector is $12.1 trillion out to 2045. However, chronic underinvestment into the global oil industry in recent years, due to industry downturns, the COVID-19 pandemic, as well as policies centered on ending financing in fossil fuel projects, is a major cause of concern.
OPEC Member Countries remain committed to investments to ensure oil supply meets demand and to further decarbonize the industry. They are also making significant investments in other energies, such as renewables, nuclear, gas and hydrogen. We believe that an all-options, all-solutions and all-technologies must be utilized."
OPEC's foundational data uses the same methods taught in business schools. Because the "P" in OPEC is petroleum, all energy supply and demand sources are converted to mboe/d.
From 2021 to 2045 total energy demand is expected to increase from 286 mboe/d to 351 mboe/d, up 65 mboe/d or 23%. Population and energy demand grow together as has always been the case.
OPEC writes, "The driver of global energy demand is non-OECD, increasing by almost 69 mboe/d…India alone accounts for 28% of this rise." OECD energy consumption will decline by 3.6 mboe/d over the period.
The biggest factor is population growth. From 2021 to 2045 the world will gain 1.6 billion people, growing from 7.9 billion to 9.5 billion. Only 51 million will live in OECD countries. The Middle East and Africa will grow by 747 million, India 238 million, OPEC 244 million, and "other Asia" 290 million. China's population is expected to decline steadily from 1.426 billion in 2021 to 1,350 billion in 2045.
Rising populations drive economic growth. The OECD's GDP growth rate to 2045 is expected to be only 1.7% annually. The non-OECD world will be twice that at 3.8%. The leaders will be India at 6.1%, Middle East and Africa 3.9%, China 3.8%, "other Asia" 3.6%, and OPEC 3.2%.
More people will need more fuel. Oil's share of total energy will only decline from 30.9% to 28.6%. Coal will fall further, from 26.1% to 16.6%. Natural gas will rise, as will nuclear, hydro, and biomass. The biggest growth area will be renewables, which will grow from 2.6% in 2021 in 10.9% in 2045.
If you're in the oil business today, you will still be in 2045 – governments permitting. OPEC's required "liquids supply" will rise from 95.2 mboe/d in 2021 to 109.8 mboe/d in 2045, a gain of 14.6 mboe/d. This explains OPEC's large investment requirements as reported above. OECD's share of oil and liquids production will rise by only 0.3 mboe/d, non-OECD by 2.8 mboe/d, and OPEC will supply the rest by increasing output by 10.7 mboe/d.
Production from the Americas will stay flat, with the US down by 0.5 mboe/d.
**********
The IEA takes a completely different perspective. While OPEC sees the energy transition as causing today's problems, for the "anti-OPEC" it was the solution. It just didn't happen fast enough.
"Today, the world is in the midst of the first truly global energy crisis, with impacts that will be felt for years to come…One of the striking findings in this year's WEO is that the combination of the Covid pandemic and the current energy crisis means that 70 million people who recently gained access to electricity will likely lose the ability to afford that access – and 100 million people may no longer be able to cook with clean fuels, returning to unhealthy and unsafe means of cooking. That is a global tragedy. And it is not only an energy crisis with which we are dealing: many countries also face a food security crisis and increasingly visible impacts of climate change.
…there is a mistaken idea that this is somehow a clean energy crisis. That is simply not true. The world is struggling with too little clean energy, not too much. Faster clean energy transitions would have helped to moderate the impact of this crisis, and they represent the best way out of it. When people misleadingly blame climate and clean energy for today's crisis, what they are doing – whether they mean to or not – is shifting attention away from the real cause: Russia's invasion of Ukraine.
Another mistaken idea is that today's crisis is a huge setback for efforts to tackle climate change. The analysis in this Outlook shows that, in fact, this can be a historic turning point towards a cleaner and more secure energy system thanks to the unprecedented response from governments around the world…"
In recent years the IEA has morphed into the Popular Mechanics of climate change – the "how to" publication of decarbonizing the global energy complex for everyone's long-term benefit.
Because the IEA is funded by OECD countries, it does what it is told by its political and financial masters. This century climate change has become a significant political priority for all OECD members, so the IEA reacts accordingly.
The members dictate the "what," so the IEA figures out "how." That's why the IEA routinely publishes headline grabbing zingers like one from May 2018. A CNN headline read, "Oil companies advised to stop drilling now to save the planet."
The countries that fund the IEA went to Paris in 2015 and agreed to major emission cuts to hold the world's temperature increase to 20 C. Since then many have endorsed Net Zero Emissions by 2050 (NZE) as a policy goal. Climate Emergency Declarations have been ratified by the EU, Canada, Spain, Austria, France, Italy, Japan, and New Zealand.
The IEA's 2022 report is part apology, part roadmap. As noted above, the world is enduring an energy crisis. That's why the IEA was created, and reporting the bad news is its job.
But it wasn't the lack of investment in fossil fuels that caused today's problem – things like ESG investing or anti-fossil fuel policies by member countries. It was a Russia and underinvestment in renewables.
This year the IEA has three forecasts. The first is Stated Energy Policies Scenario (STEPS), which is what will happen based upon what the world is doing today (when WEO went to print). The second is Announced Pledges Scenario (APS), which "assumes that all aspirational targets announced by governments are met on time and in full…"
The last is Net Zero Emissions by 2050 (NZE) which "maps out a way to achieve a 1.50C stabilization in the rise in global energy temperatures, alongside universal access to modern energy by 2030."
The IEA states energy in Exajoules (EJ). One 1 EJ equals 163 mboe.
IEA population and GDP growth estimates are not as aggressive as OPEC. While OPEC sees global GDP growth averaging 3% by 2045, IEA is only at 2.8% to 2050. However, the population will still grow to 9.7 billion by 2050. The two agree with the shift of GDP growth from developed to developing countries.
But population and GDP inputs are not adjusted for the three energy consumptions scenarios, summarized in this table.
The goal is electricity for everyone by 2030, and 100% access to clean cooking fuel
Total Final Consumption
The IEA states that aggressive government policies are the key to the 76% reduction in oil consumption by 2050. "In the NZE scenario, strenuous policy efforts to reduce emissions lead to a 6% average annual reduction in oil demand between 2030 and 2050, and demand in 2050 falls to less than 25 mb/d. Three‐quarters of this is used as a petrochemical feedstock and in other processes in which the oil is not combusted, such as in lubricants, paraffin waxes and asphalt; a further 10% is used in aviation and shipping." The major "combusted" petroleum demand is for air and marine transportation.
The IEA program will require unprecedented cooperation, planning and financing. The "10 guidelines for secure energy transitions are:
Synchronize scaling up a range of clean energy technology with scaling back of fossil fuels.
Tackle the demand side and prioritize energy efficiency.
Reverse the slide into energy poverty and give poor communities a lift into the new energy economy.
Collaborate to bring down the cost of capital in emerging markets and development economies.
Manage the retirement and use of existing infrastructure carefully, some of it will be essential for a secure journey to net zero.
Tackle the specific risks facing producer economies.
Invest in flexibility, a new watchword for electricity security.
Ensure diverse and resilient clean energy supply chains.
Foster the climate resilience of energy infrastructure.
Provide strategic direction and address markets failures, but do not dismantle markets (governments will have to take the lead, but cost-effective transitions also need well functioning markets).
The contradictions are glaring. While population and GDP will grow, total energy consumption will decline by 23% by 2050 in the NZE scenario and 1.3% under APS. This will be the first time in history that more people will gain access to energy as the number without electricity declines at the same time that everyone uses less energy in total.
The IEA defines oil use declines as a "demand led transition." One of the key elements to using less oil is called "behavior." The other is electric vehicles.
Point 8 will require "resilient" supply chains for the minerals for mass electrification without using fossil fuels. This remains one of the many unknowns in the NZE scenario when so little of the oil still used in 2050 will be "combusted." One must assume mineral mining, transportation and processing facilities will be electrified. This will further increase mineral use for batteries, motors and non-carbon power generation and distribution.
The cooperation and synchronization between countries and industries, governments and business – cooperation that has been impossible to achieve since the first UN environment summit in Stockholm in 1972 – will somehow appear. This includes the divide that has emerged between eastern and western country regarding sanctions against Russian oil and gas exports.
The costs and who will pay remain unknown. On the sidelines of the COP 27 conference in Egypt, US climate envoy John Kerry admitted in a CNN interview that there was "not enough money in any country in the world to actually solve this problem. We desperately need the money."
This was Kerry's justification for creating a carbon offset emissions trading system whereby companies could fund developing world clean energy development by purchasing credits. CNN wrote, "Kerry's plan to finance the renewable energy transition in vulnerable countries by allowing companies to pay for someone else to cut their planet-warming emissions, instead of cutting their own, raised concerns among climate experts."
Depending on price, oil producers could fund future supplies from cash flow. If permitted.
The WEO is rife with assumptions regarding policies, national interests and even human nature.
**********
IEA pronouncements about energy immediately become headline news in the western media, even when they contradict each other.
But there is much skepticism in the oil industry about IEA policies and pronouncements based upon memories of why the IEA was created.
Its original purpose was to make sure nobody ever ran out of energy, especially oil. Now its mission is to save the world from climate change by replacing oil, coal and natural gas.
This will be accomplished not only by using less fossil fuels, but using materially less energy overall. What is available will be distributed more fairly.
The IEA sees economic growth slowing. From 2021 to 2030 the annual growth rate is forecast at 3.3%. For the next 20 years it falls to 2.6%.
OPEC's forecasts rarely make the mainstream news but are studied carefully by energy and financial analysts.
The reason is that OPEC's forecasts are based on inputs and variables that financial experts understand. IEA energy scenarios are based on, to use the IEA's own word, "aspirational" public policy announcements of the governments of the countries that fund it.
And these are proving to be very dynamic because the governments the IEA represents are pivoting faster than what the 2022 WEO reflects.
Due to geopolitical and economic necessity, the STEPS scenario is the most likely based upon what OECD countries are actually doing in 2022.
And it looks very similar to OPEC's data for the same period.
The question for the oil industry becomes what can OECD governments actually do in an era of massive public debt, inflation, rising interest rates, geopolitical turmoil, food shortages and growing public unrest?
They really shouldn't raise taxes, they can't increase spending, and as governments are demonstrating by returning to coal all over the world, they will do what they must to maintain energy supplies while keeping the price as low as possible.
Taxing energy producers to subsidize consumers is a classic short term political response. If they really wanted long-term energy solutions, politicians would encourage more supply development, not impair it. And keep consumer prices higher to do what the IEA wants, which is suppress demand.
The energy transition will happen. Renewables will grow. Even OPEC sees that.
But when it comes to OPEC versus IEA in predicting the future of energy for the foreseeable future, I'm going with OPEC.
And the IEA will change its messaging no more quickly than its sponsoring countries change theirs.
David Yager is an oil service executive, oil and gas writer, energy policy analyst, and author of From Miracle to Menace – Alberta, A Carbon Story. Find the book at www.miracletomenace.ca. He is President and CEO of Winterhawk Casing Expansion which is commercializing a new technology for improving wellbore integrity.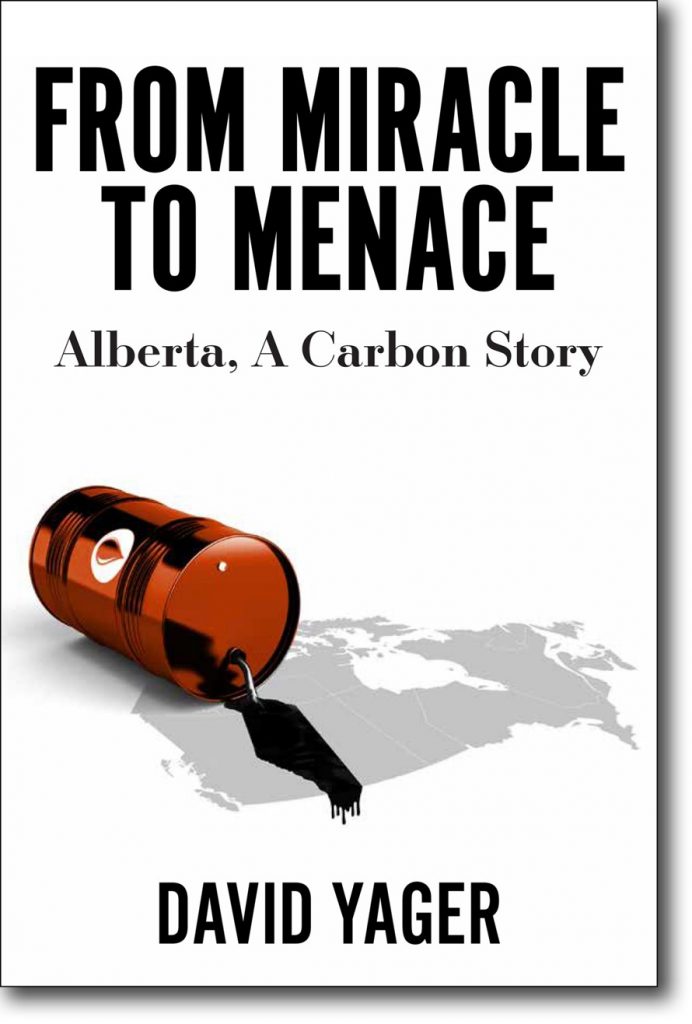 Share This:
---
More News Articles