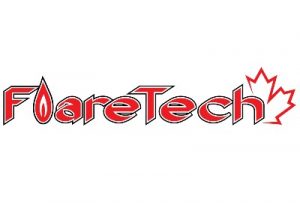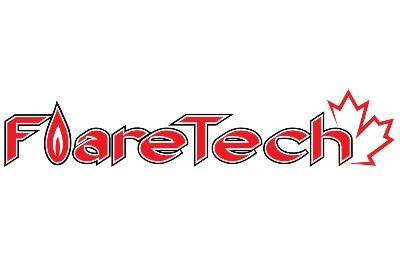 FlareTech designs, engineers, and manufactures flare systems to suit all flaring applications leaning on our 40 years' worth of flaring experience. Smokeless flare systems are our specialty, utilizing Low Pressure Air and High-Pressure Gas, or High-Pressure Air and Steam.
Flare Systems:
FlareTech is an international provider of the following flare systems
Air Assisted Flares
Utility Flares
Sonic Flares
HP Gas Assisted
Low BTU Ring Burner Gas Assisted
Combination (HP/LP)
Integral Liquid Knockout Flares
Guyed:
Being the more typical flare design, FlareTech has built hundreds of these over the years. Our size capabilities range from 4"x40' utility flares to well over 300'. (ex. Dual air assist 320' tall Flare)
Self-Supported:
Our design team shines when it comes to designing large self-supported flares for our clients. With our expertise we can build what the client needs when a smaller footprint than is required than guyed flares require. (ex 300' tall Self Supporting Flare with 15' diameter base section)
Design & Engineering:
FlareTech can design new and retrofit flare systems, including high pressure (i.e. > 15 PSIG) piping complete with jurisdictional registration, as required. All systems are sized per applicable API standards and well-proven proprietary methods. We also have expertise designing low pressure (i.e. < 15 PSIG) flare knockout drums. All our flare and knockout systems can be provided complete with in-house designed structural skids and/or heated enclosures.
FlareTech's professional engineering group is fully accredited to authenticate and validate work products per APEGA, EGBC, and APEGS requirements. We are also capable of providing professional engineering authentication for other Canadian and American jurisdictions, as required.
Ignition Systems:
Retractable Pilots:
FlareTech designs and build its own Pilots & Pilot Monitoring/ Ignition systems. FlareTech's pilot design allows for quick maintenance and simple pilot retraction to avoid any plant shutdowns, saving companies is millions in lost production. They have a natural gas fuel consumption of only 25 scfh, threaded nozzle connections that allows for easy replacement and a revolutionary roller leg design to solve potential hang up issues.
Pilot Monitoring & Ignition Systems:
The FlareTech Pilot monitoring & ignition system is designed to prevent any failure during the flaring process. Our safeguarded design ensures that you will receive an alarm should there be a loss or power or thermocouple signal. These systems are a continuous monitor that will initially light the pilot and even re-ignite should the flame fail.
Electronic Spark Ignition Systems (ESI):
These are utilized in emergency relief cases for waste gas streams that are easily ignited. To meet regulatory requirements, FlareTech recommends ESI when waste gas being flared is less than 1% sour.
Arrestors:
FlareTech designs and manufactures our own detonation and deflagration arrestors as we have learned through experience what works best to safeguard against major issues.
Detonation Arrestors
Deflagration (Flame) Arrestors
Retrofits:
Packages:
Replacing existing flare systems
Flare Tip replacements
Custom build ignition systems,
Tracking systems
We have successfully delivered multiple air assisted retrofits to competitor systems and have the capability to make your smoking flare stack smokeless by adding a blower, annulus air duct and air assisted tip.
Installation & Commissioning
Industry leading extended warranty based on FlareTech completing the Installation. Clients often see on site down time and cost reductions of up to 50% based on FlareTech completing these steps.
Maintenance and Servicing
FlareTech offers a wide range of maintenance services to aid in the successful operation of our client's flare systems. FlareTech's preventative maintenance program not only ensures that our equipment is maintained throughout a long period, but this service can also be performed on our competitor's systems.
FlareTech Personnel carry top of the line drones to assist in our service offering.
Share This:
---
More News Articles