Your company will reach the point where you outgrow Sage or QuickBooks. And that's a good thing!
It typically means you've scaled your operations and you're facing new challenges. You've reached the point where you should no longer be using something built for everyone. You now need something built just for you.
Both Sage and Quickbooks have amassed huge user bases because they've created malleable tools that can be used by people in almost any industry. However, the oil field service industry has its own unique challenges, and these challenges will grow as you grow.
When you reach this point, you have a few options. You can keep using Sage or QuickBooks and try to fill in the gaps with things like third-party bolt-on programs to augment your accounting program. However, you will soon run into major issues such as:
Wasted time and frequent errors due to double entry
Most of your 'accounting' takes place outside of your accounting program
A lagging cash conversion cycle
A lack of transparency into your finances
Now, your staff is struggling with an inefficient system, your growth is stunted because of cashflow issues, and you don't have the data to make truly informed high-level decisions.
You're ready for something better. You're ready for Discovery Solutions, the only ERP built specifically for oil field service companies.
A common issue for oilfield service companies is that they're typically struggling with some sort of disconnected combination of systems using QuickBooks or Sage for their accounting software, while also using Excel or another third-party program in an attempt to recreate an ERP.  A true ERP is something that takes care of your entire business from end to end, from Operations to Accounting.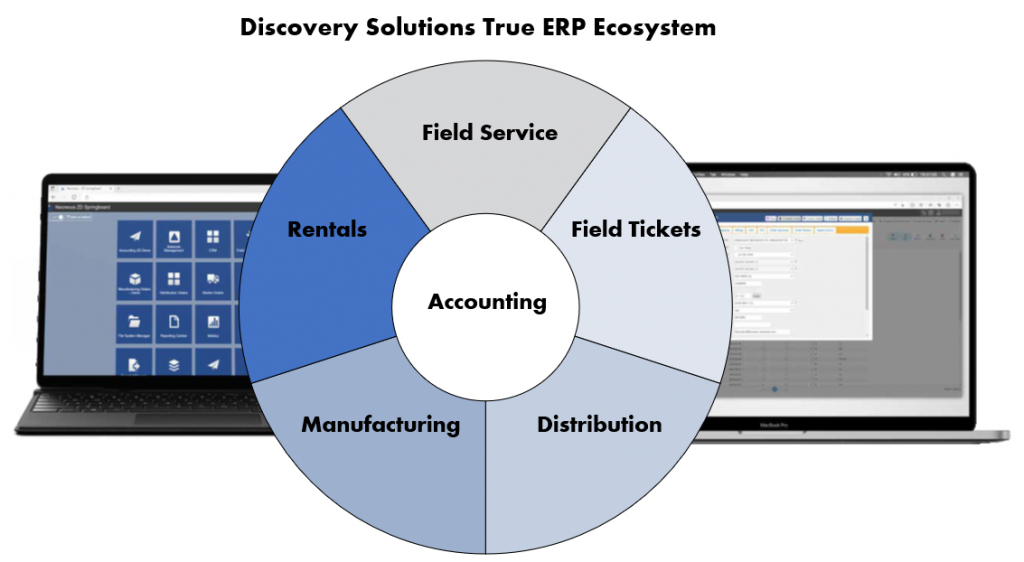 How Discovery Can Help
Our solution was purpose-built specifically for this industry. We understand the data entry frustrations that controllers, managers, and owners are dealing with right now.
There is no need to try to combine your accounting system with a set of tools that it was never intended to work with. Your rental, field service, sales, work orders and purchase orders can all be entered into a single tool that was built with the oil field service industry in mind.
By integrating all aspects of your company together in an operation-focused ERP that was built for the oil field service industry, you have a real-time look at your complete financial situation at all times. No missing tickets or invoices, and no lagging data.
We believe in business simplification. Less software, less keystrokes.
Learn more: Product | Discovery (discovery-solutions.com)
About Discovery Solutions
Founded in 1983 Discovery Solutions has been building software to help businesses operate in the oil field service sector. Discovery was one of the first companies to package multiple modules together in a single ERP, rather than selling individual applications enabling our clients to simplify their operations. Over the last 38 years, Discovery has evolved from a "green-screen" application (published in the 80s) to a modern cloud SaaS platform.
What differentiates us is that our team has extensive oil and gas industry experience. This allows us to understand your business, work with your team and to design a product for an evolving sector. We pride ourselves in making a big impact on small and medium-sized businesses. But trust us when we say that our best is yet to come!
Share This:
---
More News Articles