(Bloomberg)
Halliburton Co. is gearing up for years of oilfield expansion despite warning signs of a looming global recession.
The world's biggest provider of fracking services is banking on a "multi-year upcycle" outside of its North American base, according to a statement Tuesday. Many of the world's most significant oil provinces are in regions controlled by state-owned oil explorers that are immune to shareholder pressure and profit thresholds that steer publicly traded companies.
Halliburton rose 1.3% to $29.22 at 9:30 a.m. in New York.

Despite concerns about a potential economic slowdown, "oil- and gas-market fundamentals still strongly support the multi-year energy upcycle," Chief Executive Officer Jeff Miller told analysts during a conference call. "Post-pandemic economic expansion, energy-security requirements and population growth will continue to drive demand."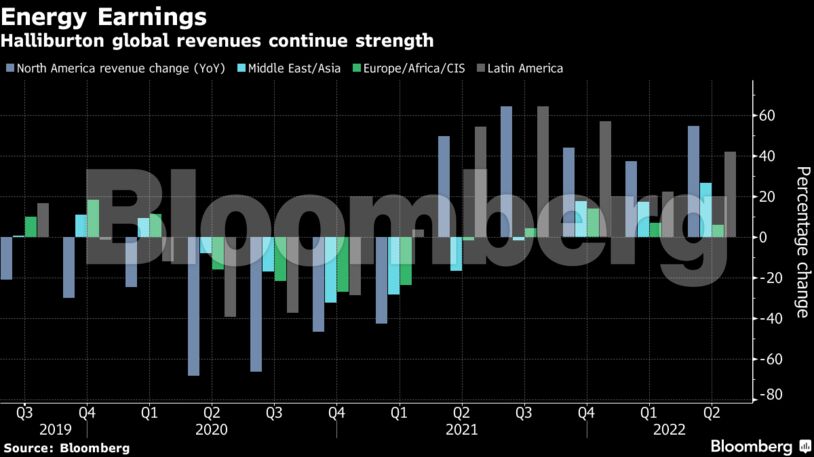 Halliburton posted its biggest quarterly profit in almost four years as the growing isolation of oil powerhouse Russia spurs fracking in other crude-rich regions.
The Houston-based oilfield contractor is almost sold out of gear in the North American market that includes the world's most prolific shale fields, according to the statement.
Halliburton also recorded a $344 million pre-tax charge during the second quarter related to winding down its business in Russia amid international sanctions.
Sales in the US and Canada, where Halliburton dominates the oilfield-services market, jumped 26% from the first three months of this year to $2.4 billion. Miller called North America an extremely busy sector.
Halliburton kicked off quarterly earnings season for the sector, with larger rivals Baker Hughes Co. and Schlumberger scheduled to disclose results later this week. Supply-chain snarls are translating into cost inflation as high as 20%.
Halliburton reported second-quarter earnings of 49 cents a share, excluding certain items, that surpassed analysts' expectations, according to the statement. It was the best three-month period of adjusted earnings since the third quarter of 2018.
Share This:
---
More News Articles