(Bloomberg) 

A key pipeline delivering Russia's natural gas to Europe may not return to full capacity after planned maintenance this month, Goldman Sachs Group Inc. said, echoing the concerns of German officials.

Nord Stream 1 is set to shut for works on July 11-21, tightening a market that's seen prices soar in recent weeks. With Moscow having already slashed flows through the pipe to just 40% of capacity, any move to withhold supplies for longer would severely hurt Europe's efforts to refill stockpiles for winter.

"While we initially assumed a full restoration of NS1 flows following its upcoming maintenance event, we no longer see this as the most probable scenario," Goldman analysts said in a note. The bank raised its gas-price forecasts for Europe into next year, citing increased risks to supply.

Europe is facing the most severe energy crisis in decades, with Russia — the region's biggest supplier — curbing shipments amid growing tensions over the war in Ukraine. Benchmark gas prices are trading at the highest level in almost four months, and some major utilities are seeking bailouts while countries race to refill storage sites.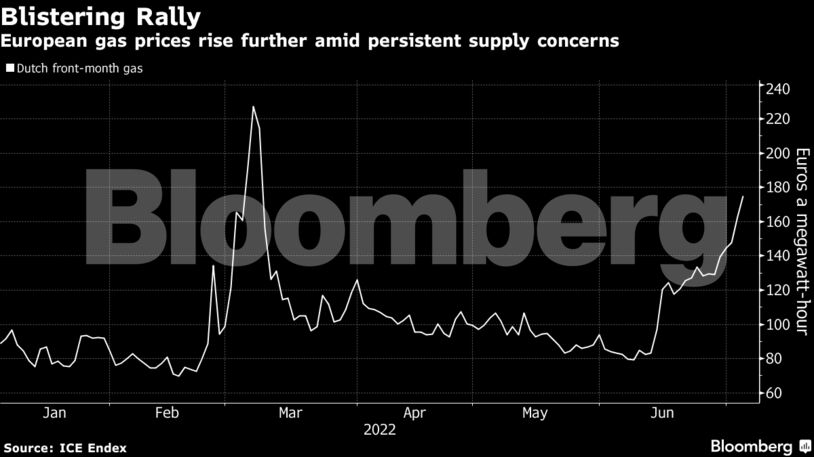 The International Energy Agency on Tuesday warned that a complete cutoff in flows "cannot be excluded" given Russia's "unpredictable behavior."
While Goldman sees a total halt in deliveries as unlikely — since it would slash vital revenues for Moscow — the bank raised its third-quarter forecast for benchmark gas futures to 153 euros a megawatt-hour, from 104 euros previously. Prices could rise above 200 euros in a "worst-case scenario" for Nord Stream shipments, it said.
Germany, Europe's biggest economy, said last month that the drop in flows through Nord Stream would make it difficult to meet stockpiling targets. Officials in Berlin expressed concerns that the pipeline may not return to normal capacity following the scheduled works.
Germany's Preparations
Germany is already preparing for a further disruptions. The country has cut its energy dependence on Russia — which accounted for more than half of its gas imports last year — buying more liquefied natural gas, and importing fuel from Norway at full tilt.
However, there are limits to the amount of LNG that can be imported, as it takes time to build terminals to receive the fuel, and there is competition with Asia for supply. In the near term, planned labor strikes at several key fields could constrain shipments from Norway.
Before it invaded Ukraine, Russia covered the supply gap during Nord Stream maintenance with higher flows through another major pipeline, Yamal-Europe, which runs through Belarus and Poland. State-run exporter Gazprom PJSC also used its own storage sites in the European Union.
Those options are no longer on the table after Moscow in May imposed sanctions on the Polish owner of the Yamal link and a former Gazprom unit with EU storage capacity.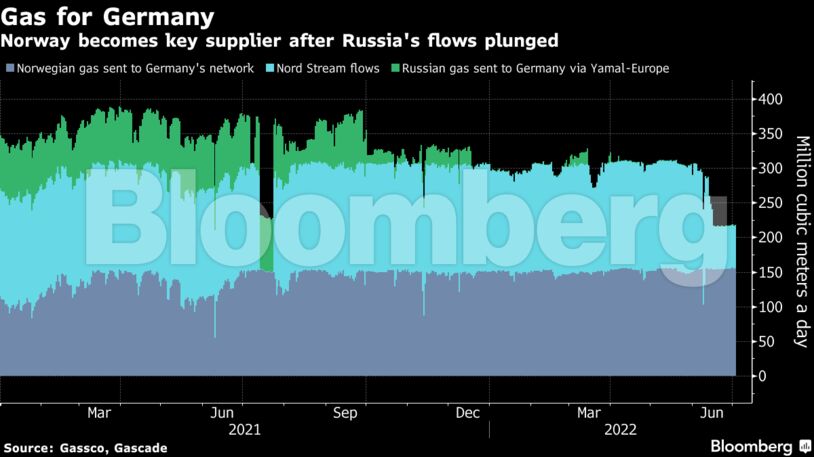 If the Nord Stream shutdown lasts as planned, Germany can cope with the fuel it receives from other sources, but it may have to slow injections into storage sites and cut re-exports to other partners in the European Union, said Bloomberg Intelligence analyst Patricio Alvarez.
A prolonged cut in Nord Stream flows would see a drop in gas usage by industrial consumers, coupled with increased use of alternative fuels for power, including coal.
Read: German Industry Is the Only Release Valve If Russia Halts Gas
Extended curbs in Nord Stream flows would result in even higher costs, meaning "some level of contract repricing (along with other measures) is inescapable," according to analysts at UBS Group AG.
Sharp price increases — which could be equivalent to as much as 44% of total industrial gas costs — may be avoided if parts required for the Nord Stream entry point are returned from Canada or if shortfalls are shared with other countries receiving gas via Germany, namely France, the bank said.
Share This:
---
More News Articles