It's apparent even today that most of the on-site heat treatment industry is still using outdated procedures and equipment. This causes production inefficiencies, which consistently push projects over budget while exposing the workforce to unnecessary safety risks.
Expenses associated with research and development coupled with a reluctance towards change generally reduces the time and money spent on innovation. As a result of poor third-party service offerings, facility owners are generally subjected to inherited liability.
At no fault of their own capital, turnaround, and maintenance projects commonly surpass budget, extending schedule, and expose their workforce to unnecessary safety risks. Facility owners and oil and gas contractors' main goal is now to find on-site heat treatment providers who strive to shift the ideology of what is possible within the industry to produce a safer, more cost-effective, and quality driven output. Someone who understands that heat treatment specifications are constantly changing, cost margins and production efficiency are of the utmost concern, and that safety requirements have become increasingly more demanding, is paramount.
As Superheat works to shift what is possible within the on-site heat treatment industry and build innovate technology, Superheat SmartView was born. SmartView™ is their patented web-based quality assurance platform that provides project convenience and efficiency in the palm of your hand, anywhere, any time. It is the heartbeat of their digital project management and quality assurance platform, providing unmeasurable value and convenience to their clients. Customers repeatedly note project efficiency, quality documentation, and communication benefits from the implementation of SmartView across multiple disciplines on their jobsite.
The SmartView platform enables Superheat to organize, distribute, and execute all tasks, while contractors continue to leverage the communication portal to the Superheat SmartCenter™ throughout the duration of the project. This streamlines the exchange of critical documentation and provides one source of the truth for all parties. Contractors have commonly said they didn't know where their specialty subs fit in the overall production status, now they turn data from SmartView into knowledge so they and other contractors can easily make informed decisions on the critical next steps of their project. Clients can view and receive real-time project status notifications for things such as estimated cycle start and finish times, and have the ability to monitor live heat cycle charts from anywhere, at any time.
Quality personnel now directly integrate with SmartView to optimize quality throughput and control the delivery method of Superheat SmartReports™ Quality packages. This offers them the ability and self-control to download cycle charts, Brinells, and other supporting documentation directly into their management systems.
In comparison to their competitors, the Superheat SmartCenter is truly remote and the control hub for the entire heat treatment process. Operating on-site equipment, not from a field trailer somewhere on-site, but from strategic controls rooms spread out across Canada, the United States, and the United Kingdom, SmartCenters maximize field labor productivity which ultimately reduces cost to end users. The Technical Engineering department within the SmartCenter provides the knowledge and design expertise necessary to efficiently set up and tear down treatment configurations in accordance with the client's procedures. Upon the completion of heat treatment set-up, the control room operators then manage equipment and thus heat cycles via a patented remote process. This ensures the on-site labor force is optimized and quality is maximized. Superheat's Quality Assurance division then reviews that heat treatment specifications are met and uploads Superheat SmartReports to Superheat SmartView for download by client representatives. Therefore, dramatically reducing idle time on document turnover so contractors can move onto the next steps on their project.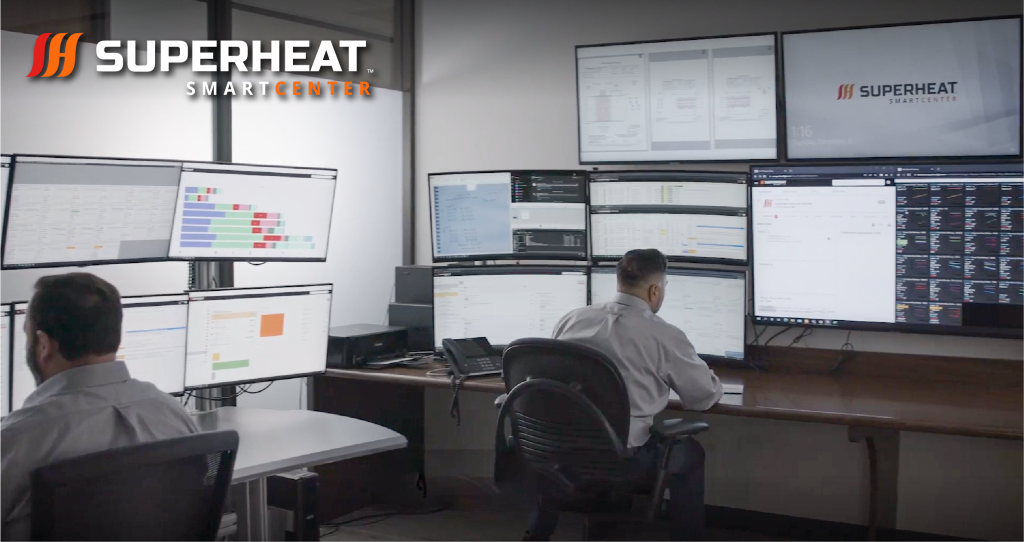 Superheat's SmartView platform and SmartCenter are just a few ways they are evolving the on-site heat treatment industry. To learn more about Superheat and their on-site heat treatment solutions, please visit their website at www.superheat.com. For direct inquires, or to begin your next on-site heat treatment project, email [email protected] or call 1.888.508.3226 and you will be connected with a regional representative today.
Share This:
---
More News Articles