(Bloomberg) 

Russia is probably earning just as much from natural gas exports to Europe as a year ago, even as it slashes deliveries to the region to multiyear lows.

Moscow's buoyant profits — a result of soaring gas prices — will be exasperating to the European Union, which has slapped heavy sanctions on Russia in an effort to starve the regime of funds fueling its war in Ukraine.

State-run gas giant Gazprom PJSC is still probably making roughly 100 million euros ($105 million) a day from exports to Europe, broadly in line with last year's levels, according to Independent Commodity Intelligence Services.

"It's shocking to see that, despite the 75% cut in daily supply by Gazprom to Europe, the daily receipts are still in line with where they were a year ago, and certainly higher than pre-Covid times," said Tom Marzec-Manser, head of gas analytics at ICIS in London. Gas revenues in recent months have been "eye-wateringly high," totaling about 35 billion euros since the war began, he said.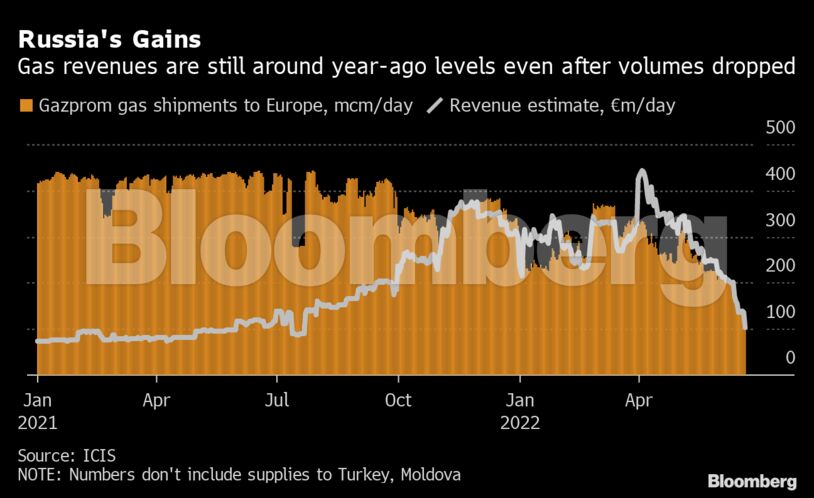 European gas futures are trading at four times their level of last June. Prices are up 16% this week alone after Gazprom cut flows on the major Nord Stream pipeline, saying sanctions had stranded a key turbine in Canada after repairs. Germany said the cut was politically motivated and aimed at roiling markets.
The drop in shipments exacerbates an energy crunch in Europe, where consumers are grappling with surging bills amid the worst cost-of-living crisis in decades. Germany, which relies on Russia for more than a third of its gas supplies, raised the risk level in its national gas emergency plan on Thursday.
The Kremlin has said repeatedly that international sanctions hurt Europe more than Russia. Gazprom Chief Executive Officer Alexey Miller confirmed last week that the company is benefiting from rocketing prices in Europe, despite lower volumes.
In the first half of June, Gazprom's average daily deliveries outside the former Soviet Union, including to most EU nations and Turkey, plunged to the lowest since at least 2014.
Share This:
---
More News Articles