Oil fluctuated in a second day of volatile trading, with the Federal Reserve set to sharply hike interest rates at a meeting later.

West Texas Intermediate traded lower after swinging between gains and losses. Prices moved in a range of more than $7 on Tuesday, the largest in almost a month. While crude markets remain robust, traders are weighing macroeconomic risks with the Fed expected to boost interest rates by 75 basis points when it meets later Wednesday.

High fuel prices are also turning into an increasingly political issue. President Biden wrote to US oil refiners, saying that record profits are "not acceptable". That followed a proposal by a US senator to tax the profits of oil companies. The International Energy Agency offered little hope for improvement in its monthly report, noting that oil supply will struggle to meet demand next year.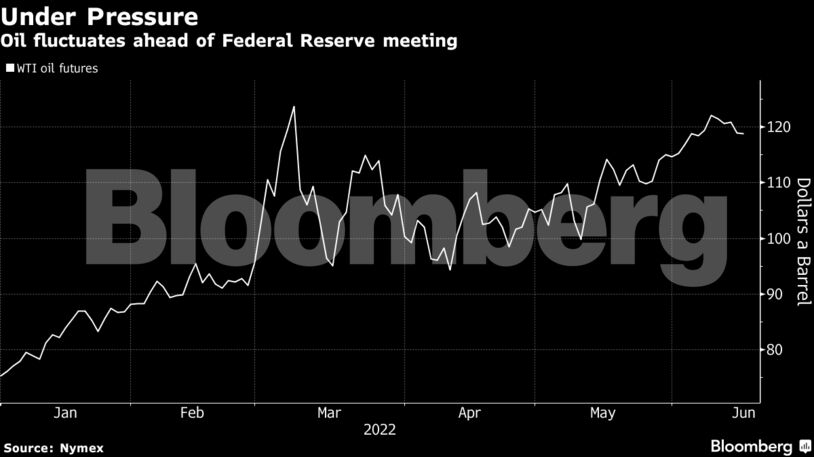 Russia's invasion of Ukraine has fanned inflation after upending global trade flows and tightening crude and fuels markets. US retail gasoline prices have repeatedly broken records, recently hitting $5 a gallon, and traders are now increasingly wary of the prospect of high prices impacting consumption.
"All in all, we are stuck between a rock and a hard place with the only driver to balance the oil market being a deterioration in the outlook for demand," said Ole Hansen, head of commodities strategy at Saxo Bank A/S. That hit is "something that we will see eventually as a consequence of high prices and the FOMC killing growth with super-sized rate hikes."
Prices
WTI for July delivery fell 0.3% to $118.55 a barrel at 7:57 a.m. in New York.
Brent for August settlement fell 0.2% to $120.94 a barrel.
China's economy showed a mixed recovery in May, with industrial production unexpectedly increasing while the property market continued to slump. Crude processing by the nation's refiners marginally increased last month, capped in part by bloated fuel stockpiles, while apparent oil demand slumped.
The American Petroleum Institute reported US gasoline inventories dropped by 2.16 million barrels last week, according to people familiar with the figures. Crude stockpiles at the key storage hub of Cushing fell by 1.07 million barrels, Energy Information Administration data is due later Wednesday as inventories at the key hub decline.
"The market would remain volatile and clearly there is the risk that prices will move higher," amid low inventory buffers, Toril Bosoni, head of the oil market division at the IEA said in a Bloomberg TV interview. "But as we hear, with inflation running ahead, the weaker economic outlook as we move forward, demand risk could also be to the downside."
Share This:
---
More News Articles