Polytetrafluoroethylene (PTFE) also known by the brand name Teflon is a highly flexible and versatile material that offers universal chemical resistance. PTFE-lined steel piping systems are ideal for handling corrosive fluids commonly used in industrial and manufacturing processes. The strength of the steel housing provides mechanical integrity while the plastic liner provides chemical resistance. PTFE-lined steel can increase the life of your piping systems and reduce the costs associated with repair and maintenance significantly. PTFE-lined carbon steel piping systems are more cost-effective than exotic alloys and provide better corrosion protection than unlined stainless steel.
SPS West is the exclusive Western Canadian distributor for BAUM Lined Pipe & Fittings. SPS West employs in-house BAUM-certified fabricators. Our qualified technicians can fabricate PVDF, Polypropylene, and PTFE-lined pipes in Calgary, Alberta, Canada. Our agility allows us an opportunity to support Alberta's O&G and refineries as there are often requests for emergency spools, last minutes project changes, and hold spools.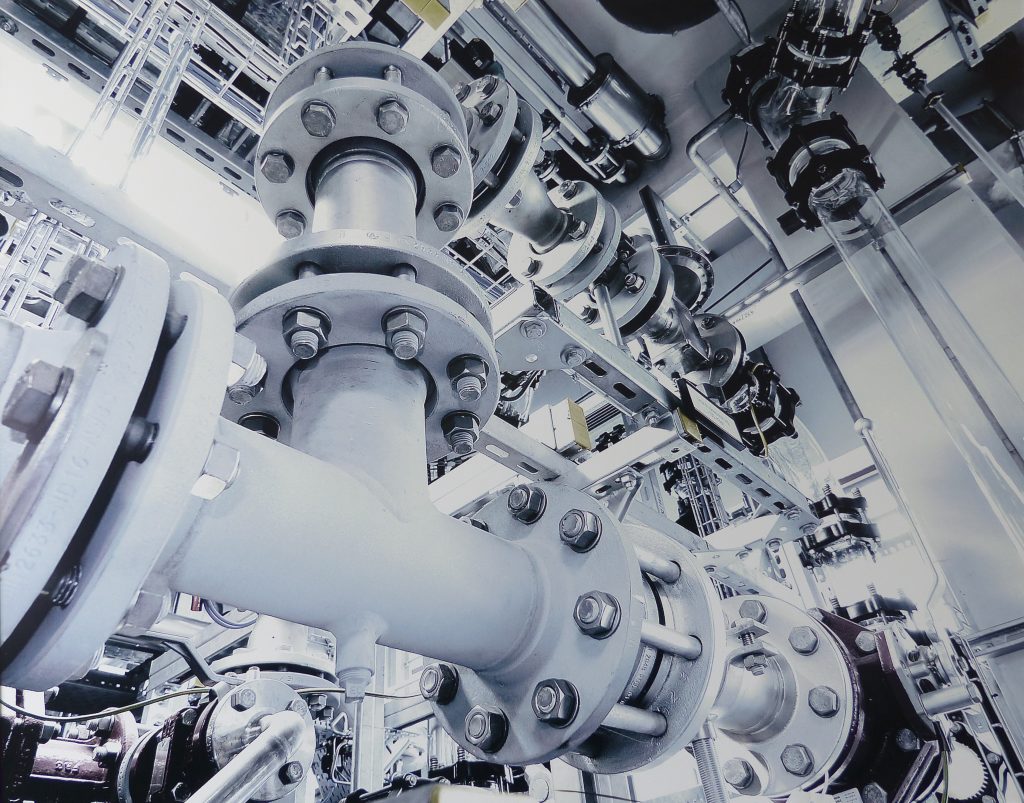 Baum's paste extruded PTFE liner permeates much less than other PTFE manufacturing techniques like ram extrusion or isostatically molding. Paste extruded liners have a smoother surface which means easier cleanup and less organic growth. Its superior mechanical properties, such as greater elongation and tensile strength lead to low crystallinity. This is important as it has less tendency to crack. It is the best quality liner with high tensile strength, high density, and low porosity. Baum also sets itself apart by upgrading many of its fittings to a PFA liner. PFA is a melt-processable liner that is commonly used to line valves and complex shapes. By using PFA in fittings like tees, Baum can make fittings with full penetration welds ensuring there is no welding done over the PTFE. This is critical to maintaining the integrity of the liner. Baum's lined pipes & fittings comply with ASTM F1545-15a specifications and ASME B16.5 and B16.1 for dimensions.
Baum offers plastic-lined pipe, fittings, vessels, dip tubes, valves, and expansion joints that protect the steel pipe/fittings from corrosion using PTFE, PFA, ETFE, PVDF, or PP.
When you are working with hazardous chemicals, a leak or spray-out is highly possible. Safety Spray Shields are used to prevent injury in the event of a leak or spray-out at piping connections. Spray Shields are an important factor in risk management and reducing liability concerns in process piping systems. SPS West provides industry-leading Drake Specialties fabric safety spray shields for early detection of hazardous leaks and sprays.
SPS West's process piping & thermal solutions include:
Plastic-lined Steel Pipe & Fittings
Plastic-lined Steel Valves
PTFE-Lined Flex Hose
Hygienic Pipe Clamps & Supports
Woven PTFE Spray Shields
Custom Plastic-lined Steel Static Mixers
Specialty Industrial Heating
For more information or to speak with our experts, call 403-239-8570 or email [email protected].
Share This:
---
More News Articles