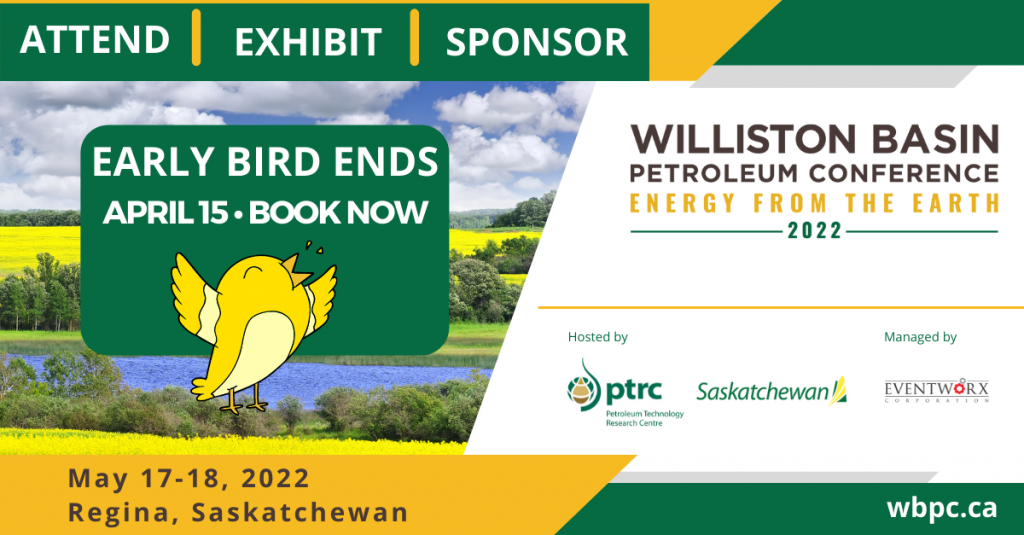 The Williston Basin Petroleum Conference is less than one month away; and based on registration and exhibit sales so far, this year's conference will be a significant event for the Province of Saskatchewan in 2022.
The theme for WBPC 2022 is Energy from the Earth, so the sessions are centred around hot topics including emissions reduction, CO2 sequestration, enhanced EOR, helium, lithium, geothermal, hydrogen, heavy oil, light and tight oil, advanced energy systems and advanced technologies.
The conference boasts more than 50 technical speakers from across North America. New for 2022 is a partnership with the Canadian Society of Exploration Geophysicists (CSEG). CSEG is providing two conference sessions and a short course on geophysics for non-geophysicists. Links to the two days of technical presentations can be found here
WBPC features more than 40 exhibitors from Canada and the US including technology companies like, Procon Systems, Balon, Clear Rush Co, Dark Vision, Emerson, Intragrain, Novomet, and Q2 Artificial Lift.  Sponsors include INGU Solutions, Enbridge, University of Regina, and the International CCS Knowledge Centre.
There are a limited number of exhibit spaces and sponsorships still available; please contact [email protected] for details.
In addition to the technical and business conferences, the event boasts the Dr. Don Kent Core Workshops, a tour of Boundary Dam & Whitecap CCUS facilities, keynote speakers and lots of in-person networking.
We look forward to welcoming you to Regina, May 17-18. Information and registration details at www.wbpc.ca
Share This:
---
More News Articles