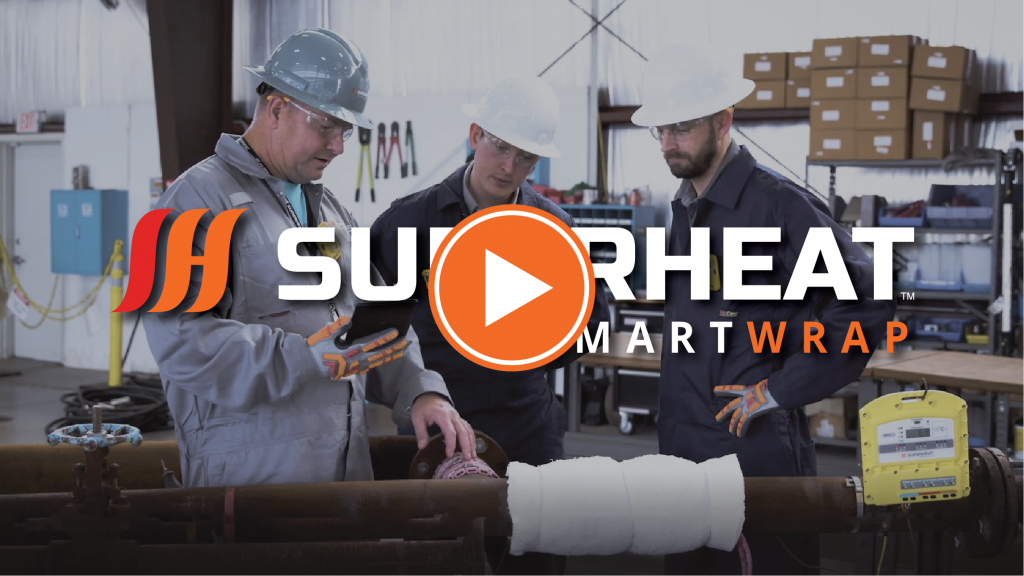 The Superheat SmartWrap™ solution provides end-to-end leadership enabling you, the contractor, to leverage any workforce you have available to support on-site heat treatment setup and teardown activities. Superheat provides full coverage of potential labor gaps, all while utilizing our best-in-class equipment and technology. Our transparent digital quality program, Superheat SmartView™ & the Superheat SmartCenter™, remotely operates equipment and oversees all areas of the QA process including engineering support and document management, guaranteeing the quality of heat treatment. Superheat SmartWrap™ is a bolt-on solution that seamlesly integrates with our full service offering. It keeps your workforce on-site, increases their productivity, and provides you, the contractor, another value added service to bring to oil and gas owners.
Advantages of Superheat SmartWrap™:
As a contractor, keep your team on-site bringing added value to oil and gas owners
Put schedule and response over heat treatment back in your control
Remote equipment operation and on-site labor support services available on demand 24/7
Zero standby cost. Only pay when services are in use
Increase productivity while reducing cost
1. Superheat End-to-End Leadership
Proven knowledge transfer of effective heat treatment set-up configurations and tear down activities
Constant on the job coaching
A premier heat treatment experience that sets the industry standard
2. Leverage Your Staff With Our Innovative Technology
Utilize a transparent digital quality program which remotely controls all equipment operation
Adopt our patented QA process including engineering support and document management
Harness our best in class equipment
3. On-site Supervision & Labor Support
Experienced project managers guide you every step of the way
Full coverage of potential labor gaps
The Superheat SmartView™ Digital Project Management and Quality Assurance Platform
Project efficiency, quality documentation, and communication for all contractors and owners.

Why Use Superheat SmartView™:
Superheat collects, organizes, distributes, and executes all premobilization tasks through the utilization of the Drop-In Box Feature. You can continue to leverage the document portal to the Superheat SmartCenter™ throughout the duration of the project to maximize productivity of on-site labor.
Turn data into knowledge so you and other contractors can make informed decisions on the critical next steps of your project. View and get real-time project status notifications for such things as estimated cycle start and finish times, optional QA hold points, and monitor Live Heat Cycle Charts.
Optimize quality throughput and control of Superheat SmartReports™ Quality packages by downloading cycle charts, Brinells, and other supporting documentation from Superheat SmartView™, or digitally receiving in any format applicable to your system.
The Superheat SmartCenter™:
Maximize on-site labor productivity through the utilization of our patented remote operations hub.
1. Technical Engineering Heat Treatment Support
Save your time and cut your project schedule by presenting our field staff Wrapping Specification Sheets that dictate the most efficient heat treatment set up and tear down configurations in compliance with your procedure.
Experience that assures future quality by recycling a drawing library of 10,000+ proven successful wrapping specification sheets.
2. Control Room Operations
Eliminate idle time and minimize footprint by utilizing our patented remote operations process that maximizes the productivity of field staff.
Get unproductive labor off your job site through the implementation of our remotely operated equipment and digitally managed heat cycles. This allows our highly-trained field staff to focus solely on the efficient set up and tear down of heat treatment configurations.
3. Digital Quality Assurance
The integrity of your heat treatment is our utmost concern. Superheat's Quality Division meticulously reviews all critical heat treatment records to ensure our services are compliant with your stringent requirements.
Streamline your quality control and increase document throughput by downloading Superheat SmartReport™ Quality packages directly to your files, never waiting on a contractor again. All SmartReport™'s are digitally encrypted and stored for lifetime retrieval.
Best-In-Class On-site Heat Treatment Equipment to Exceed Your Every Need
In-house manufacturing and a commitment to research & development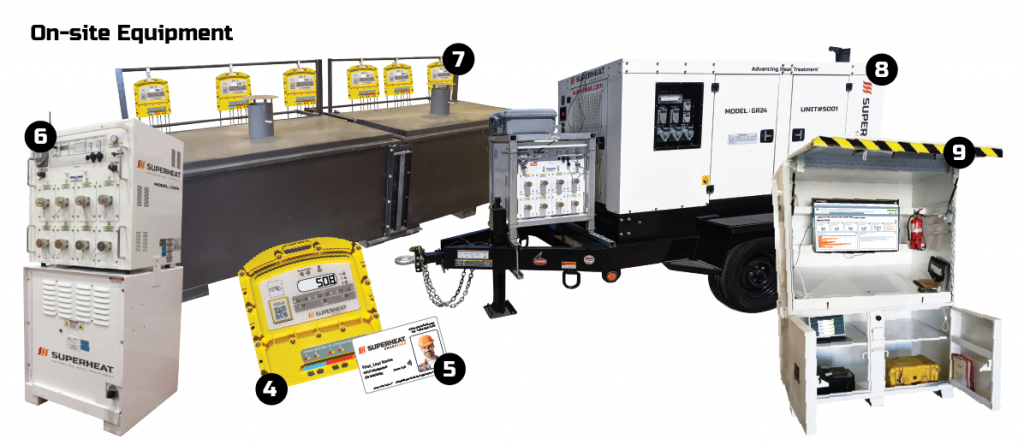 Continual investment in research and development ensures your project is receiving the most advanced heat treatment equipment with the highest safety certifications in the industry. We understand you're pressured to do more with less, so it is our commitment to design and manufacture equipment that maximizes output while minimizing valuable space to your project.
Superheat SmartPoint™ (6) and Superheat SmartGen™ (8) heat treatment consoles employ a patented remote operating process through our Superheat SmartCenter™, increasing the efficiency of on-site crews, allowing them to focus on setup and teardown activities.
Don't put on-site teams at risk during emergency situations. Superheat SmartPoint™ (6) and Superheat SmartGen™ (8) are engineered to remotely shut down or start up in any environment.
Less equipment to handle more scope through the utilization of the highest capacity zone control per console when compared to any competitor.
Commercial grade dedicated compliant with CLASS 1 Nuclear Program and the only heat treatment consoles approved to UL# 508A/CSA #C22 No.14-10
Superheat SmartPaks™ (4) provide intelligence at the work piece such as component fault indicators, a traffic light technology system for welders, and real-time temperature monitoring, all benefitting the Quality of Heat Treatment.
Minimize the risk of electric shock to personnel as the Superheat SmartCard™ (5) in conjunction with nearfield technology from the Superheat SmartPak™ (4) creates safety lock-out capabilities directly at the weld location.
For specific scope, the Superheat SmartFurnace™ (7) is an adaptable and on-demand furnace solution that can meet your immediate needs without wasting money on added logistics.
Need a centralized project management center? The Superheat SmartShak™ (9) offers the physical electronic components necessary to display the Superheat SmartView™ so all disciplines can collectively view real-time project data and make critical decisions.
For any questions or inquiries on the Superheat SmartWrap solution or to begin your next on-site heat treatment project, send Superheat a message through the Contact Us page of their website here and they will connect you with a representative in your region.
Share This:
---
More News Articles