(Bloomberg) 

Oil edged lower, with the market remaining dominated by U.S. sanctions on Russia and the looming potential for a conclusion to nuclear talks with Iran, that could add supply to the market.Brent crude slipped near $96 a barrel after a jump on Tuesday to just 50 cents shy of $100 a barrel. President Biden announced sanctions targeting Russia's sale of sovereign debt abroad and the country's elites, responding to what he described as the start of an invasion of Ukraine, but avoided a sweeping package of penalties.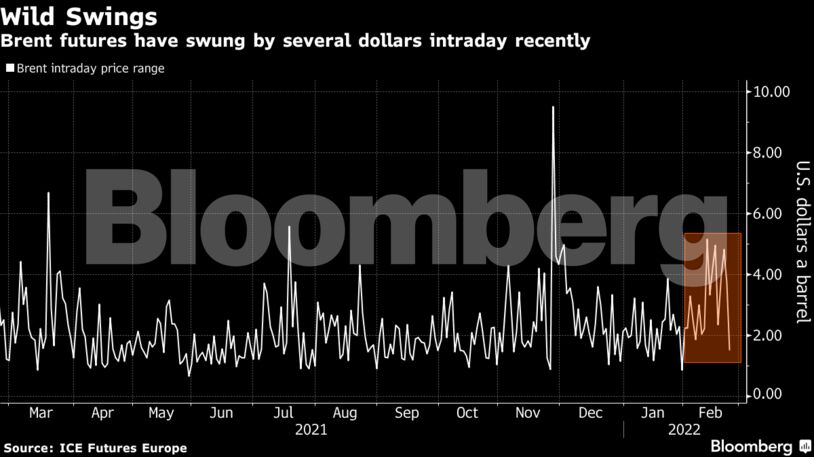 Traders also continue to watch the progress in efforts to revive the Iran nuclear deal. The country's Foreign Minster said on Wednesday that it hopes to settle the remaining issues in the coming days, but that it won't concede on its red lines "under any conditions".
Headline crude prices have been subject to wild swings over the last week amid conflicting geopolitical headlines from Ukraine and the Iran Nuclear talks. Beyond that, Brent's prompt spread has surged to an unprecedented level, indicating continued tight supply in the market. As tensions in Ukraine add to the risk of supply disruptions, the International Energy Agency said its members are ready to act to ensure global oil markets are adequately supplied.
"Most of the panic about the further escalation of the Russia-Ukraine conflict appears to have passed," said Carsten Fritsch an analyst at Commerzbank AG. "The calmer mood on the market is likely to be due to a large extent to the fact that the sanctions on Russia agreed by the West so far are unlikely to hamper energy supplies."
Prices
West Texas Intermediate for April delivery lost 1% to $91.02 a barrel at 10:17 a.m. London time.
Brent for April fell 0.7% to $96.19 a barrel.
The U.S. is in discussions with oil exporters and importers to try to smooth any fallout from escalating hostilities and sanctions, Daleep Singh, Biden's deputy national security advisor, said at the White House. The talks include tapping strategic oil reserves on top of the plan announced last year, he said.
One area of the market that is coming under pressure is the value of Russia's Urals crude. The grade was offered at its biggest discount in at least a decade on Tuesday. At the same time a South Korean oil buyer purchased Middle Eastern crude as an alternative to Russian oil.
Share This:
---
More News Articles