(Bloomberg) 

Oil gained as European equities bounced back, with crude continuing to follow the fortunes of wider markets in the first weeks of 2022.

West Texas Intermediate added 1.2% as stock markets in Europe rallied. The industry-funded American Petroleum Institute will release its weekly U.S. oil inventories report later Tuesday, while the Energy Information Administration is set to publish its monthly market outlook.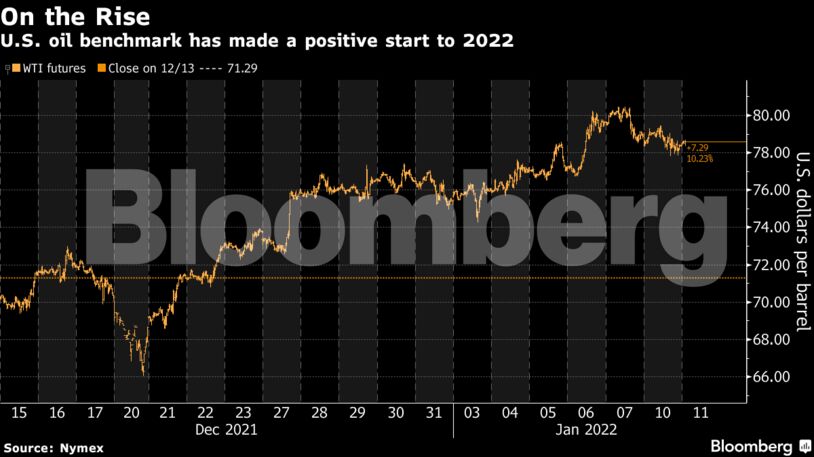 Oil has made a positive start to 2022 on expectations demand will continue to expand as the pandemic evolves, tightening the market. Supply in Libya has been turbulent, with bad weather curbing output again on Tuesday, though crude has largely followed movements in wider markets at the start of the year.
"With the absence of major news or data release, oil prices continue to move on equity-market volatility," said Keshav Lohiya, founder of analytics firm Oilytics.
Prices
WTI for February delivery advanced 1.2% to $79.18 a barrel at 8:27 a.m. New York time.
Brent for March settlement gained 1.1% to $81.77 a barrel.
Diesel markets in Europe and the U.S. are currently among the strongest oil-product sectors. Profits from turning crude into the fuel are at their highest since October in both regions as winter demand picks up, remaining relatively robust in the face of the omicron virus variant.
In China, the largest crude importer, the authorities have locked down a city of 5 million people, a day after detecting omicron in Henan province. The move underscores the nation's commitment to eliminating Covid-19 even as highly transmissible variants circulate.
Related news:
The Biden administration signaled it would curtail oil development in the National Petroleum Reserve-Alaska and restore restrictions on drilling.
Kazakhstan's daily oil output fell 3.7% as of Jan. 9 compared with Jan. 4, according to Energy Ministry data.
Share This:
---
More News Articles