We are heading into 2022 with the uncertainty carried over from the rollercoaster that was 2021, and we agree that simplicity is needed now, more than ever, in the oil and gas industry. From data management in the field to emerging technologies implemented in the oilfield, we have seen different processes come to fruition driven by the demand to look for ways to cut costs and save time. But how do we do that? Moving forward, we must consider more fundamental problems with people collaborating in the field with those in the office.
Have an ongoing snapshot of your projects in the palm of your hand

You have probably heard about the popular trend of one-pot-meals. They are comfortable and easy to prepare for everyone. They cancel out all the unnecessary steps of food preparation and remove the waste. They incorporate all the ingredients in the same pot, and everyone can easily prepare them to save costs and time. Matidor does the same job with your data.
Matidor's revolutionary platform centralizes any type of data —financials, maps, files, reports, etc— related to your project(s) and refines them in such a way that any users, regardless of their technical literacy, can clearly understand.
In particular, geospatial data are the pillars of location-based projects, and they are used in a greater frequency for planning and execution. As such, smart utilization of geospatial information dramatically impacts the level of success in project execution. In other words, when smart utilization brings mutual understanding to the table, by visualizing the data in real-time, this enables decision-makers to select the best alternative quicker.
True collaboration is now a reality. Matidor offers free access to projects for an unlimited number of users. All team members can have an ongoing snapshot of the project(s) via Matidor's powerful dashboard and they can zoom in and see as much detail as they want, depending on their role.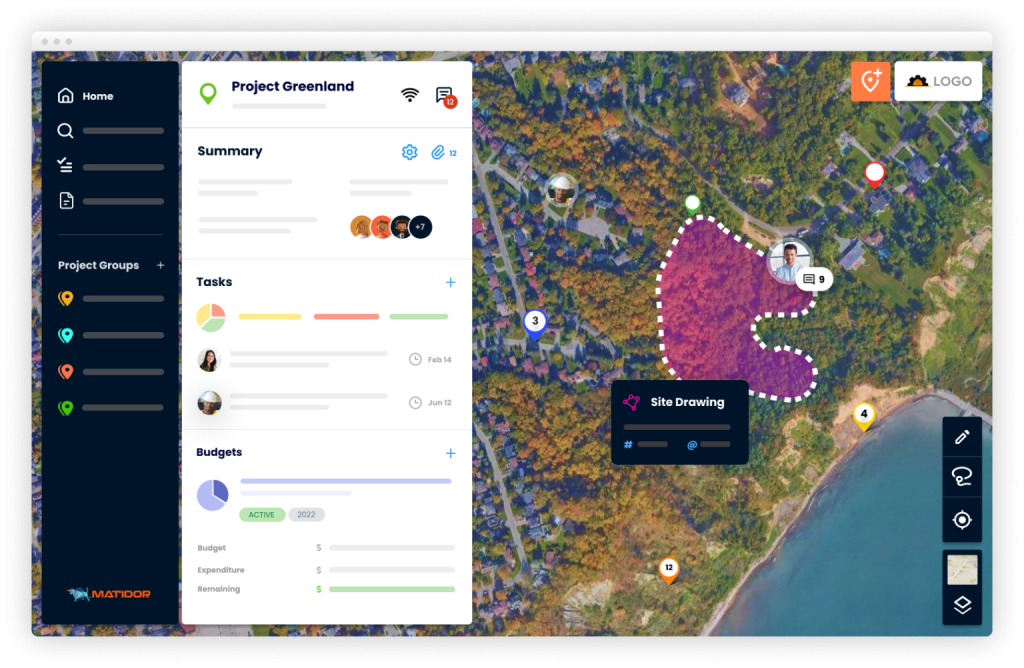 Matidor Noa: Toward the ultimate simplicity

Matidor Noa is the latest development from the Matidor team after listening to the market and working with operators throughout 2021 on countless environmental projects. Released in early 2022, Noa is our incomparable solution that has been developed by using proprietary "hybrid-microservice" architecture. It enables the best of tabular data (such as financials and forms) and geospatial data (such as maps and coordinates), in the most performing and scalable form. In short, it's now faster, more integrative and secure compared to its predecessors.
Noa amplifies the simplicity of collaboration with its innovative features. Smart commenting, for instance, enables everyone to communicate with their counterparts, staff, and others instantly, with contextual details that can be linked precisely to Who, Where, and What.
Noa has improved the overall user experience in many areas such as mobile compatibility, offline synchronization and field-data capturing. It will place an instant insight into your project in the palm of your hand and empower you to block undesirable costs.
Partnership with Esri allows better geospatial awareness for fieldwork
"We are more than excited to be a part of the Esri Partner Network, the global leader in location intelligence," said Vincent Lam, the co-founder and CEO at Matidor.com. "By bringing the best of GIS and project management into a single platform, we bridge the gap between business and technical users, where geospatial information is often disjointed with operational data, especially in the field industries such as energy and environmental."
This partnership will empower better geospatial intelligence for Matidor's existing users.
"At Matidor.com, collaboration is a key part of our vision. We saw far too many companies struggling with working with each other on multiple projects because of limitations with product features and pricing model," Vincent further describes the industry challenges and how the relationship between Matidor and Esri can be a game-changer for customers in the oil and gas space.
Come speak to us and take a test drive for your organization, see how we can transform the way you manage your projects and get peace of mind.
Share This:
---
More News Articles