(Bloomberg) 

Oil declined for a third day as global markets tip into a supply surplus, with demand pressured by the spread of the omicron Covid-19 variant worldwide and Chinese constraints on fuel use.Futures slid 1.3% in New York amid a growing conviction that inventories are starting to rise and will accumulate more rapidly next year amid curbs on travel, a view adopted by the International Energy Agency on Tuesday. Prompt prices for Brent, the international benchmark, briefly dipped to a discount known as contango that signals oversupply.

The outlook is deteriorating further on signs that demand in China — the world's biggest importer of crude — is coming under pressure as the government limits holiday travel to contain the virus, while also cracking down on pollution. Refiners are expected to replenish inventories hesitantly this winter.

"Supply has finally caught up with demand and this trend is forecast to intensify heading into 2022," said Stephen Brennock, an analyst at brokerage PVM Oil Associates Ltd. "Simply put, the oil market faces a significant oversupply next year."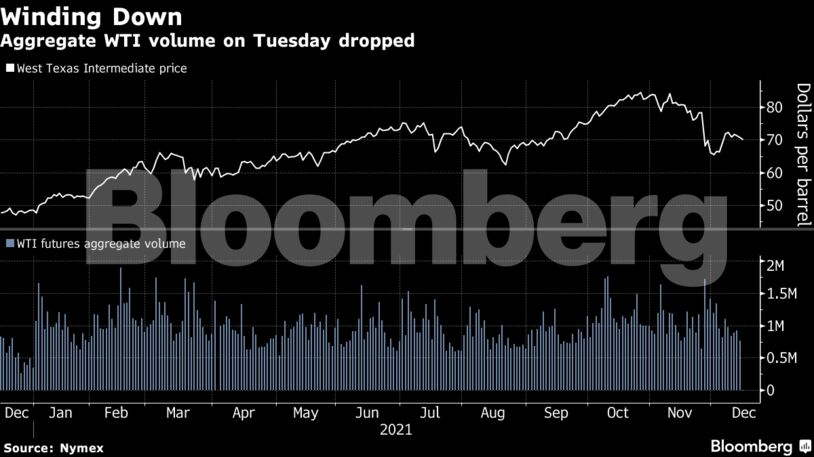 Prompt Brent prices have resumed a small premium of 5 cents a barrel after sinking to a discount on Tuesday.
Tuesday's discount is a warning to bullish investors, and not just because it reflects supply surpassing demand. If the structure returns, it also limits the returns they can get when prompt prices are at a premium, by holding a long position and collecting the yield as they roll from one month to the next.
Prices:
West Texas Intermediate for January delivery dropped 1.3% to $69.84 a barrel at 11:10 a.m. in London after falling 0.8% on Tuesday.
Brent for February settlement slumped 1.1% to $72.88 a barrel.

Brent's prompt timespread was at 5 cents a barrel in backwardation after briefly flipping into contango on Tuesday.
Oil's drop this week has eaten into a partial recovery from a bear market at the end of November. The fast increase in omicron cases, which have surged to 3% of all those sequenced in the U.S. just this month, coupled with another report showing inflation running hot are likely to dampen risk appetite, which is being reflected in thinning trading volumes ahead of the year-end holiday season. Aggregated trading volumes for the U.S. benchmark on Tuesday shrank to the lowest since Nov. 24.
Other oil-market news:
China's oil refining rose to the highest level in five month after state-run processors ramped up operations to avert a diesel supply crisis.
The industry-funded American Petroleum Institute reported on Tuesday that U.S. crude stockpiles fell 815,000 barrels last week, according to people familiar with the data, while inventories at the storage hub of Cushing rose. Official government data is due Wednesday.
More than 100 million Americans are forecast to hit the road this holiday season, nearing pre-pandemic levels even as gasoline prices at the pump remain close to seven-year highs.
Share This:
---
More News Articles