(Bloomberg) 

Oil declined with India set to announce a modest oil stockpile release on Tuesday, the start of a U.S.-led effort by the world's biggest consumers to tap reserves and tame high fuel prices.Futures in New York fell below $76 a barrel. India is said to be planning a 5-million barrel release from its stockpiles, about a day's worth of crude consumption, with an official announcement due on Tuesday. The U.S. could also announce a similar move today and President Biden is set to deliver remarks on lowering prices for U.S consumers later.

There have also been indications that Japan, South Korea and potentially China are all set to act and release supplies, an unprecedented effort by consumers to cool prices. OPEC+ delegates said the release of millions of barrels is unjustified under current market conditions and the group may have to reconsider plans to add more oil when they meet next week.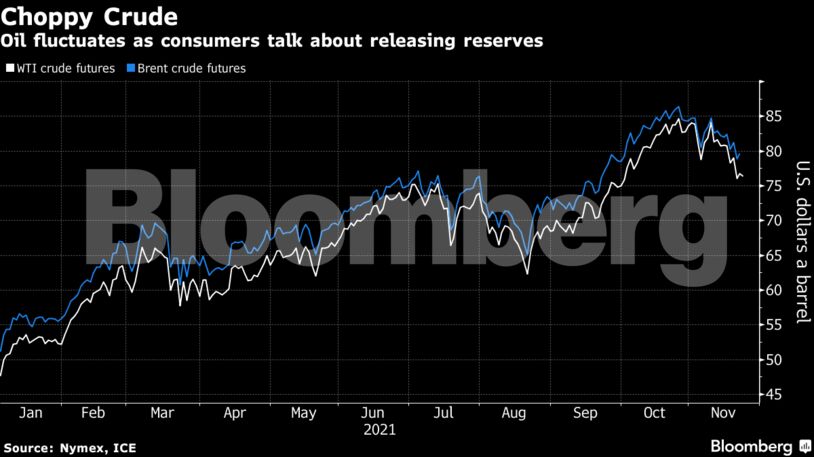 The rift between producers and consumers threatens to set up a fight for control of the global oil market. Crude's rally has faltered over the past few weeks, in part due to speculation that consumers will release supplies from strategic reserves. A Covid-19 resurgence in the U.S. and Europe, meanwhile, is raising concerns about the outlook for demand.
The U.S. is considering a release of more than 35 million barrels over time, although the situation remains in flux and plans could change, according to a person familiar with the White House's plans.
"This SPR release will be one for the history books," said Keshav Lohiya, founder of analytics company Oilytics. "The general rule normally holds to do the opposite of what the government does in the markets, and we wonder if this SPR release will set the bottom for oil prices."
Prices
West Texas Intermediate dropped 1.3% to $75.78 a barrel at 11:07 a.m. London time.
Brent lost 0.8% to $79.04 a barrel.
The White House is also considering a ban on its crude exports to reduce oil prices, according to a lawmaker championing the move. It was only six years ago that Congress lifted a 40-year-old ban on U.S. exports, which have regularly surpassed 3 million barrels a day.
Any release from reserves could be bridging a gap to a period where oil market balances are expected to weaken. The International Energy Agency said last week that the end of the price rally could soon be in sight as production recovers. The United Arab Emirates said there was no need for OPEC+ to increase production any faster than planned, despite the consumer pressure.
"The comments from OPEC+ today suggest that the plan will not change," said Emily Ashford, an analyst at Standard Chartered. "While that could mean no additional production, it could also mean that we won't see a pausing of output increases at the December meeting."
Other market news:
Developers of Keystone XL are seeking to recoup more than $15 billion in damages connected to President Joe Biden's decision to yank a permit for the border-crossing oil pipeline.
France's TotalEnergies SE and Italy's SpA said they were ready to invest billions of dollars in Libya as the OPEC nation emerges from a decade of conflict and civil war.
Share This:
---
More News Articles