(Bloomberg) 

Oil dropped toward $83 a barrel as the market focuses on a meeting of oil producers on Thursday and rising clamor for more crude from consumer nations.West Texas Intermediate futures for December delivery dropped 0.5% on Tuesday, with two days to go until the Organization of Petroleum Exporting Countries and its allies meet to set output policy. Nations including Kuwait have said there's no need to add barrels more quickly, despite pressure from the U.S. and Japan to do so.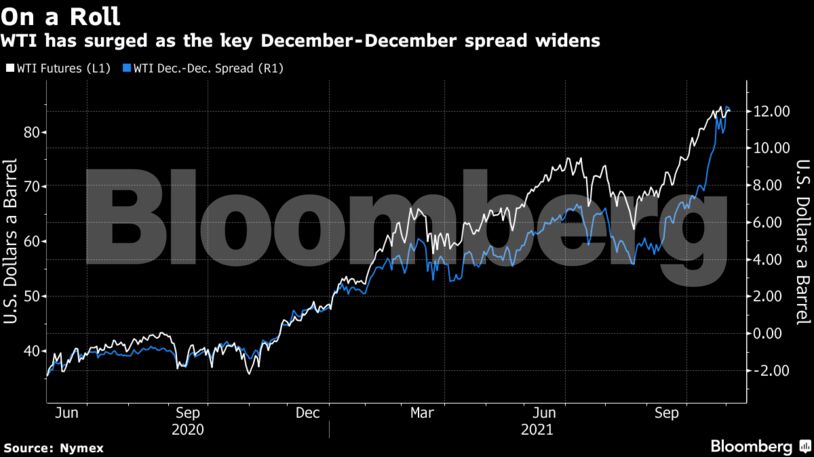 Oil prices hit a seven-year high in October and demand is now back above 100 million barrels a day, a level last seen before the Covid-19 pandemic, according to BP Plc. The energy crisis has also lifted demand, prompting Bank of America Corp. to say Brent crude will hit $120 a barrel by the end of June.
While OPEC+ is expected to confirm adding 400,000 barrels a day in December, there is "still some risk that they supply more, given the increasing political pressure they now seem to be getting from both the U.S. and other key consumers," said Bjarne Schieldrop, chief commodities analyst at SEB AB.
Japan has called on the oil producing group to hold talks to stabilize the market. Over the weekend, U.S. President Joseph Biden urged the group to pump more. If OPEC+ doesn't, the Biden administration is prepared to release crude from strategic reserves, according to RBC Capital Markets.
Stockpiles at the key U.S. storage hub in Cushing, Oklahoma, recently hit their lowest in three years. Later Tuesday, the American Petroleum Institute will issue estimates for Cushing as well as nationwide holdings.
Prices:
WTI for December delivery fell 0.5% to $83.65 a barrel on the New York Mercantile Exchange at 12:41 p.m. in London.
Brent for January settlement dropped 0.4% to $84.41 a barrel on the ICE Futures Europe exchange.
The crude market's overall bullishness is reflected in strongly backwardated pricing patterns, with near-term contracts trading above those further out, pointing to tightness of supply. WTI for December is trading around $12/bbl higher than the same month in 2022.
Related coverage:
OPEC delivered barely half the oil-production increase it planned for October as African members struggled.
China is keeping the same import quota for private oil refiners next year, even after the sector faced government scrutiny for suspected violations of environmental and tax laws.
The IEA said its monitoring the oil market and is ready to act if needed.
The oil market is jumping at the shadow of the crunch in natural gas supplies, but isn't suffering a shortage of its own, according to Wood Mackenzie Ltd.
Russia's oil output increased in October for a second straight month as companies open the taps under the OPEC+ agreement to raise output.
Share This:
---
More News Articles