(Bloomberg) 

Oil in New York held above $80 a barrel on expectations that a power crisis from Asia to Europe will lift demand, prompting banks to boost their price forecasts.

Futures were little changed after closing 1.5% higher on Monday. Demand is being supported ahead of the northern hemisphere winter by shortages of natural gas and coal, triggering a need for alternative power generation fuels such as diesel and fuel oil. Caution from the Organization of Petroleum Exporting Countries and its allies in restoring supply is adding to upward price pressure.

The mismatch in demand and supply could quickly drain inventories. The gap between West Texas Intermediate's two nearest contracts has widened in recent days in an indication that stockpiles at the key U.S. storage hub of Cushing, Oklahoma, are set to shrink.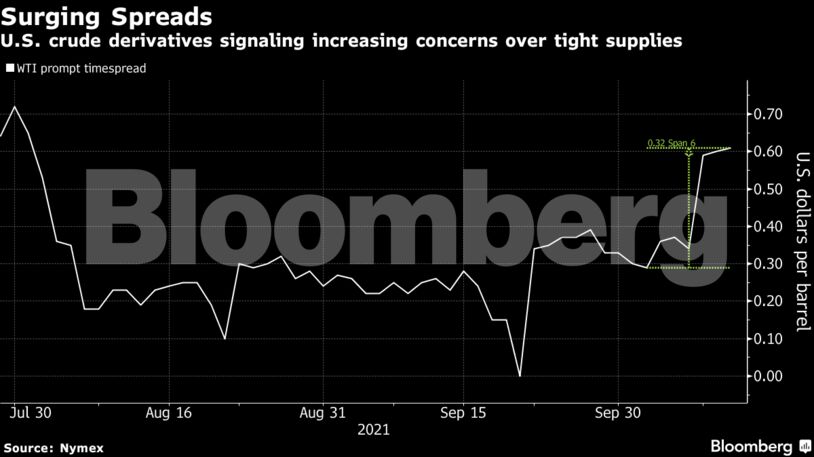 Global inventories may dwindle to their lowest level on record in terms of days-of-cover by the end of this year, Citigroup Inc. said Monday, when it increased its fourth-quarter Brent forecast to $85 a barrel and said it may touch $90 at times. UBS Group AG raised its forecast for both New York and London oil because of stronger demand from the power sector and reviving U.S. jet fuel consumption.
"Gas-to-oil switching and the potential for a colder winter in the northern hemisphere will underpin the demand front," said Stephen Brennock, an analyst at brokerage PVM Oil Associates.
Prices:
WTI for November delivery rose 0.2% to $80.69 a barrel as of 10:56 a.m. in London

The contract was 61 cents higher than the December settlement, up from 29 cents at the start of last week, indicating a tightening market

Brent for December advanced 0.2% to $83.83
The revival in demand comes after last year's record slump as the pandemic ravaged the world. The improving metrics are also evident in long-suffering refining profits.
In Europe, margins have climbed from "essentially zero in June" to near pre-pandemic levels, partially driven by stronger demand for diesel and jet-type fuels, Citi said in a separate report. In Singapore, complex margins have risen to the highest in two years, while those for diesel are near a 21-month high.
Still, the pace of oil's surge, combined with surging prices of other energy commodities and metals is bringing on inflation and threatening to hit economies reviving from the pandemic slump. Industries in Europe are being forced to crimp or shut operations. That, in turn, could weigh on oil demand.
Other oil-market news
Chevron Corp. committed to an "aspiration" of net zero emissions from its operations by 2050 as the company responds to rising investor and societal pressure to play a bigger role in a transition to a low-carbon future.
Mexico President Andres Manuel Lopez Obrador said that Trafigura Group had fuel-import contracts suspended because it allegedly transported contraband fuel amid a government-led crackdown on private energy companies.
China's widening power crisis, which has forced rationing across the country and threatens to derail economic growth, is prompting policy makers to rethink the pace of the nation's energy transition.
Share This:
---
More News Articles