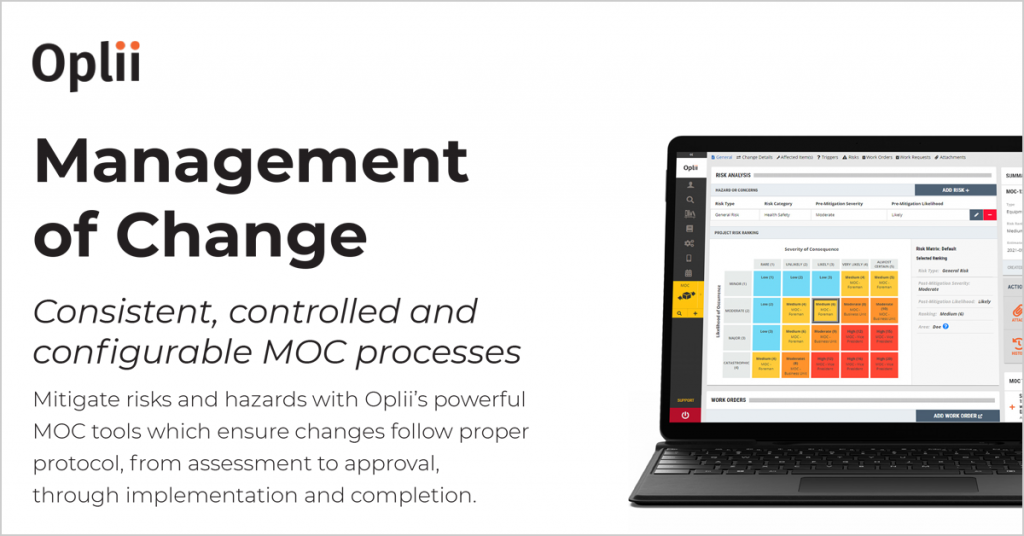 Whether change management requires collaboration from a few—or a few dozen—people, Oplii's new MOC engine can handle it.
"It's about creating smooth, safeguarded processes that reduce risk and improve safety," says Managing Partner Johan Rothzén. "With Oplii, significant changes can be managed with greater precision and control than with a one-size-fits-all approach."
Recent enhancements to the cloud-based platform give coordinators the flexibility to design unlimited workflows. Factors such as the nature of the change, its risk and location, can be used to determine who's involved and what happens from initiation to closure.
This means, for instance, that process-related changes can involve different steps and people than a more technical, equipment-related change.
"Even within oil and gas, companies face different kinds of risk exposure and have different tolerances," says Rothzén. "MOC can consist of a few simple steps, to a vast, complex decision tree. That's why we've focused on flexibility."
In addition to multiple workflows, organizations can configure distinct risk matrixes, trigger questions and closeout tasks to suit different kinds of changes.
Supporting collaboration and minimizing bottlenecks
Rothzén says one of the major challenges of MOC is ensuring everyone who needs to review and approve the change is looped in and responds in a timely fashion.
"Dynamic approvals and notifications enhance the workflow further by selecting, alerting and collecting input from the right people, based on risk or jurisdiction, for example," says Rothzén. "This reduces the need for manual intervention and ensures consistency across records."
Workflows can be configured to require one or all approvers to review and sign off on a change at any point in the process. Collaborators can log comments, approvals or rejections, and add details as needed, though editing can be strictly controlled using status-based permissions.
Easy-to-access audit trails
Oplii meticulously tracks change records from start to finish.
Every action is logged in a manner that supports easy auditing, says Rothzén.
"It's not only easy to see the actions and changes made by all collaborators on the actual MOC record, but in-depth reporting tools make short work of satisfying audit requirements," he says.
Standalone vs. fully integrated
"One of Oplii's strengths is its ability to meaningfully integrate with other modules," says Rothzén.
But that doesn't mean an organization needs to subscribe to other modules. Oplii MOC can be used completely independently.
However, Oplii is an operations management system. As such, it covers off asset management, asset integrity and maintenance management, HSE reporting and more—solutions that integrate seamlessly with MOC.
MOC records can be directly associated with sites, equipment, structures and pipeline to build up an asset database with richer contextual data.
With maintenance integration, work orders can be assigned as part of the change implementation, executed using Oplii's mobile solution, and tracked in both MOC and work order modules.
For more information about Oplii's MOC solution, visit www.oplii.com or call 1-888-994-9337.
---
Oplii is a proudly Canadian company leading the way in operations management software for O&G.
The Oplii enterprise platform is powerful and easy to use, and includes integrated solutions for the management of assets, asset integrity, maintenance, HSE, MOC, NCR and more – with industry-leading proprietary mobile tools that truly connect the office and the field.
---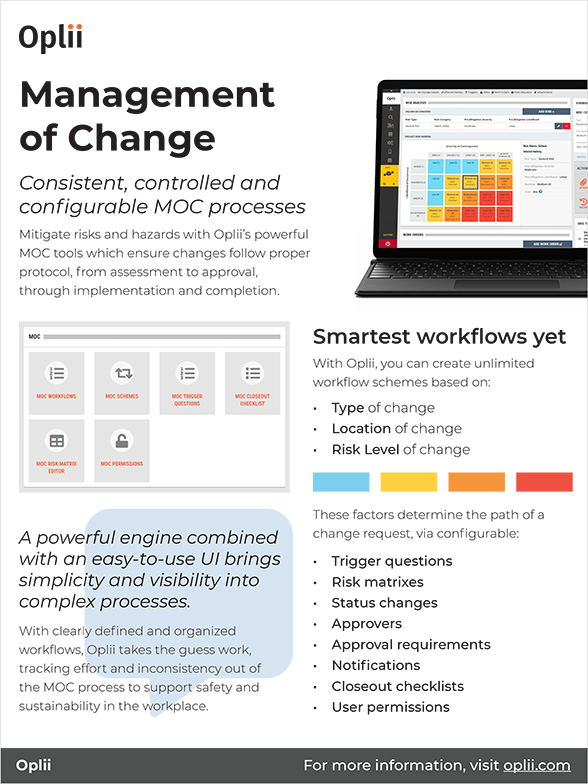 Share This:
---
More News Articles