Much like Ron Burgundy with his many leather-bound books, solar has become kind of a big deal. In 2020 alone, solar capacity growth made up the lion's share of renewable growth at 43 percent of electric capacity added to the grid.
But as with anything nice in this world, it often comes with a catch. In the case of solar panels, the catch is a ton of waste. Researchers from the University of Calgary and INSEAD published an article in the Harvard Business Review outlining a surge of solar panel waste which was previously unaccounted for.
Background: With US solar capacity on track to quadruple by 2030, the International Renewable Energy Agency (IRENA) anticipates the world will have accumulated 78 million tonnes of cumulative solar waste by 2050.
For context, that's roughly what New York City produces in waste over an entire decade.
With nearly 30 years lead time, you'd think this presents a valuable opportunity to build infrastructure to recycle the associated precious materials.
So where's the problem?
Put simply, IRENA never accounted for the rapid and widespread early replacement of panels due to incentivization. Their models used a 30-year lifecycle to predict the accumulation of solar waste and assumed any early replacement will come solely from panel failure or damage, neglecting any replacement driven by incentives.
The upcoming waste wave: The study found the economics of early replacement could lead to 50 times more waste than IRENA forecasted, in just four years. Projections put waste surpassing new installations in a decade. By 2035, about 2.5 tons of panels may need to be recycled for each ton sold.
Ballpark estimates place panel recycling costs at $20-30 per panel versus $1-2 to just toss them in the landfill. Presently, the EU WEEE Directive is one of the only pieces of legislation that mandates the recycling of solar panels.
Materials throughput by sources
tonnes per terawatt hour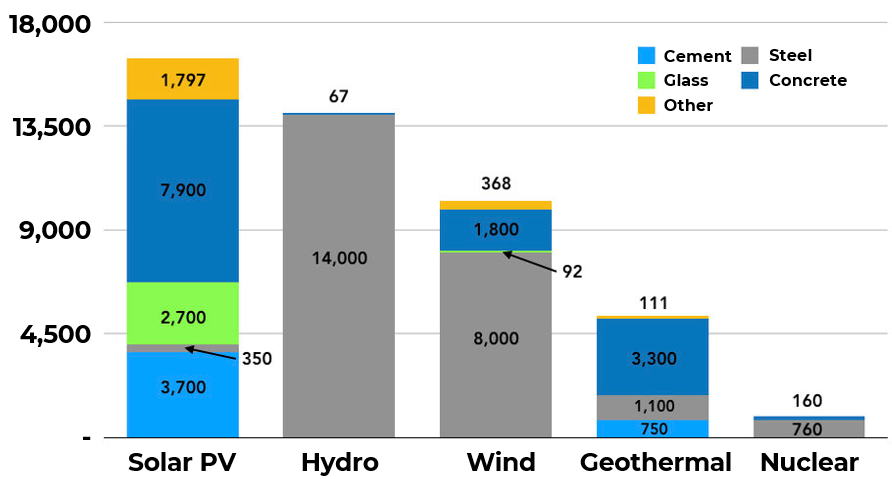 The impact: As it stands now, solar installation costs have dropped by 70 percent over the last decade. However, end-of-life costs are often neglected in levelized cost of energy (LCOE) calculations. Present research indicates that panel recycling costs may range between $150-650 per kilowatt-hour, easily doubling the LCOE estimates and diminishing price competitiveness.
Zoom out: This is what we in the biz call the elephant in the room. It seems like we and our legislators need to remember back to simpler times and remember the three Rs of reduce, reuse and recycle as we navigate the energy transition.
+Read the paper: Cleaning after Solar Panels: A Circular Outlook
Share This:
---
More News Articles