(Bloomberg) 

Oil snapped a four-day gain as markets broadly retreated on inflation concerns and a key U.S. fuel pipeline restarted.

West Texas Intermediate lost 2.1%, while Brent retreated too. China's Premier Li Keqiang urged the country to deal effectively with the commodity price surge and its impact, according to a state television report, echoing previous comments from officials. Inflation fears continued to dominate wider markets, though U.S. equity futures erased an earlier loss.

In the U.S., the Colonial Pipeline — a key source of gasoline for the East Coast — is returning to service after a cyberattack last Friday. That'll bring relief to motorists after panic-buying emptied out some gas stations and retail prices topped $3 a gallon. In futures markets, profits to produce the fuel slumped after news of the restart.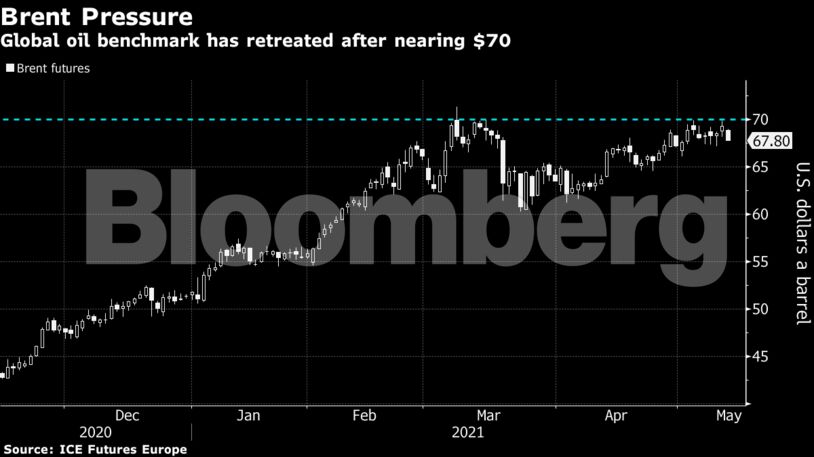 Oil is among a number of commodities that have rallied hard this year as investors wager that the economic recovery from the coronavirus outbreak will spur consumption. The IEA said in its monthly report the supply glut created by the pandemic has cleared. Still, Covid-19 flare-ups in many parts of Asia, particularly India, continue to cloud the outlook for consumption.
"Lack of recent conviction in higher prices is obvious and understandable," said Tamas Varga, an analyst at PVM Oil Associates Ltd. "Concerns are growing that the untamed spread of the coronavirus in India and in South East Asia will dent oil demand."
Prices:
WTI for June delivery fell 2.1% to $64.71 a barrel at 8:31 a.m. in New York.
Brent for July settlement shed 1.8% to $68.05

The global benchmark approached the $70 level again on Wednesday, rising to as much as $69.90.
While the Colonial Pipeline has restarted, fuel shortages are still lingering. The Biden Administration has lifted a mandate on using exclusively U.S. ships in order to help ease a crunch on gasoline supplies.
Separately, Yemen's Shiite Houthi rebels claimed a drone and missile attack against targets in Saudi Arabia including oil facilities, according to a statement on a rebel-run television channel. Such attacks have risen this year, though they rarely cause much damage.
Related news:
Excess oil inventories built up during the pandemic have been drained almost completely, although notes of caution remains.
OPEC doesn't have to fear a significant ramp-up of shale production, according to Goldman Sachs Group Inc.
The federal agency that protects pipelines hasn't imposed any mandatory cybersecurity requirements since its creation.
Share This:
---
More News Articles