Railserve, Inc. – A Marmon/Berkshire Hathaway Company
Safe – Sustainable – Efficient – Switching and Material Handling Services.
USD Group
Delivering Energy Infrastructure Solutions
As crude volumes begin to rise and available pipeline capacity remains constrained the North American crude market faces increasingly difficult challenges and logistic constraints. Railserve and USD Group (USDG) are looking to offer sustainable, safe and practical solutions through collaboration and shared values to address these challenges.
Through leveraging organizational capabilities and tailoring unique Crude-by-Rail solutions, Railserve and USDG have formed an alliance to work with companies to understand their rail logistics needs. Our Alliance stands ready to invest in and facilitate your rail projects from conception to commissioning operations. USDG's expertise lies in design, construction and operation of highly efficient, highly effective terminals to support liquid petroleum, industrial chemicals, and plastic resins, among other products. USDG is an established developer and operator of large-scale multi-modal logistics centers and energy-related midstream infrastructure across North America and has a wide breadth of relationships in the rail industry. USDG was one of the first pioneers to successfully develop the hydrocarbon-by-rail concept.
Railserve is the largest North American provider of on-site rail logistics services, operating over 80+ customer locations – many of them Crude-by-Rail terminals. Through a long history of collaboration, USDG and Railserve currently jointly operate 10 terminals. With experience in navigating complex rail projects and responding to the challenges of crude logistics, Railserve and USDG deliver timely, efficient, flexible and cost-effective midstream infrastructure and operational solutions.
USDG has been recognized nationally for its safety record and together with Railserve, USDG has loaded, offloaded and operated its network of terminals without a single OOT/PHMSA recordable spill. 2021 marked USDG's 16th consecutive year with zero recordable injuries.
Hardisty Rail Terminal
The USDG/Railserve Alliance's Hardisty Terminal in Alberta, Canada, is one of the largest heavy crude oil hubs in North America. It serves as an origination point for export crude-by-rail to the United States. USDG manages the terminal with Railserve providing a suite of rail and material handling services. The Hardisty terminal loads various grades of Canadian crude oil received from the Western Canada Sedimentary Basin onto railcars for transportation moving approximately 210,000 barrels of oil per day to end markets.
In 2019, construction started to add a Diluent Recovery Unit (DRU) at the terminal to provide a more environmentally beneficial and cost efficient heavy crude oil market solution.  The DRU unit is a critical part of USD's sustainability and ESG initiative, increasing the benefits of rail transport, providing increased takeaway capacity and being cost competitive with crude oil pipeline transportation.
Texas Deepwater Rail Terminal
Operating since October 2015, Texas Deepwater Rail Terminal (TDWP) boasts 988 acres of land, making it one of the largest rail logistics terminals on the Houston Ship Channel. The terminal holds several million barrels of storage capacity, multiple docks and rail terminal with the accessibility to load multiple trains per day. The Texas Deepwater Rail Terminal is positioned to provide access to substantially all inbound and outbound pipelines and dockage providing barge connectivity to major Gulf Coast refining centers as well as access to international markets. The terminal is serviced by three Class 1 railroads and TDWP's existing rail footprint allows for the efficient handling and storage of over 800 rail cars per day. Railserve has performed all switching services at the terminal since its inception in 2015 and continues to work collaboratively with USDG to ensure all service needs are met.
Read more here: http://texasdeepwater.com/terminal-overview/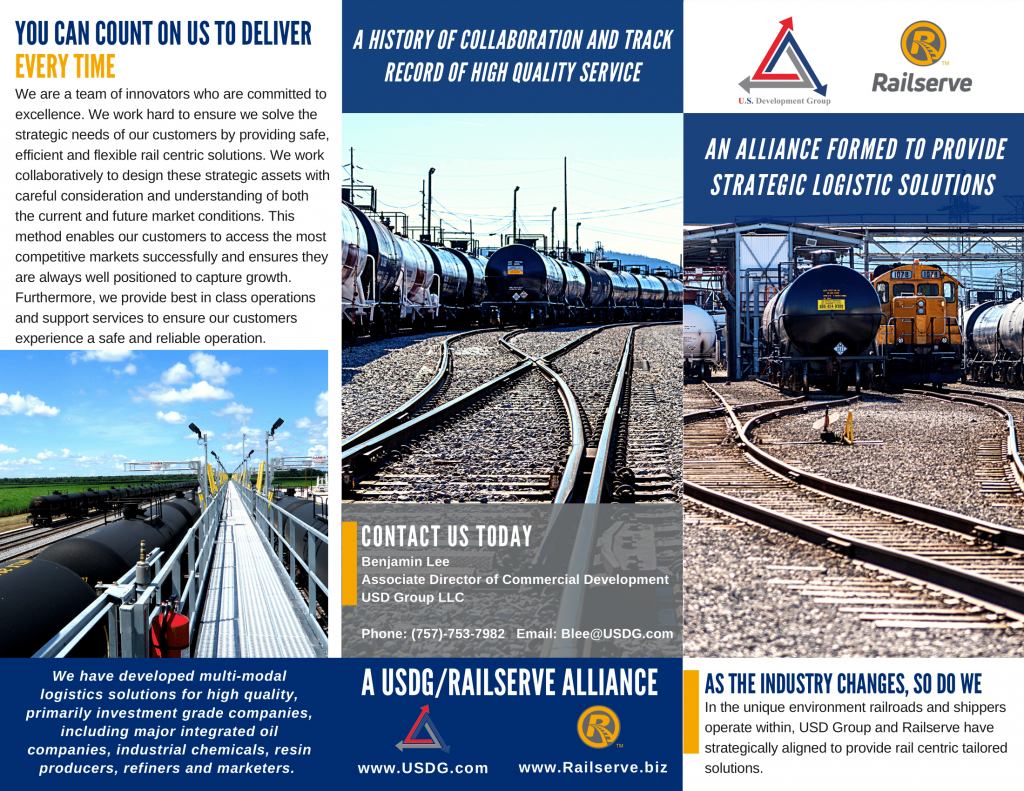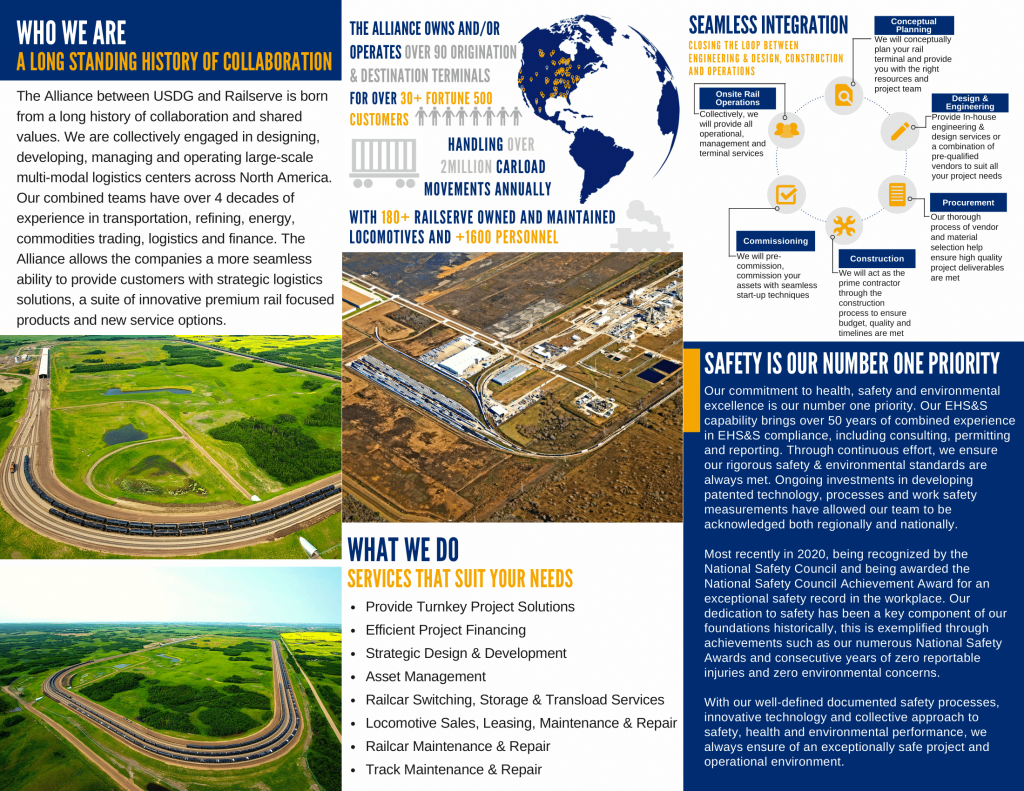 Connect with us to learn more: https://www.railserve.biz/
Connect with us to learn more: https://usdg.com/
Share This:
---
More News Articles