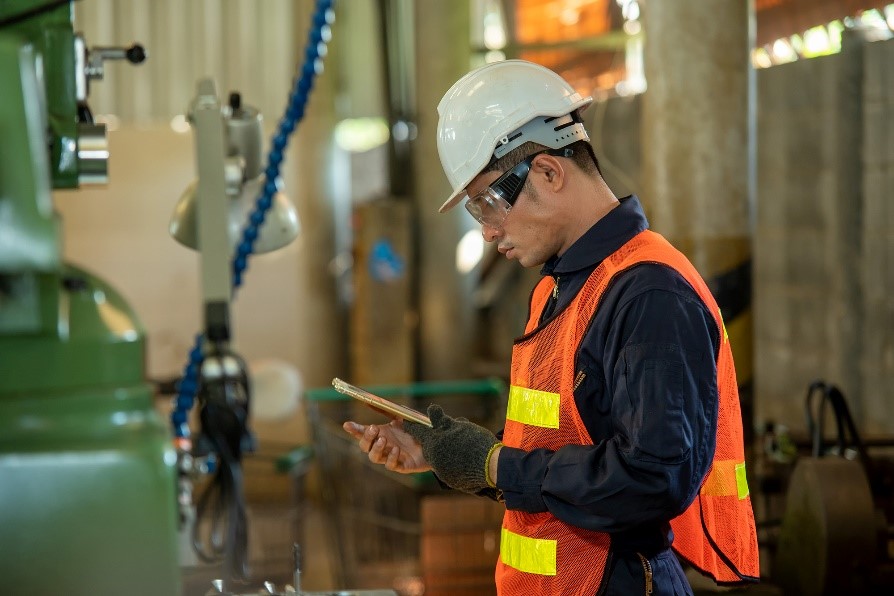 Between pressure to improve profit margins, the emergence of IIoT and Industry 4.0, and the near ubiquitous use of mobile devices among industrial workers, there is no longer any doubt that mobile device usage on the plant floor makes economic and operational sense. In fact, statistics show that mobile devices can save manufacturers a daily average of 42 minutes per employee. These capabilities not only streamline plant workflow; they also increase facility operating efficiency.
Operational Benefits of Software on the Plant Floor – Particularly When Returning to Work
Despite these benefits, plant management has struggled to find a solution, recognizing that software holds the key to productivity. At Tero, we had already recognized that software could be the foremost driver of plant floor device productivity — and could provide a consistent means for plant workers to track and report on their activities. With this in mind, we architected a native iOS app that facilitates management of maintenance workflows, from work order initiation to task wrap-up.
Purpose-built to provide constructive, user-friendly mobile support for plant workers and their management, our iOS app can also be a pivotal element of your Return-to-Work strategy. Not only will it boost your productivity immediately but it will also support social distancing guidelines. With workers empowered to do more on their phones with the iOS app, they can spend less time engaging in direct personal interactions. Finally, there are no fancy features to master; no complicated interface to navigate. All functions drive better intelligence and reporting immediately.
The Azzier iOS Mobile App: Full-Featured; Easy to Use
Interacting seamlessly with other plant floor software, it allows workers to bring up work orders, review the tasks to be completed, add time and materials, and finally close the work order and add completion remarks. Elapsed time to complete the work order can also be tracked via the app's timer, which records and timestamps it with the date each was performed.
In essence, all app functionality is designed to streamline workflow management, timekeeping and other requisites of efficient plant floor operations. Workers can perform tasks on the go without returning to a stationary workstation throughout the day to input data. In addition, the app's built-in integration with other CMMS components creates a unified experience for users. With today's workforce already accustomed to mobility in their personal lives, adoption becomes effortless.
By using a solution like the Azzier iOS Mobile App, firms gain the benefits of a highly functional CMMS mobile application. Outcomes management can anticipate include:
Increase Overall Productivity
Promote Cost Reduction with Increased Efficiency
Gain Faster Access to Critical Information
Boost Maintenance ROI
Foster a Competitive Edge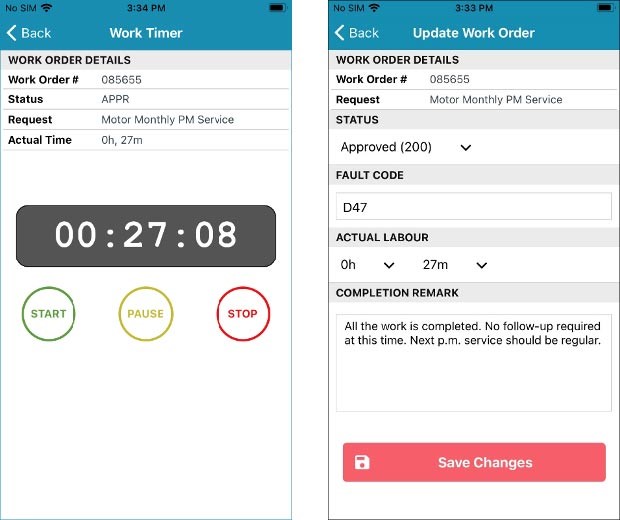 Plant Floor Mobility: The Clock Is Ticking
There has never been a better time for plant management to implement a software-driven mobile productivity app. A Cap Gemini survey found that 40% of the workers who say tasks could be done using mobile are currently not using mobile devices for these tasks. Furthermore, this lack of access to mobile devices is incenting workers to take matters into their own hands. In 2019, research firm Deloitte determined that in many locations, nearly half of workers have begun using their own devices for company work, operating outside the corporate environment.
That makes it impossible for companies to ensure consistency of information recording and capture across the plant floor. It also makes it cumbersome — if even practical —to aggregate the data for corporate-level reporting, one of the most significant benefits of plant floor mobility. All of those concerns evaporate with the Azzier iOS app.
When manufacturers provide a feature-rich software application to run on devices, whether corporate-issued or worker-owned, they eliminate issues of hardware functionality and compatibility. All workers experience a ubiquitous interface that allows them to retrieve and input information.
In short, moving to facility-wide mobile adoption, and taking it all the way to mobile productivity, doesn't have to be as complicated as it might appear. In our development of our CMMS mobile app, we identified numerous ways to simplify the process. To speak with one of our experts about the potential inherent in plant floor mobility, please visit Fast ROI and Hard Savings – Web Work Azzier, call 866-818-8376 or email [email protected].
Share This:
---
More News Articles