(Bloomberg) 

Oil edged higher at the end of a week in which prices have climbed on optimism the recovery in demand from the Covid-19 pandemic is improving.Futures in New York rose on Friday and are up more than 7% this week. China's economy soared in the first quarter, while the country's refiners processed more than 14 million barrels a day in March. A Chinese mega-refiner and some Japanese oil companies have also been snapping up crude cargoes, boding well for the physical market.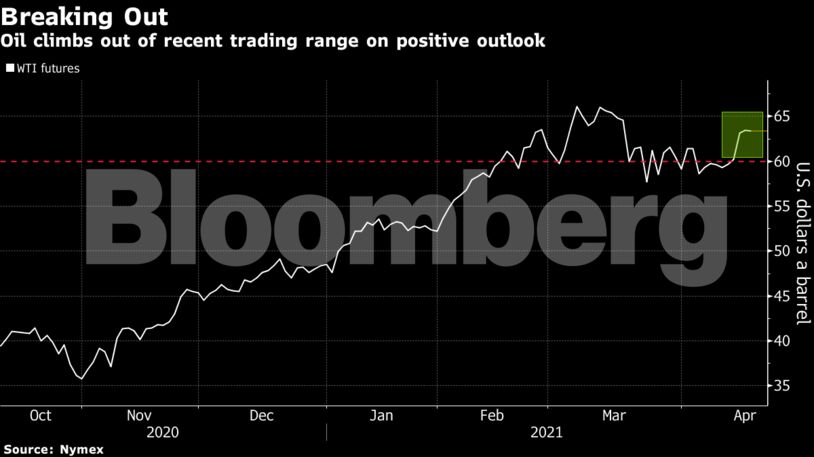 Positive signs from Asia follow a pick-up in the U.S. this week. Data in recent days showed jobless claims falling to a new pandemic-era low, housing starts rebounding and gasoline demand expanding. The global market may see a temporary lull due to new virus outbreaks, according to the the International Energy Agency, but the agency followed OPEC in boosting its full-year estimates for consumption.
"Given the improving outlook for the world's two biggest economies, there is little chance of the market's feel-good glow being extinguished anytime soon," said PVM Oil Associates analyst Stephen Brennock.
With Asian buying picking up, gauges of market strength have also climbed. Brent's nearest timespread was in a bullish backwardation of 49 cents a barrel earlier on Friday. That compares with as little as 37 cents on Wednesday.
Global oil demand is expected to rise to 94 million barrels a day in May, from 93 million this month, according to a report from Rystad Energy AS. The consultant expects further increases later in the year.
Prices
West Texas Intermediate futures rose 0.1% to $63.54 a barrel by 9:01 a.m. in New York.
Brent increased 0.3% to $67.14 a barrel.
Not everywhere is recovering strongly, though. In India, refineries are diverting oxygen produced at their plants to hospitals to help battle a serious second wave, which has led to fuel sales tumbling during the first half of April compared with a month earlier.
The market is also facing an increase in supply in the coming months, although the Organization of Petroleum Exporting Countries said this week that rising demand should trim global stockpiles. Exports of Russia's flagship Urals crude are set to rise sharply in the first five days of May, a move that pressured swap markets tied to the grade.
Other oil-market news:
Commodities trader Trafigura Group will take back near-full control of its troubled Puma Energy subsidiary following the Angolan state oil company's exit.
China's ever-expanding oil refining capacity will increase competition among crude processors around the world and weigh on their margins, the nation's biggest energy producer said.
Daily crude and condensate production in Kazakhstan hit the highest level since mid-May on Thursday.
Share This:
---
More News Articles