Emerson's TESCOM AGI is your best choice for instrument valves, manifolds, and instrument enclosure systems. Westech Industrial offers a full range of TESCOM AGI products that are manufactured and built to perform.
With decades of innovative engineering expertise, combined with our trusted global presence, the TESCOM AGI brand is one of the world's single sources for instrumentation solutions. Built on a firm foundation of technical expertise, TESCOM AGI helped set the standard for instrumentation technology advancements in the 1950s in precision valves for the flourishing aerospace industry. This knowledge has continually expanded, culminating in the company's present position of manufacturing the broadest range of instrument valve products available and serves many industries and applications.
Anderson Greenwood has long been known as the industry leader and manufacturer of the highest quality instrument valves and manifolds. Coupled with the primary isolation Keyblok and Monoflange valves, the range is comprehensive from take-off point to instrument.
A Complete Range of Instrument Valve Solutions
Needle Valves
Soft Seated Plug Valves
Metal Seating Rising Plug Valves
Gauge Valves
Air Distribution Manifolds
Keybloks
Monoflanges
Manifolds
These are the highest quality instrument valves and manifolds in the market!
WESTECH INDUSTRIAL HAS OVER 20,000 TESCOM AGI INSTRUMENTATION VALVES & MANIFOLDS IN STOCK!
Westech Industrial has over 20,000 valves and manifolds in stock and ready to go, ensuring fast delivery, so when you need it, we have it! These top-quality instrument valves can be offered with large quantity discounts and special project pricing.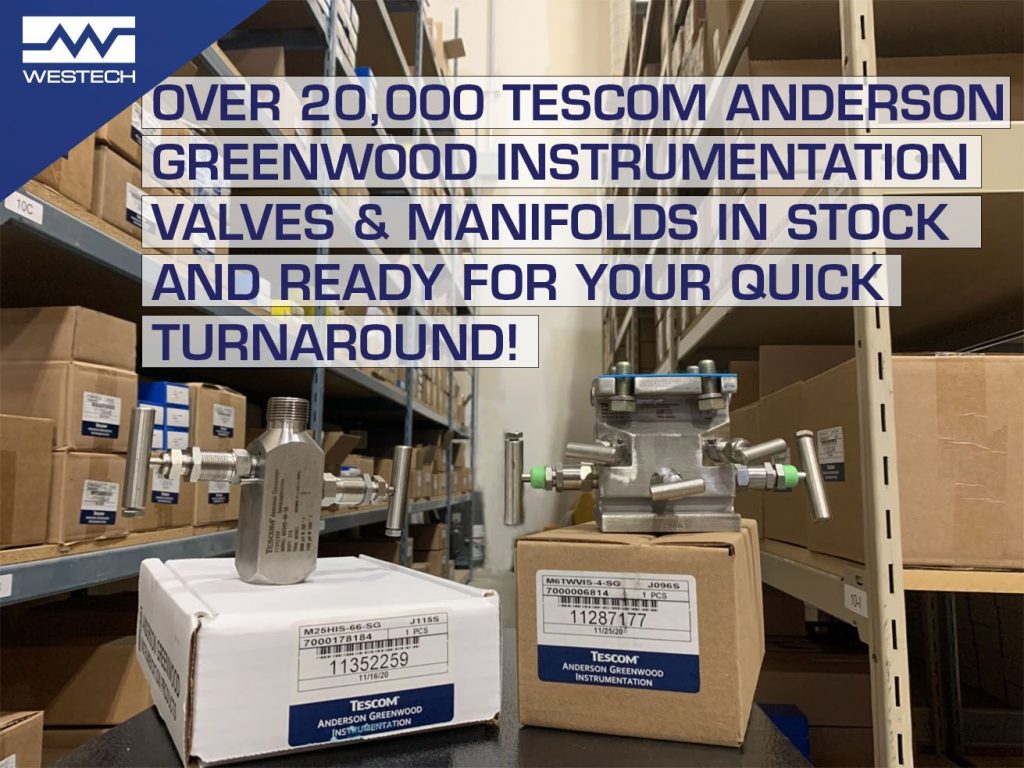 To learn more about our TESCOM AGI products visit our website at https://bit.ly/3tXIte6 or call and speak to one of our technical representatives at 1-800-912-9262.
Share This:
---
More News Articles