In order to remain competitive, today's refiners must employ all optimization and product control techniques available. The use of online physical property analyzers is one of the key features to reach those objectives because they measure important quality properties in the process directly.
Salt in crude measurements are made to define the level of chloride based salts found in samples in weight per volume. In parts of Canada, salt levels in crude oil are far higher than in others. This crude oil must still be transported and refined and the high levels of salt pose problems if left untreated. De-salting technology has been readily available for many years, but to be effective there is a need for quick and reliable measurements of salt concentration. The fast response of an on-line analyser enables the operator to use De-salters as efficiently as possible.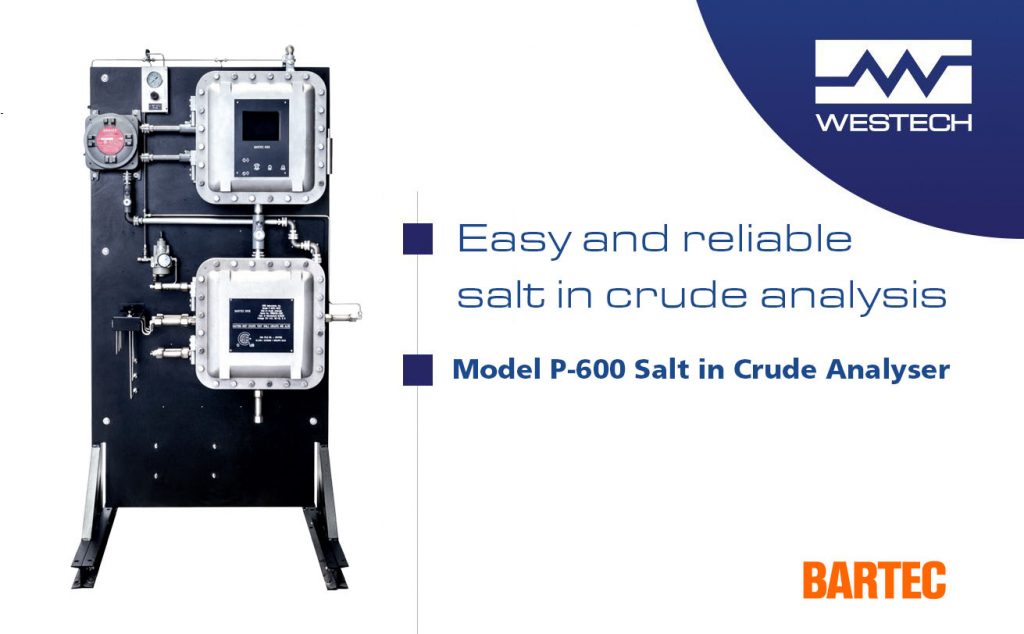 The BARTEC ORB's fully automatic, Model P-600 Salt in Crude Analyser is a highly reliable solution to this predicament. This ATEX Zone 1 rated analyser conforms to the ASTM D3230 standard electrometric method for salts in crude oil. This is achieved with the use of a digitally controlled syringe sample handling system, micro-volume solenoid valves and a measurement chamber with a high-resolution conductivity probe, stirrer and precise, bi-directional cell temperature control.
With its analysis cycle of 5 minutes, operators are assured of relevant, reliable and recent measurements. The P-600 performs at variable measurement ranges of up to 400 PTB (0-1,000 mg/L) with a repeatability of 2% of scale. Operators also appreciate the analyser's ease-of-use and low solvent consumption.
The Model P-600 has is highly reliable, has a better than 99% uptime rate and is easy to maintain.  In addition, it includes an incorporated rinse/flush system with precise bi-directional cell temperature control and remote diagnostics over IP.
MORE INFORMATION
To find out more about Westech Industrial's BARTEC ORB Model P-600 Salt in Crude Analyser please visit our website at https://bit.ly/3a1zKQy or call and speak to one of our technical representatives at 1-800-912-9262.
Share This:
---
More News Articles