(Bloomberg) 

Oil traded near $60 a barrel in New York ahead of an OPEC+ meeting this week, with the group expected to maintain its cautious stance on boosting output as near-term demand concerns persist.

West Texas Intermediate moved between small gains and losses, after dropping 1.6% on Tuesday. In the run-up to Thursday's closely watched ministerial talks, an OPEC+ panel revised down consumption estimates for the year. Still, the alliance also expects the surplus built up during the pandemic to be mostly gone within the next quarter.

Demand remains sluggish in many parts of the world as virus cases continue to restrict travel. In Europe, France is leaning toward a national lockdown, while Spanish refiner Repsol said it's cutting processing at one site due to weak fuel use. The global picture is far from uniform though, with China's manufacturing figures beating estimates, pointing to higher-than-expected industrial activity.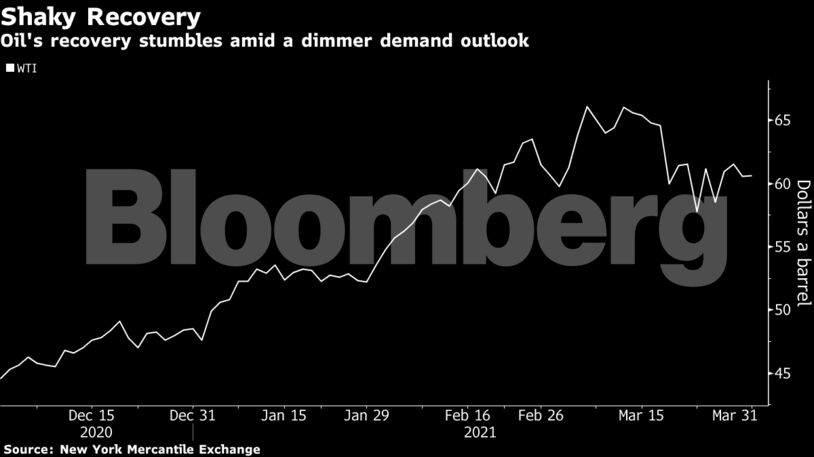 Oil has pulled back in recent weeks — paring a quarterly increase — amid stricter lockdowns in some European countries, while in the U.S., data from OPIS by IHS Markit show gasoline sales trailing pre-pandemic levels by 16%. OPEC+ is expected to keep output stable when it meets this week, meaning millions of barrels a day of supply remain on the sidelines.
"The oil market is currently facing something of a paradox, with Brent prices above $60 a barrel, but at the same time the world having ample spare production capacity," said Helge Andre Martinsen, senior oil analyst at DNB Bank ASA. "We expect OPEC+ to roll over production quotas from April to May."
Prices:
WTI for May edged down 0.2% to $60.44 a barrel at 8:39 a.m. New York time
Brent for May slipped 0.5% to $63.83 ahead of the contract's expiry later on Wednesday

Brent for June traded down 0.3% at $63.97
The Organization of Petroleum Exporting Countries and its allies will debate whether to revive part of the 8 million barrels of daily output — about 8% of global supply — they're withholding. After surprising traders at the last session by not easing curbs, the group is now expected to maintain that position.
At the same time, Saudi Aramco, the state-owned oil giant, is expected to raise its Arab Light official selling price for May supplies by 30 cents a barrel, according to the median estimate in a Bloomberg survey of refiners and traders. That's despite continued flows of Iranian crude into China, and challenging conditions for many Asian refiners.
Related news:
The Suez Canal crisis has benefited suppliers of fuel to the ships that chose to avoid the waterway and sail the long way around Africa. At the port of Durban, the price of very low sulfur fuel oil has surged 20% since March 22, according to Cockett Marine data.
Crude stockpiles in Europe's ARA region rose 1.4 million barrels last week, according to Genscape data.
China's fuel exports are expected to drop in April from a year earlier, according to industry consultant JLC.
Share This:
---
More News Articles