Oil slid as worsening global coronavirus outbreaks point to the long road ahead for a consumption recovery.Futures fell as much as 1.1% in New York in a choppy trading session that saw prices briefly turn positive. JPMorgan Chase & Co. cut demand estimates for China as lockdowns spread, while the U.K. suffered its worst day of the pandemic on Wednesday. In the U.S., a vaccine supply shortage has led New York City to reschedule more than 20,000 appointments.Meanwhile, the industry-funded American Petroleum Institute reported increases in U.S. crude, gasoline and distillate inventories last week. That would be the first domestic crude supply increase since December, if U.S. government data confirms it on Friday.

The Covid-19 situation "is keeping the oil market heeled, unable to take the next leg higher," said John Kilduff, a partner at Again Capital LLC.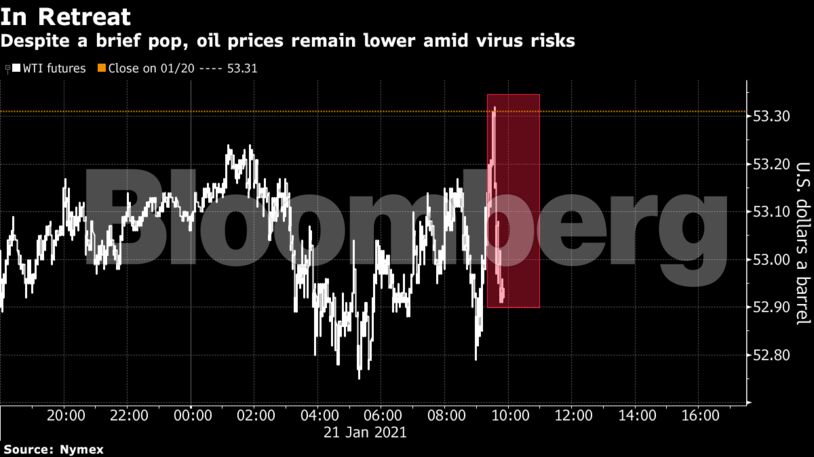 Despite an uncertain short-term consumption outlook, crude is still trading near the highest level in almost a year as investors pile into commodities and global inventories are seen depleting as the year goes on. There's been a boost to energy use from cold weather, while Saudi Arabia's unilateral output cuts and a weak dollar have also buoyed the market.
"Oil prices are a touch weaker this morning as the market continues to consolidate after surging higher in the first two weeks of the year," said Ryan Fitzmaurice, commodities strategist at Rabobank. "Investor interest in the broader commodity markets is helping put a floor under oil prices and dips have been shallow thus far."
Prices
West Texas Intermediate for March delivery fell 24 cents to $53.07 a barrel at 10:16 a.m. in New York
Brent for March settlement declined 21 cents to $55.87 a barrel
Though the API data largely showed stockpile increases, the group reported a decline in inventories of more than 4 million barrels at the nation's largest storage hub at Cushing, Oklahoma, which is the main pricing point for U.S. crude futures.
Supply decreases there have helped to boost WTI's nearest timespread to its strongest level since May — an indication of market tightness. The move was also aided by the expiry of the February contract this week, which had been in a bearish contango structure.
Other oil-market news
Saudi Arabian Oil Co. has been excluding most refineries and chemical plants from its carbon disclosures to investors, even as executives emphasized in the run-

up to

 an IPO in 2019 that drilling Saudi oil generates fewer planet-warming emissions than other producers.
Libya is seeking funding from foreign oil companies to fix its ailing infrastructure after years of war and neglect, the nation's top energy official said.
The leader of Canada's oil heartland called President Joe Biden's decision to cancel the Keystone XL pipeline project an "insult" and urged Prime Minister Justin Trudeau to consider retaliation.
Share This:
---
More News Articles