By Ann Koh and Alex Longley
(Bloomberg) 

Oil fell as industry data pointed to an increase in U.S. crude stockpiles. Futures in New York fell below $38 a barrel after rising 3.5% Wednesday. The American Petroleum Institute reported crude stockpiles climbed by almost 3 million barrels last week, according to people familiar with the data, though gasoline inventories shrank by 6.89 million barrels.China's next five-year plan beginning in 2021 will call for increases to its mammoth state reserves of crude, strategic metals and farm goods, said officials with knowledge of the discussions, a potentially bullish driver for crude in the longer term.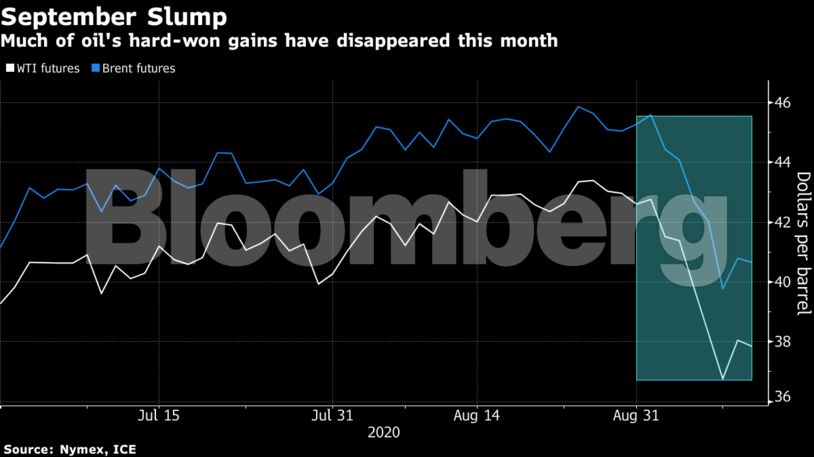 The American crude benchmark is down 12% this month amid signs it will take longer than initially anticipated to return to pre-coronavirus levels of energy demand. Since the start of the month, road traffic has grown in Europe and Asia, though the picture is uneven in the Americas, adding to oil's mixed outlook. The onset of the refinery maintenance season is also clouding prospects for consumption already devastated by the pandemic.
"Uncertain oil-market fundamentals are holding prices back," said Jens Pedersen, a senior analyst at Danske Bank. The "climb in U.S. crude stocks plays into the market worries over weak demand."
Prices
West Texas Intermediate for October delivery fell 1.5% to $37.50 a barrel at 8:46 a.m. in New York
Brent for November settlement dropped 1% to $40.37
The picture doesn't look much better for refiners. Global refinery utilization may stay around 75% of capacity until early 2021, if processors have to clear the ongoing surplus in oil-product inventories, Citigroup Inc. said in a note.
Brent's six-month timespread was $2.71 a barrel in contango — where prompt prices are cheaper than later-dated ones — compared with $1.97 at the end of August. The change in the market structure indicates growing concern about a glut and may also, together with falling tanker rates, incentivize floating storage.
–With assistance from James Thornhill.
Share This:
---
More News Articles