By Christine Buurma and Naureen S. Malik
(Bloomberg) 

For all the heat waves and hurricanes that have wreaked havoc in America this year, nothing has stopped the nation's natural gas supplies from swelling, with a massive stockpile gain blindsiding traders on Thursday and sending prices plunging by the most in almost two years.U.S. inventories of the heating and cooling fuel expanded by 89 billion cubic feet to 3.614 trillion cubic feet last week, well above any analyst's expectations. Stocks are growing despite two back-to-back heat waves that broke records across the western U.S., extreme temperatures that baked New York earlier this year, multiple hurricanes that have temporarily shut gas rigs across the Gulf of Mexico and La Nina threatening a more extreme winter chill in the north.

The large stockpile gain reflects a slew of negative factors that have halted recent bullish momentum in the gas market. Milder weather heading into fall is curbing the demand for gas to generate electricity for air conditioning, while industrial demand for gas is the lowest for this time of year since 2015 amid pandemic-driven lockdowns. Though hurricanes disrupted offshore gas output, they also triggered blackouts and forced two U.S. liquefied natural gas export terminals to shut.

"How many times have we witnessed this price action unfold in the natural gas markets," said Teri Viswanath, lead economist for power, energy and water at CoBank. "The run-up that occurs during the hottest days of the summer always begins to wane as the heat begins to diminish and physical inventory limits take on greater importance. This outsized stock build simply underscores the fact that supply-demand balances remain loose."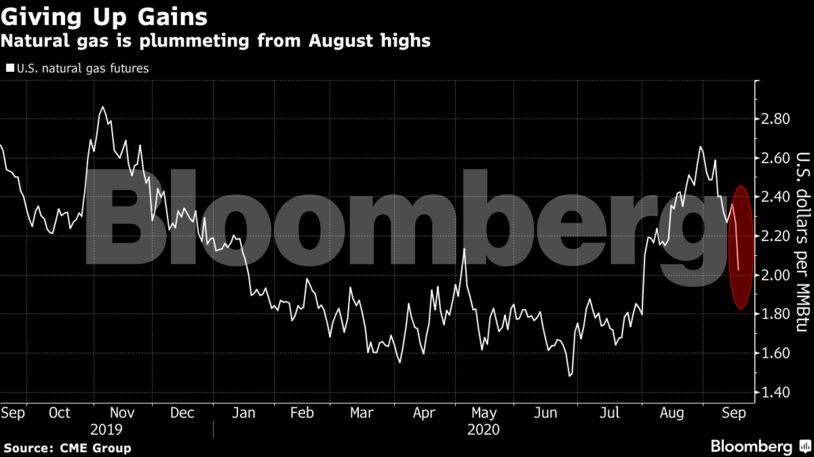 The slump erased much of the gain posted last month amid speculation U.S. gas was finally reaching a turning point, helped by shale drillers curtailing output in response to weak oil prices. Some traders pointed to expectations of a frigid winter and the possibility of a much tighter supply-demand balance. That, so the thinking went, would finally help elevate prices out of their two-year slump. Gas for January 2021 delivery is trading at the biggest premium to the October 2020 contract on record.
Accelerating supply gains suggest gas hasn't rounded the corner yet, however. While a stockpile surplus has persisted all year, storage levels are now at a record for this time of year, according to government data.
"The super-size storage number is putting pressure here," said Bob Yawger, head of the futures division at Mizuho Securities USA. Gas was already selling off after an August rally and "it's nothing more than speculators pulling the plug and booking profits. There are a lot of people that have been long for a long time."
The bulls include commodity analysts at Citigroup Inc., who said Thursday that the supply balance for 2021 remains tight and that a mild winter should delay, not derail, the bank's positive price view.
Thursday's selloff "largely reflects short-term demand and storage issues, as prices should remain constructive in 2021 due to rising demand and exports y/y amid falling production," analysts including Anthony Yuen wrote in a note to clients. "Looking ahead to 4Q20 and 2021, the market should be constructive, though price gains could be more limited in the early part of winter and potentially stronger later on."
Gas futures for October delivery fell 9.9% to settle at $2.042 per million British thermal units on New York Mercantile Exchange, the biggest decline since January 2019. The settlement price was the lowest since July 31.
Share This:
---
More News Articles