By David Stringer and Thomas Biesheuvel
(Bloomberg) 

BHP Group says it's getting rid of thermal coal mines to help prepare for a lower-emissions future, yet the company's still counting on fossil fuels to drive its business for another decade.The world's biggest miner is accelerating the sale or spinoff of interests in mines in Australia and Colombia, and it's planning to shed two coking coal operations and a share in an Exxon Mobil Corp.-controlled oil and gas business. The announcements came Tuesday as the company reported steady full-year profit.

Chief Executive Officer Mike Henry is starting a long-term transition of BHP's portfolio to benefit from rising demand for renewable energy, food and electric vehicles through growth in copper, nickel and potash. At the same time, BHP wants to profit from a shift to higher-quality raw materials in China's steel sector and an oil market that Henry said has passed though the worst virus-related risks.

"There's going to be more demand and more upside for higher quality, hard coking coal, so we remain committed to that core of our portfolio," Henry said in an interview with Bloomberg Television. "There's great value and returns to be generated in oil for the foreseeable future, certainly the next decade and likely beyond that."

BHP will keep churning out the iron ore that accounts for the bulk of its profits, and it expects to increase output even as prices ease from close to a one-year high, Henry said. A price surge that has seen benchmark iron ore jump by about a third this year helped cushion annual earnings from the impact of the Covid-19 pandemic.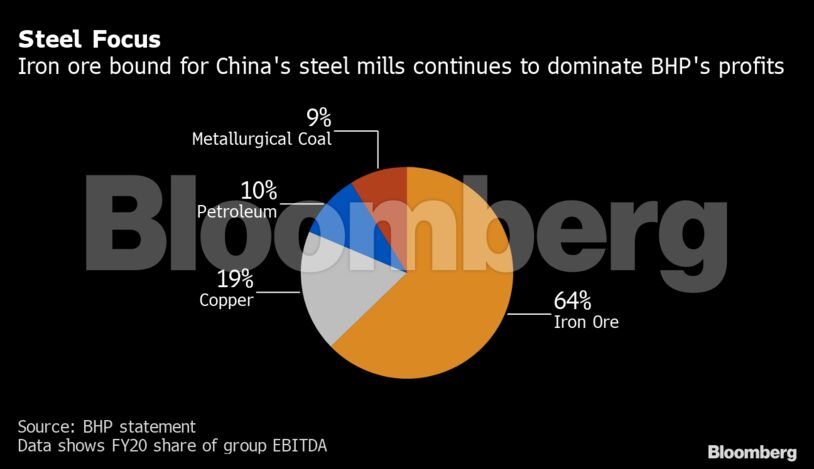 BHP shares fell as much as 3% in London and were trading down 1.7% at 12:25 p.m. local time. Rival Rio Tinto Group rose 1% in London. Investors may be disappointed with a final dividend — of 55 cents a share — that was below analysts' forecasts, reflecting a conservative approach amid a weak global economy, RBC Capital Markets analyst Tyler Broda said in a note.
The producer has been considering plans to offload its Mt Arthur thermal coal mine in Australia and a one-third stake in the Cerrejon operation in Colombia for more than a year, and it rejected some early offers, people familiar with the matter said last month. Processes to exit those mines, as well as a coking coal venture with Mitsui & Co., through trade sales or a demerger into a separate listed entity, will now advance.
"We'll land the right solution in the next year or two," Henry said in the interview.
BHP and rivals, such as Anglo American Plc, want to exit thermal coal as investors get increasingly uncomfortable with blue-chip investment names mining the dirtiest fuel. Norway's $1 trillion wealth fund said it would stop investing in companies that mine more than 20 million tons of thermal coal a year, and BlackRock Inc. also said it will reduce exposure to the fuel.
Lower thermal coal prices mean around two-thirds of the world's seaborne supply is losing money, and there's uncertainty over China's policy on energy coal imports.
BHP said it planned to sell its 50% stake in the Bass Strait oil-and-gas joint venture with Exxon in southeastern Australia. Exxon said in September it wants to exit. "We will seek to divest oil and gas assets that are mature or which are likely to realize greater value under different ownership," Henry said in the earnings statement.
The company next month may detail more ambitious targets for reducing greenhouse gas emissions.
Share This:
---
More News Articles