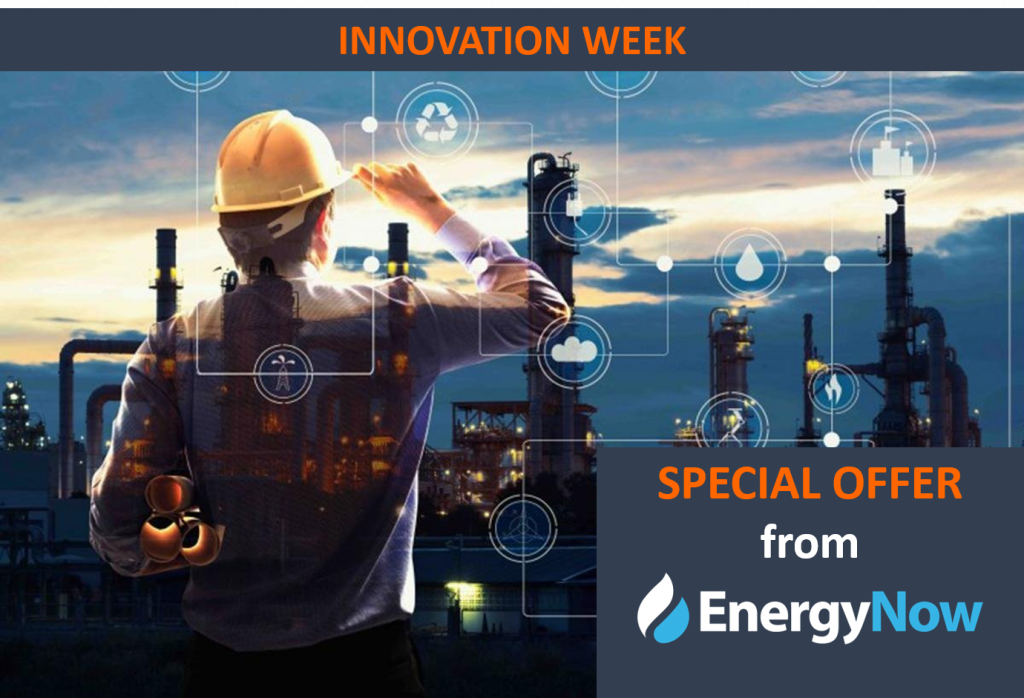 Thank-you for your participation in EnergyNow's INNOVATION WEEK.  Your submission was an important step towards increased digital marketing to SHOWCASE your products and services to a focused energy industry audience of decision makers and key influencers. With the cancellation of in-person tradeshows, conferences and networking events, a strong digital presence is more important than ever!  Don't be left on the sidelines watching your competition beat you to business opportunities.
To attact potential new customers, it's critical to move beyond your company website, emails, your social media and single purpose meetings. To promote your products and services to attract new customers, your company needs to broaden its base and cover more ground more quickly.  An expanded digital presence to the EnergyNow audience will do do that. Your strategy for the months ahead should include a digital "Pipeline" to keep your company visible, relevant and ready for business to start to ramp up again.
NOW IS THE TIME! Keep Your Digital Marketing Momentum Going With EnergyNow!
We CONSISTENTLY Publish Your Content to an Energy Industry Audience (publish articles, videos, case studies, announcements, virtual events..and more)
We Can Deliver Your Message to 260,000 Energy Industry Professionals
We Can Deliver Your Message to alnost 100,000 North American Linkedin Followers
We Deliver Over 40,000 Daily Newsletters
We SHOWCASE your Products, Services and Solutions
We Help Generate More Sales Leads
We Help Grow Your Social Media Using Our Social Media
Our Audience Includes Professionals From  Producers, Service Companies, Engineers, Utilities, Renewables, Construction, Investment, Government & More
Our Audience is Growing Every Month so Your Company Gets More Exposure Every Month
BEST OF ALL – We Offer THREE Different Types of ANNUAL Marketing Packages. We Can Accomodate Any Marketing Strategy & Budget!
Our Marketing Packages:
IMPACT –  Feature Your Company BI-MONTHLY on EnergyNow ($2,500 for 16 MONTHS – Save $825 – 25%)
DISRUPT – Feature Your Company MONTHLY on EnergyNow ($3,500 for 16 MONTHS – Save $1,155 – 25%)
DOMINATE – Feature Your Company (TWO to FOUR TIMES -flexible) on EnergyNow ($5,500 for 16 MONTHS – Save $1,815 – 25%)
*NOTE: We can also offer a MONTHLY PAYMENT OPTION – Ask Your Representative For Details
EnergyNow Special Offer:  (Valid until August 31st)

(NOTE: This special offer is just for Innovation Week participants and is better than any other promotional offer we currently have offered)
16 MONTHS on EnergyNow (starting Sept 1st) for the price of 12 months on any EnergyNow ANNUAL Marketing Package (Impact, Disrupt or Dominate)  (A 25% SAVING! – Pricing Above) – INCLUDED
4

FREE

Custom Designed Linkedin Images to be used on EnergyNow and on your social media (Value $500) – INCLUDED

62% Off

Cross Border Publishing in Canada for 16 months  (Save $1,660) – OPTIONAL

$500 Credit

Towards a FEATURE VIDEO Produced by EnergyNow for your marketing (Regular Price $2,450. Video must be paid for and started before Ocotber 31, 2020) – OPTIONAL
FREE EnergyNow SHOWCASE Listing in Our Digital Marketing Directory (See a Sample HERE  Sample SHOWCASE Profile
FREE Content Marketing Calendar to Plan Your Marketing
EnergyNow CONTENT THAT WORKS Presentation for Marketing Ideas
NEED A VIDEO TO PROMOTE YOUR COMPANY?  Here Are Some Video Examples (click on a link below)
Questions & More Details – Contact the Representative that Introduced You to INNOVATION WEEK

Share This:
---
More News Articles