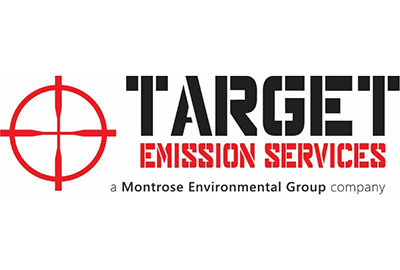 As the large provider of OGI LDAR in Canada/USA – Target Emission Services (a division of Montrose Environmental Group) we have summarized our 2020 early activity and provided learnings from our 2,650 LDAR surveys performed across 6 provinces and 21 companies (Jan 1st – April 30th)
Survey Learnings
Experienced staff and a well-planned FEMP can have a significant impact on increasing leak detection rates and repair efficiency
Our customers potentially saved over $2,000,000 in lost revenue from detecting/repairing leaking methane
The direct measurement with a Hi-Flow sampler of leaks helps to categorize severity and prioritizes repairs resulting in a significant impact to the total emissions/recovery
Having operations/maintenance personnel on site speeds up repair times
Having a repair tracking program is essential to remain compliant and ensure timely repairs
Competent OGI technicians can detect more leaks while reducing time/cost on location by quicker detection
Why use Target Emission Services for your FEMP?
Experience
Founded In 2007, Target Emission Services was the first Canadian company to use a Thermal Camera for the detection of Hydrocarbons. 13 years and 2 countries later Target is still focused on providing efficient and high quality OGI services for our customers. Our field personnel go through extensive training, shadowing, and testing before being deemed competent to perform comprehensive OGI surveys.
Data Matters
Conducting a safe comprehensive survey is only half the battle….
Whether you have 2 or 2000 facilities quality data management is the key to remaining compliant and organized.
Utilizing our Target Track and Target Online cloud-based system allows for secure data and repair management.
Other features include:
Onsite mobile capture of survey data, with leak pictures and videos
Email alerts with repair reminders
API Integration with SAP, Maximo as well as other popular Emission Management Platforms. Seamless integration reduces the need for manual data transfer and can create faster work order tickets.
AVO wellsite/facility tracking
User friendly with convenient data export features
For further information Click here for Target Online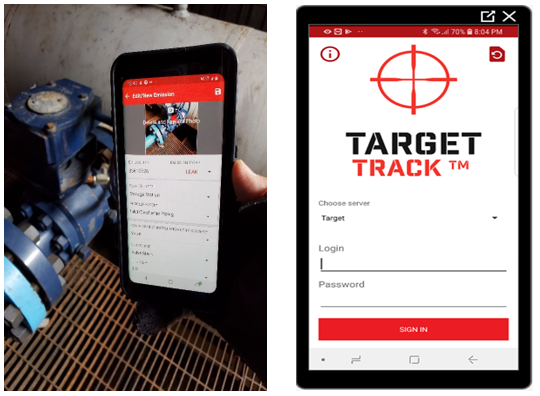 Complete Target Offerings:
Fugitive Emission Management Planning creation
Optical Gas Imaging (OGI) & Method 21 fugitive emission detection
Pneumatic inventory
MSAPR Testing
Cloud based data/repair/AVO tracking software
Compressor seal testing
Future ALT FEMPS initiatives including truck mounted and drone methane detection
Alternative Work Practice (AWP)
OOOOa Compressor Station Plans
Subpart W (Green House Gas)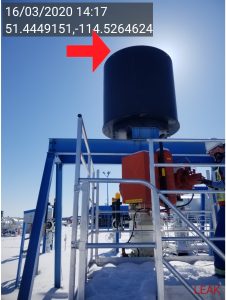 Leaking ESD valve -Measure leak rate 12.32 cfm
Target Emission Services was recently featured by the Petroleum Technology Alliance (PTAC) during their TIS webinar series.
To view this presentation, click below
For further information please contact:
JARED METCALF, Director of US OGI Operations
TARGET EMISSION SERVICES
Montrose Environmental Group Company
412 Darby Way, Suite #2, Bridgeville, PA  15017
O: 1-855-225-8755 x 712      M: 409-332-8497
E: [email protected]
Share This:
---
More News Articles