By David Yager
July 27, 2020
The headlines are common, relentless and the last thing folks in the 'patch' need to be bombarded with as we struggle to recover from the oil price collapse.
"Coronavirus accelerates global shift to cheaper, more sustainable renewable energy."
"EU Approves Biggest Green Stimulus in History With $572 Billion Plan."
"Fossil Fuel Carnage. The coronavirus pandemic has set off the most devastating downturn in the industry's 150-year history, one from which, ultimately, it may never recover."
While the oil, gas and coal industries have indeed been clobbered by the government-mandated economic shutdown to contain the COVID-19 virus, opponents of fossil fuels are aggressively exploiting the opportunity to dance on carbon's grave.
Prematurely, I'm pleased to report.
Nowadays, modern electronic media allows anybody to write anything and distribute it. Information sources have become increasingly targeted to give their converted or inquisitive audience exactly what they want to read and hear.
Today's competitive media outlets pick up and disseminate pretty well anything that is ready to go, sounds reasonable, doesn't contain spelling or grammatical errors, and was prepared by a person or organization that appears credible.
So we can't avoiding reading and hearing the most amazing things.
Headline number one came from the Institute for Energy Economics & Financial Analysis (IEEFA) with the stated mandate of  "accelerating the transition to a diverse, sustainable and profitable energy economy." IEEFA held an on-line conference on this month and wrote of its own event; "Three major fossil fuel-based industries—coal, liquefied natural gas, and plastics—were becoming less financially attractive even before the global coronavirus pandemic, according to experts…"
No shortage of experts in the climate business.
A typical claim from this IEEFA article read, "But the coronavirus, which is expected to shave roughly $8 trillion from the US economy over the next decade, has thrown the troubles of the energy industry into high relief, forcing companies and investors to face reality and turn towards renewables."
Number two was by Bloomberg Green, a special-purpose news outlet launched early this year. The referenced EU stimulus program was just over 25% of the total US$2 trillion commitment. Under the subtitle "Dirty Aid", the story highlighted US$697 billion committed to "carbon-intensive sectors such as air travel and fossil fuel extraction." This was from sister outlet Bloomberg NEF (New Energy Finance).
Bloomberg Green's initial news release stated its purpose as, "…a new multiplatform editorial brand focused on climate change news, analysis, and solutions." Bloomberg's CEO quoted himself writing, "The climate change era is upon us and Bloomberg Green will be the first global business media brand wholly dedicated to this essential story."
The website's home page carries a live measurement of the CO2 content of the atmosphere to the nearest 1/1,000,000 of the measured PPM (parts per million). That's precision! Yet another way to track the countdown to atmospheric Armageddon.
Future Crunch, creator of headline three, says, "We're a team of science communicators…we curate stories of human progress and help people understand what's happening on the frontiers of technology."
This lengthy report covers US shale oil, coal and capital markets concludes oil is "the worst hit industry in the world." It wraps up declaring, "2020 has been the worst year ever for fossil fuels, and that's good news for humanity…the events of the last few months have provided humanity with a new window of opportunity, a once in a generation change to change course before it's too late."
Throughout the article, Future Crunch's "team of science communicators" work from the assumption that renewables and fossil fuels are interchangeable. If they are not it is never mentioned in 19 pages of text and charts.
All these articles are free and can be found on most popular social media platforms which that have become a preferred and convenient news source for many. Their work is also passed on by a myriad of other news distributors.
But they don't tell the whole story. Which is the way of the world in 2020, but not necessarily the truth.
However, they are not necessarily a threat to the future of the industry that supplies 84% of the world's energy needs. They only provide communication and entertainment services, not fuel, plastics or chemicals.
The "hook" for these articles is usually factual. A well covered actual event was that was renewable electricity as a percentage of total power consumption did indeed reach the highest level in history in Europe in the second quarter.
A Reuters story on July 22 attempted to be objective. Sort of. It opened, "Renewable energy has taken up a record share of global electricity production since the onset of the coronavirus pandemic…suggesting a transition away from polluting fossil fuels could be accelerated in the coming years."
Not entirely fair because wind, solar and biomass were given the usual hall pass of being environmentally benign despite how many times this has been proven false.
Reuters reported, "Data…collated from Europe's electricity grid operators, shows renewables generated an average of 44% of power across the 27-nation bloc and Britain from April to June, when many countries were in lockdown, against 37.2% during the same period last year."
The International Energy Agency (IEA) reports the COVID lockdown pushed the world into recession causing electricity demand to fall by 20%. Wind and solar were the cheapest because they are essentially free once installed and when weather conditions are right. Reuters wrote, "Most grid operators automatically turned to the cheapest energy supplies to meet falling demand." The grid for interruptible power worked well but this was assisted by lower overall usage. It was the right time of the year for solar because the period included 20 of the longest sunlight days of the year north of the equator.
A spokesperson for the Global Wind Energy Council of Brussels agreed this was encouraging, but more government support will be required to further boost renewables. "Depending on how quickly demand revives we would expect incumbent fossil fuels to come back into the market and for the share of renewables to return to levels closer to those before COVID, until there are policy changes."
This century, renewables have been heavily subsidized by feed-in-tariffs which have provided developers with guaranteed rates of return. Fossil fuel producers enjoy no such support. Renewable, interruptible electricity works because governments have willed it to do so. Although the cost of wind and solar is certainly coming down and the pricing models are increasingly market-driven, direct comparisons between fossil fuels and renewables are often not fair or objective.
Statistics from the IEA and BP shows that by 2018 although the world had invested US$4.1 trillion in renewable energy, it still accounted for only about 4% of total primary energy supplies. Unlike fossil fuels, this was not funded primarily from cash flow from existing output. While non-carbon energy consumption will continue to grow thanks to government and social support and declining costs, the idea that coronavirus is a significant crossover point for the beginning of the end for oil is disingenuous for multiple reasons.
The world's love/hate relationship with oil is not new and forecasts about its future have often been wrong. Two famous covers from The Economist tell the story.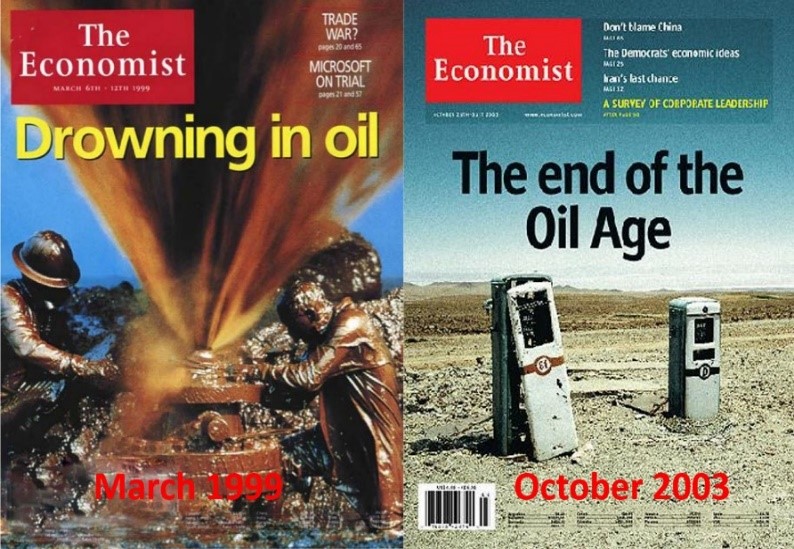 The cover on the left, from 1999, uses an image from the First Gulf War of 1991 to illustrate a global oil glut that had collapsed crude prices to the lowest in modern history, even when corrected for inflation. In December 1998 WTI averaged only US$13.60 in 2020 dollars. That is 1/3 of the current low price. As a prediction, this was dead wrong. From 1999 onwards oil rose steadily peaking at US$147 in 2008 and again at US$106 in 2014 before collapsing later that year.
The 2003 cover on the right claimed oil's days were numbered. On the 30th anniversary of the first OPEC price shock, the magazine lamented the transfer of US$7 trillion in wealth from the west to OPEC producers and opined how global warming could significantly change consumption patterns. The Economist figured the oil age would end because of bioethanol motor fuels and hydrogen fuel cells. Not yet. Oil production in 2003 was under 70 million b/d. It would be 44% higher 16 years later at 101 million b/d.
The most disingenuous and mindlessly repeated allegation of the anti-carbon industry is that fossil fuels are heavily subsidized by governments, thus distorting the marketplace in its favor. The International Renewable Energy Agency (IRENA) published its 2020 report on all forms of energy subsidies. It includes the claim that fossil fuel subsidies dwarf those of renewable energy and nuclear power. IRENA reports fossil fuels received subsidies of US$3.1 trillion in 2017 compared to only US$166 billion for renewables and US$21 billion for nuclear power.
To reach this staggering number IRENA had to include air pollution (US$2.3 trillion) and future climate costs (US$366 billion). This is the calculated health expense of dirty air that apparently would not exist without coal, oil and gas combustion. The "direct" subsidies were US$477 billion including the tax deductions for capital investments that are available to all industries but only characterized as wrong for hydrocarbons.
The IEA reports cash subsidies indeed exist in countries which price fuel to their citizens below world levels. The figure the IEA reports for 2017 is US$335 billion in below-market consumer prices primarily among fossil fuel producers like Iran, Saudi Arabia, Russia, Indonesia and Egypt.
The massive health-related cost of fossil fuels is regularly published but actual health data raises serious questions. Everyone knows world hydrocarbon consumption has grown steadily in the past 70 years. But the continued increase in atmospheric CO2 clearly isn't all bad. The state of mankind's survivability and longevity is available on the https://www.worldometers.info/demographics/ website. Decide for yourself.
Under life expectancy, everyone now lives much longer. The average age at death was only 47 in 1950. This year it is 73.2, a 56% improvement. In 1950, 139.57 newborns per 1,000 died at birth. That figure is now 26.05, 79% lower. Children who never lived past the age of five numbered 212.75 per 1,000 70 years ago. That figure today is only 35.79, an 83% decline. In 1950 women globally had an average of five children in part because so many died. Today the figure is down by half to only 2.5.
The world's population during this period tripled from 2.5 billion to 7.8 billion. Fossil fuels don't appear particularly dangerous using this statistic. The opposite appears true. The higher the carbon emissions, the longer people live.
The other aspect of fossil fuel "subsidies" never considered is taxes generated and wealth and employment created. The industry and its supporters crank out reams of data about the financial importance of oil, gas and coal. But big numbers are meaningless to most when compared to headlines about how climate change is ruining or will ruin your life.
Website https://taxfoundation.org/gas-taxes-europe-2019/ reports that under EU rules, gasoline taxes are a minimum 0.36 Euros/liter. The base diesel tax is 0.33 Euros/liter. All EU countries except Bulgaria levy higher rates with the averages being 0.56 and 0.45 respectively. This equates to US$2.48 per gallon for gasoline and US$2.00 per gallon for diesel fuel.
Total EU gasoline consumption in 2017 was 79.4 million tonnes, diesel 286.4 million tonnes. Using the EU average tax converted into US dollars, these countries collected US$70 billion in gasoline taxes at the pump and US$177 billion from diesel fuel. The total is US$248 billion, or well over half of the direct global fossil fuel subsidies alleged by IRENA.
That's from countries which don't produce much oil and gas. For fossil fuels worldwide, the total amount of cash collected by governments in a normal year is difficult to calculate because there are so many taxation points and opportunities. But it is surely in the trillions of dollars.
At the production and consumer level this includes production royalties, corporate taxes, payroll taxes, property taxes and consumption taxes. The extensive supply and support infrastructure contributes more taxes yet; exploration, extraction, field processing, transportation, refining and distribution, all kept going by a vast and diverse myriad of equipment and service providers. That's why this is the largest business in Canada on a GDP basis.
This is also why the subsidy propaganda defies logic and common sense yet is repeated over and over. No "net" figure is ever mentioned, or even calculated.
As for consumption, demand looks pretty solid despite what you read and hear.
The latest supply/consumption forecast from the Energy Information Administration through to the end of 2021 provides good reasons not to give up yet.
After losing about 17 million b/d of demand from the 2019 peak in the second quarter of 2020, the EIA figures the world will exit this year consuming 97.6 million b/d (only 3 million b/d below 2019) and will end next year at 2019 levels.
Study the bars at the bottom. The dark yellow bars above the line show "stock" (inventory) gains. The red bars below show inventory draws. Thanks the OPEC agreement, shut-in oil, cancelled investment and lost production, inventory declines begin this quarter and will continue for the next 1.5 years.
If the future unfolds this way, it ensures stable if not significantly higher oil prices.
Exactly what impact the coronavirus will have on long term demand for fossil fuels is unknown. The future is notoriously useless in that regard.
But the degree to which people will return to their pre-COVID behavior and priorities is also unknown, particularly if serious economic challenges continue.
The primary driver of the consumption of everything is not climate activists, interventionist politicians, or writers of aspirational prognostications about the future of energy.
It is the activities of 7.8 billion consumers waking up every day and making the decisions essential to ensuring they and their families can do it again in 24 hours. And 48 hours. And for years to come.
The fossil fuel industry exists not because of a sinister plot by selfish capitalists and environmental pariahs but because people need and demand its products. Even the most determined fossil fuel opponents still require them if for no other reason than to continue to warn others how terrible they are.
Every attempt should be made to make oil, gas and coal cleaner and better.
But replacing them with something more expensive that doesn't work in innumerable applications is impossible.
David Yager is an oil service executive, energy policy analyst and author of From Miracle to Menace – Alberta, A Carbon Story. More at www.miracletomenace.ca
Share This:
---
More News Articles