By Low De Wei and Alex Longley
(Bloomberg) 

Oil rose near its highest level since March as U.S. crude inventories looked set for a large drop and OPEC+ sought extra output cuts from laggards.Futures in New York traded near $41 a barrel, extending Tuesday's gains. The American Petroleum Institute reported that inventories fell by 8.32 million barrels last week — the biggest drawdown since December if confirmed by official figures on Wednesday. Meanwhile, OPEC+ is seeking compensatory curbs in the next two months from members that overshot quotas, delegates said.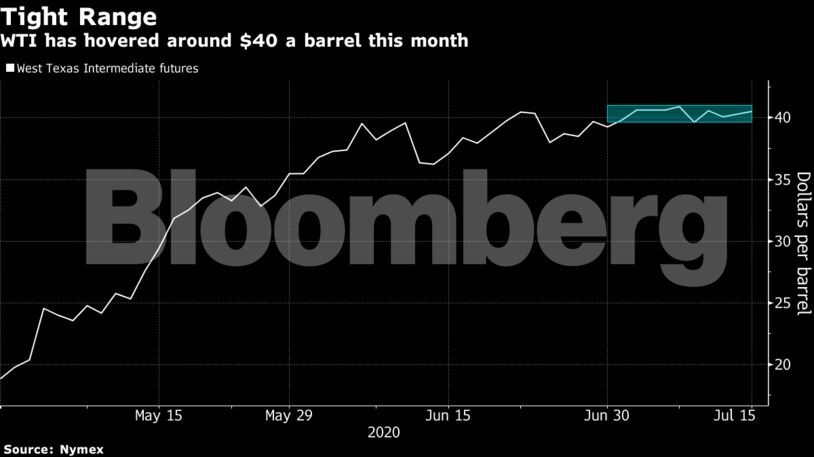 Crude has traded in a tight range around $40 a barrel in July as lower supply and expanding demand is balanced by nervousness over a pandemic that's still raging in many parts of the world. There are patchy indications of a market recovery, with sulfurous crudes in short supply and key swaps in the North Sea market — known as contracts-for-difference — signaling additional strength.
OPEC+ Meets
Members of the OPEC+ coalition meeting later on Wednesday are expected to announce that the group's 9.6 million-barrel-a-day output reduction will be relaxed in August. Yet the proposal for extra cuts from certain members could temper the impact of the planned tapering of curbs.
"Collectively, the OPEC+ supply cut will not immediately be reduced by the amount of the original agreement," said Harry Tchilinguirian, oil strategist at BNP Paribas SA. "The price structure in the physical market, with backwardation in Brent CFDs strengthening in the past two sessions, tends to suggest tightening supplies."
Prices:
West Texas Intermediate for August delivery rose 1.4% to $40.84 a barrel as of 10:15 a.m. London time
Brent for September settlement climbed 1.2% to $43.43 a barrel

CFDs in the North Sea closed in their strongest backwardation since February on Tuesday, according to Bloomberg fair-value data, pointing to supply tightness in some corners of the market
Oil was also buoyed by gains in equity markets and a weaker dollar amid signs the development of a coronavirus vaccine has passed a key milestone. Moderna Inc.'s Covid-19 vaccine produced antibodies in all patients tested in an initial safety trial.
Other oil-market news
Iraq will supply less oil to some Asian refiners as it seeks to meet its production-cut target under the OPEC+ alliance's output agreement.
China's crude inventories grew at a sustained rate of 1 million barrels a day in June to reach a record 71% of shell capacity, Alexis Berson, a senior analyst at market intelligence firm Kayrros, said in an interview.
Share This:
---
More News Articles