By Jennifer Jacobs
(Bloomberg) 

President Donald Trump's fundraiser in Dallas on Thursday will be hosted by billionaire Kelcy Warren, whose company built the controversial Dakota Access oil pipeline, according to three people familiar with the matter.It's Trump's first in-person fundraiser since the coronavirus outbreak locked down much of the country in March. About 25 couples are expected to contribute a combined $10 million to Trump's campaign, the Republican National Committee and state party organizations, according to an RNC official.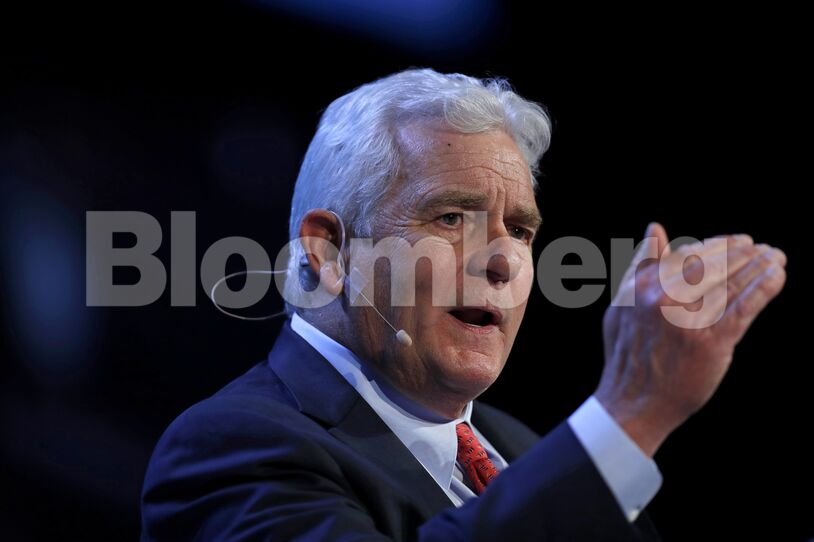 Before meeting with donors, Trump addressed "historic economic, health, and justice disparities in American communities" at a Dallas church, according to the White House.
Spokespeople for Warren's company didn't immediately respond to a request for comment.
Trump played an instrumental role in clearing regulatory hurdles that stood in the way of Warren's company finishing the Dakota Access oil pipeline in 2017. The pipeline was designed to deliver crude from North Dakota's once-booming Bakken shale region and is in the process of being expanded.
"My God, this is going to be refreshing," Warren told investors two days after Trump won the last election.
Before Dakota Access, Warren was a relatively obscure figure outside the oil and gas industry. But construction of the pipeline, which Native American tribes said would despoil sacred lands and waterways, rose to national attention amid opposition from celebrities like Mark Ruffalo and even artists that Warren had recorded through the music label he founded in 2007.
"Many of us, as artists, take offense and are mystified by how someone with such a deep passion for organic and traditional music can own a company that is so blatantly tearing at the heart of the fabric of our American community," Indigo Girls wrote in an open letter posted at the time.
Warren has stood by the project, going so far as to say he talks about Dakota Access "like I talk about my son" earlier this year.
"I'm so proud of that project," he said.
At the start of the year, former U.S. Energy Secretary Rick Perry joined the board of the general partner that controls the pipeline partnership. Weeks later, then-Democratic presidential candidate Elizabeth Warren called on Perry to step down, saying the arrangement represented "the kind of unethical, revolving-door corruption that has made Americans cynical and distrustful of the federal government."
The pipeline magnate, who had given $5 million to a super PAC backing former Texas Governor and presidential hopeful Rick Perry, contributed $360,600 to Trump Victory in 2019.
(Updates with Warren comment in sixth paragraph)
–With assistance from Justin Sink, Rachel Adams-Heard, Mario Parker and Lynn Doan.
Share This:
---
More News Articles