Becht's Knowledge Webinars on FCC, Crude and Coking Turndown and Shutdown Considerations hosted over 1,000 people. Becht welcomes you to becht.com/training/becht-webinars/ to tune in for future webinars on Alkylation, Fired Heaters, Hydroprocessing, Turnaround Deferment, Plant Utilities and other units in the coming weeks. The next webinar is on HF and Sulfuric Alkylation on Tuesday, April 21st at 11:30am CDT followed by Fired Equipment on Thursday, April 23rd at 11:30am CDT.
The Knowledge Webinar hosted a panel of Becht's process technology, fixed equipment, rotating equipment and asset integrity experts. Becht shared top risks, key symptoms of issues, and recommended actions to keep units safe and reliable during these unusual market conditions. Over 200 questions were received from our clients and many were answered during the live Knowledge Webinars.
becht.com/training/becht-webinars/
Becht Develops Knowledge Library for Unit and Equipment Turndown Operations
Becht has developed a Knowledge Library for Unit and Equipment Turndown Operations. The document series comprehensively covers high risk, high impact concerns, symptoms and consequences stemming from unit turndown operations that our industry hasn't seen since the 1980s. A free download of the Fired Heater Turndown Considerations is available at – knowledge.becht.com/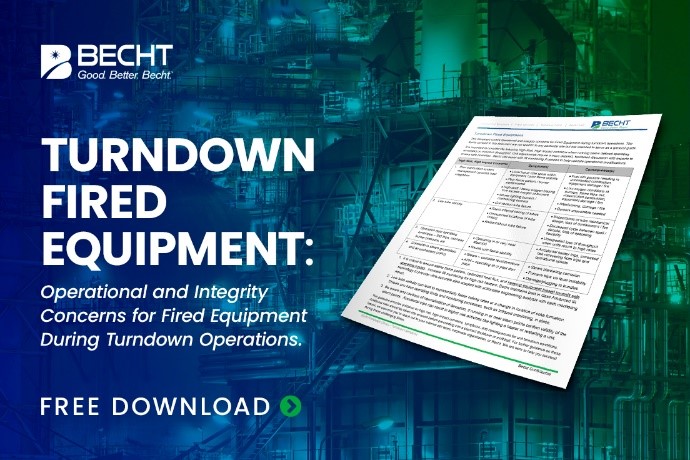 Becht's Knowledge Library and Webinar Series is available through our ORACLE from Becht Knowledge-on-Demand Network license. ORACLE from Becht is an engineering knowledge access and capture platform that delivers greater organizational performance and productivity. The purpose of the program is to capture institutional knowledge, share learnings between plant sites and keep us from repeating learnings of the past. Technical areas of coverage include Fixed Equipment, Rotating Equipment, Process Technology, Process Safety, Corrosion & Materials, Instrumentation & Electrical, Operations, Capital Projects, Learning & Development and Heavy Lift.
Share This:
---
More News Articles