By Rachel Adams-Heard
(Bloomberg) 

Things were looking grim in shale country. Then came the coronavirus.Stores in Midland, Texas, the center of America's biggest oil region, resemble many across the country, with low supplies of Clorox wipes and purchasing limits on hand soap. But the health effects of a possible epidemic aren't what has folks in the Permian Basin most concerned. What's really weighing on them is the coronavirus destroying oil demand.Independent shale drillers were already in a pinch. After years of burning through cash and piling on debt in pursuit of endless production growth, investors turned off the spigot. To win them back, drillers for the most part cut their spending plans for 2020. Smaller budgets brought slower growth projections, and that hits Midland. Hard.

Now the oil patch has to contend with the prolonged economic pain from a global pandemic that's sharpening the threat of more company bankruptcies and pushing down prices. In just two months, West Texas Intermediate crude, the U.S. benchmark, has tumbled from a high of $63.27 a barrel in January.

The selloff accelerated Friday, with futures plunging as much as 7.8% to less than $43 after OPEC+ failed to reach a deal in Vienna to cut output around the world. Prices are now well below the magic $50 level that most independent producers use to set their annual budgets.

"I don't think we're worried about the coronavirus too much here," Brandon Taylor, who works in oilfield construction, said outside Cavender's western-wear store in Midland. "It's more the economy. When oil prices go down, everyone suffers here."

The crash in crude prices is already leading Exxon Mobil Corp. to reduce its production pace in the Permian Basin, a sign that independent drillers may soon follow suit.

"It's starting to look like the medium- to long-term impact will be more significant than we thought," said Kyle Armstrong, president of Armstrong Energy Inc., a closely held producer on the New Mexico side of the Permian. Most drillers were budgeting for oil prices between $50 a barrel and $52 a barrel, he said. "If we're dipping that down $5 to $6, that's going to have a pretty significant impact."

Unless oil prices stage a dramatic comeback, the fallout for the shale industry will be brutal. The sector is heavily indebted after years of expansion and disappointing returns. U.S. energy bankruptcies reached their highest level last year since 2016. Next up is a round of tough semi-annual talks with banks to reassess loans made against oil reserves. Weak crude prices mean banks may cut lending to cash-starved drillers.

The closest confirmed case of coronavirus, in San Antonio, is more than 300 miles away from Midland. But because of its status as America's shale capital, Midland feels the impact of world events more than most cities of 135,000.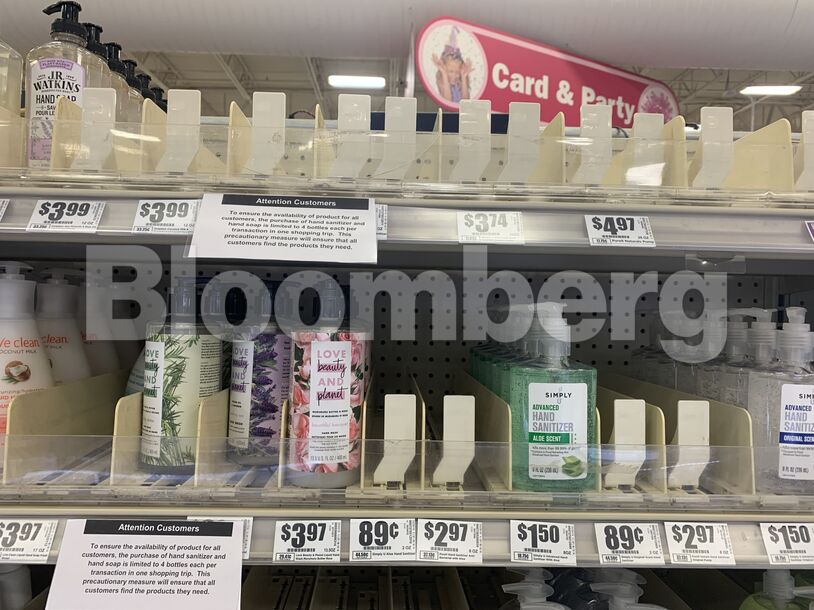 Cash Burn
Midland was already experiencing the effects of an industry in austerity mode. Unemployment in the Permian ticked up last year, and the city's sales-tax revenue plunged 10% in December from the year before.
"I would expect January to drop even more," said Sara Harris, director of operations of the Midland Economic Development Corporation. The coronavirus has the potential to "worsen a slowdown that was already in progress."
Around the world, the coronavirus will cause oil consumption to fall for only the fourth time in nearly 40 years, according to a Goldman Sachs Group Inc. report. Worldwide supply and demand may not balance until late 2022, said Neal Dingmann, an analyst at Suntrust Robinson Humphrey.
There was hope that the Organization of Petroleum Exporting Countries and its allies would be able to offer stability as they met in Vienna this week. But those talks ended Friday without a deal to further cut production, sending the global benchmark for crude to its lowest level since 2017.
That's sure to be felt in Midland, where people and businesses were already experiencing a slump.
"I'm not getting my catering that I normally get," said Ed Mitchell, owner of Ed & Tom's Bar-B-Que in nearby Odessa. "I have guys coming in saying they've had to lay two or three people off. If that oil keeps going down, people will start leaving."
Share This:
---
More News Articles