By David Wethe

(Bloomberg) 
In a week of brutal equity market losses that were sparked in large part by a plunge in oil prices, the single biggest gainer in the S&P 500 Index was, curiously, one with the word oil in it.
Cabot Oil & Gas Corp. amassed a 12% weekly advance, bucking the 8.8% rout in the index overall.
It was not, to be clear, the oil part of the business that sparked the advance in Cabot. It was the gas part. The Houston-based driller's resilience lies in how the biggest oil-price collapse in a generation has transformed the outlook for the U.S. gas market.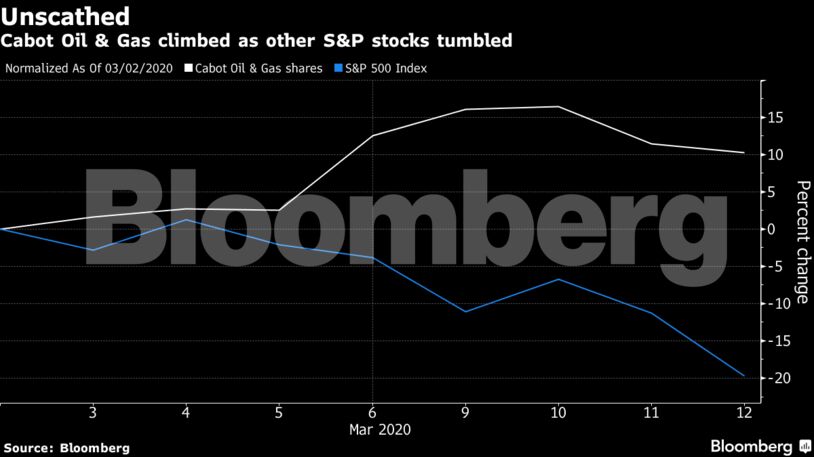 In places like the Permian Basin of West Texas and New Mexico, gas is extracted as a byproduct of oil drilling. When crude prices were higher, gas output from the Permian soared faster than pipelines could be built to take it away, sending prices there below zero and forcing producers to pay others to take their supply.
But the coronavirus pandemic and the battle for market share between Russia and Saudi Arabia have sent oil prices plunging, making almost all U.S. shale wells unprofitable. Producers are cutting back in a big way, and investors are betting that the pullback will help shrink the massive glut of so-called associated gas from crude basins. That would be a reversal of fortune for gas drillers, which have lagged their oilier counterparts in recent years.
"The collapse in crude is likely to slash associated growth expectations, which have been a primary driver of our bearish gas stance over the last several years," analysts at Tudor, Pickering, Holt & Co. wrote in a note to clients. The bank rates Cabot a buy.
Cabot rose 15% to $18.37 on Friday. Gas explorers including Southwestern Energy Co. and EQT Corp. also climbed. U.S. gas futures climbed 9.4% this week, while West Texas Intermediate crude oil tumbled 23%.
Share This:
---
More News Articles