By Rachel Adams-Heard
(Bloomberg) 

Blackstone Infrastructure Partners LP agreed to buy out the remaining shares of U.S. pipeline operator Tallgrass Energy LP for about $2.2 billion after sweetening an initial offer made almost four months ago.Blackstone and its affiliates will acquire Tallgrass's Class A shares for $22.45 apiece, the pipeline company said in a statement Tuesday, 15% higher than the original proposal. Tallgrass jumped 21% to $22.10 at 10:33 a.m. in New York.The agreement is the latest installment in a saga that has included investor demands for a higher price, analyst criticism over Tallgrass's corporate governance and the departure of the company's chief executive officer.While the initial Aug. 27 bid represented a 36% premium to that day's close, it followed a roughly 40% drop in Tallgrass shares after Blackstone took control of the pipeline operator earlier in the year. Tortoise, one of Tallgrass's biggest investors, wrote a letter in September urging independent directors to seek a higher offer from Blackstone, a person familiar with the matter said at the time.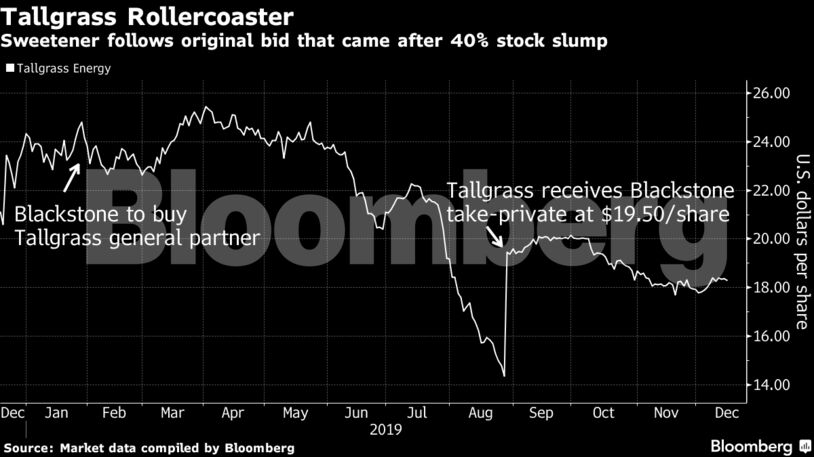 The updated offer "appears to be at the high end of the range of what many investors we have spoken with over the last three-and-a-half months have been hoping for and, importantly, puts an end to what has been a tumultuous ride" for Tallgrass investors, Scotiabank analyst Philip Stuart said in a note to clients.
One of the most contentious aspects of Blackstone's bid was the side agreements struck at the time of its original investment in Tallgrass in March, guaranteeing some executives $26.25 a share in the event of a take-private deal. That attracted the ire of analysts including including Morningstar Inc.'s Stephen Ellis and Robert W. Baird & Co.'s Ethan Bellamy, who criticized Tallgrass's corporate governance as poor.
In late October, then-CEO David Dehaemers devoted a chunk of Tallgrass's third-quarter earnings call to defending the side letters. He said the arrangements should have been described as "retention and lockup agreements" and that if investors wanted to blame someone for the drop in Tallgrass's stock price, they should look no further than to some of the company's largest shareholders.
Dehaemers stepped down last month as CEO, to be replaced by Bill Moler, previously the company's president and chief operating officer.
It was Dehaemers' defense of the original offer that led SL Advisors LLC to sell most of its position in Tallgrass last month, according to Henry Hoffman, a partner at the firm.
"We just thought the risk-reward wasn't there," he said. Still, "it's nice that they put the sweetener through. We think it bodes well for the sector."
Side Letters
The sweetened bid eliminates the gap between what the executives were guaranteed for their limited partner shares and what common investors are being offered. While the executives are still entitled to a higher price, the $26.25 per share includes $3.82 for their general partner interests. The closing of that gap and the revised deal's "lofty" valuation "offers a notable positive for the sector," analysts at Tudor Pickering Holt & Co. said Tuesday in a note to clients.
"While we expected the original deal to proceed, we viewed the odds of an improved offer as quite slim given an already fair valuation," the analysts said.
Read how energy Twitter saw the initial deal coming
Blackstone's sweetener follows other pipeline deals in which the buyer has upped its offer. Enbridge Inc. last year sweetened its original proposal to buy all the outstanding shares of Spectra Energy Partners LP. ArcLight Capital Partners LLC partially walked back a plan to reduce its offer for American Midstream Partners LP earlier this year after criticism from an investor.
Tallgrass said Tuesday that the deal is expected to close in the second quarter of next year, and that in the meantime it won't make distributions to stockholders.
Share This:
---
More News Articles