By Kevin Crowley
(Bloomberg)

Occidental Petroleum Corp. dropped the most in almost five years after a 40% budget cut raised concerns the oil driller won't lift output fast enough to reduce debt incurred during the Anadarko Petroleum Corp. takeover.

Shale drilling in the U.S. Permian Basin will account for the biggest chunk of cutbacks, even though it's Occidental's key growth driver and reason for the deal. The slowdown means Occidental will increase output just 2% in 2020 and 5% the year after, though the Houston-based company will take a "flexible" approach depending on oil prices and debt ratios, Chief Executive Officer Vicki Hollub said on a call with analysts.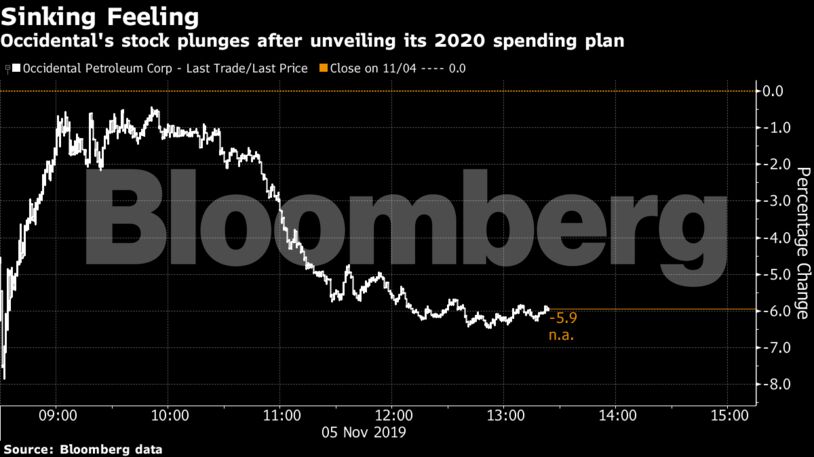 "They're going to get back in growth mode in 2021 but you're hammering spending so hard in 2020 that it's a little hard to believe these numbers," said Leo Mariani, an analyst at KeyBanc Capital Markets. "There's some expectations that's going to have a long-term impact on production growth."
The third-quarter results was Hollub's first as CEO of the combined company and an opportunity to turn investor sentiment around the $37 billion deal, which is saw her outbid Chevron Corp. in the biggest transaction of her tenure. Hollub attempted to calm fears over the company's debt pile by insisting her team "very aggressively" pursuing asset sales to raise cash, particularly Western Midstream Partners LP, which has a market value of about $9.6 billion.
But her comments had little effect on the stock, which plunged 5.1% by 12:35 p.m. in New York. That brings the year's total decline to almost 32%, making Occidental the worst performer in the S&P 500 Energy Index. West Texas Intermediate is up 26% in the period.
What Bloomberg Intelligence says:
Initial 2020 guidance suggests weak production growth on a sharper-than-anticipated decline in the capital program to a $5.4 billion midpoint from $9 billion in 2019. Upstream gains from Permian Resources will drive the rise in volume, but low- to mid-single-digit growth is soft.

Vincent Piazza, senior analyst, U.S. oil & gas

Read the research here.
The combined Occidental-Anadarko entity will spend about $5.4 billion next year, down from the pro forma $9 billion the companies would have spent this year, according to a presentation. Expenditures in Occidental's premier theater of operations, the Permian Basin, will drop by half to $2.2 billion.
"Occidental did cut capital expenditure but they also had to cut the production forecast for 2020," said Jason Gammel, a London-based analyst at Jefferies LLC. "It's a change in expectations relative to what was discussed at the time of the transaction."
The steep budget cut came after third-quarter earnings fell well short of forecasts. Per-share profit, excluding some one-time items, was 11 cents, compared with the 38-cent average of 24 analysts' estimates. Among the contributing factors cited by Occidental were takeover costs, asset writedowns and proceeds from a pipeline sale.
Raising cash from Occidental stake in Western Midstream is now near the top of Hollub's to-do-list. In a tough market for asset sales, she said her team would employ "creativity" to get a deal done. In the meantime, Occidental is structuring the company as a standalone entity, said Oscar Brown, senior vice president for corporate strategy.
"We really want people to understand is that we are very focused, we are very intense on ensuring that we get the asset sales done because we believe we must get our debt down," Hollub said. "Making sure that we have dollars either from cash flow or asset sales to lower the debt is critically important for us."
(Updates with CEO's comment from second paragraph.)
Share This:
---
More News Articles