By Bloomberg News
(Bloomberg)

Hope for a boom in the global solar industry this year is fading as the top market is expected to miss its installation target.

China is likely to fail meeting the new capacity estimates it touted earlier this year, which were as high as 45 gigawatts, according to analysts at Daiwa Capital Markets and BloombergNEF, as well as the state-run Energy Research Institute. Daiwa forecasts 2019 installations may even fall below 30 gigawatts, almost a third less than last year.

Installations in the first nine months of 16 gigawatts are down more than 50% from a year ago, according to data from the National Energy Administration. The slump comes after rules that determine which projects would receive subsidies were delayed until July, leading developers to pause new projects in the first half. Average solar panel price are down 13% this year, BloombergNEF data show.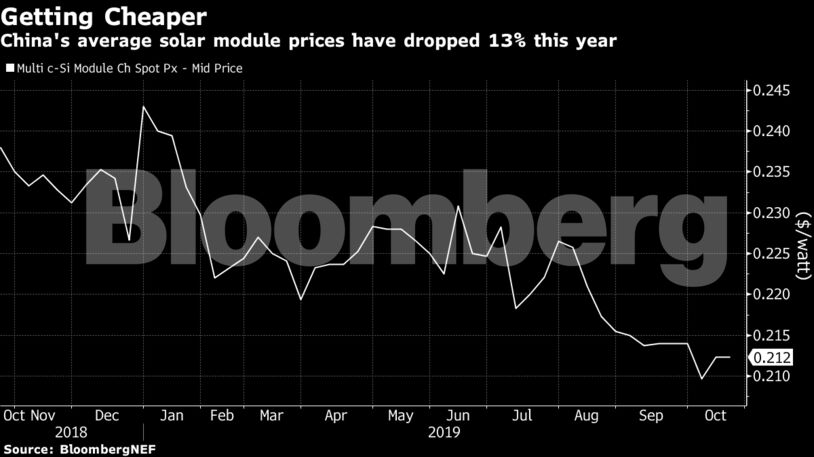 The ongoing drop in panel prices "indicates a still sluggish domestic market with no vast demand," said Dennis Ip head of regional power, utilities, renewables & environment research at Daiwa. He expects more disappointment in the fourth quarter, as the anticipated rush to catch-up on installations fails to materialize and operators wait for even cheaper panel prices.
Chinese regulators spent much of this year in consultation with the industry on encouraging market-driven developments, particularly by reducing subsidies. While the nation said in May it aims to develop its first batch of unsubsidized solar projects, totaling 14.8 gigawatts, it wasn't until July that the National Energy Administration decided to subsidize almost 23 gigawatts of capacity.
"There's not sufficient time left for construction" of new subsidized projects , said Shi Jingli, a researcher at the Energy Research Institute, which is part of the National Development & Reform Commission, the top economic planner. Meanwhile progress of subsidy-free projects is slower than expected, she said.
As well, less-strict deadlines to achieve grid connections has slowed the race to install capacity, according to Jonathan Luan, a Beijing-based analyst at BNEF.
This is creating uncertainty for the Chinese market, pushing its manufacturers to seek business abroad. LONGi Green Energy Technology Co. sees orders from other countries accounting for about 70% of its module sales this year, more than double the share in 2018, President Li Zhenguo said in an interview Friday.
"Overseas markets," he said. "are more certain."
Share This:
---
More News Articles