By Rakteem Katakey
(Bloomberg)

Oil fell as traders weighed conflicting reports on whether Saudi Arabia will succeed in restoring its lost production by the end of this month, while concerns over demand returned following gloomy European data.Brent crude fell 0.5%, reversing earlier gains. Saudi Arabia, which has reiterated it will bring back all lost production following this month's attack on its oil facilities by the end of September, is on course to fulfill the promise, Reuters reported. Earlier, the Wall Street Journal said repairs at damaged plants may take many months, and consultants Rystad Energy and FGE are skeptical about the kingdom achieving its target.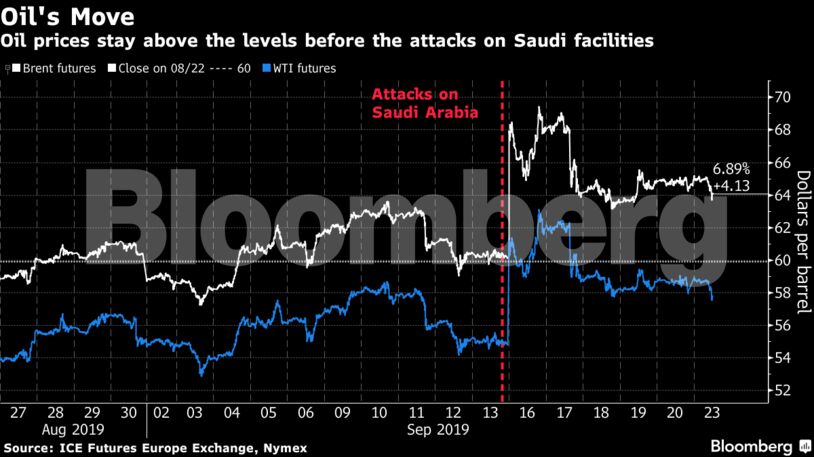 The market is being pulled in different directions even as geopolitical tensions mount in the Middle East. Iran's Foreign Minister Mohammad Javad Zarif refused to rule out war following plans for increased U.S. troops and weapons in Saudi Arabia, he said in an interview with CBS. On the other hand, manufacturing and services numbers for the euro zone came in far short of estimates on Monday, highlighting concerns over the economy and oil demand.
"It's tug of war between weak demand fundamentals and heightened geopolitical risks," said Jens Naervig Pedersen, a senior analyst at Danske Bank A/S in Copenhagen.
Brent crude for November declined 30 cents to $63.98 a barrel on the ICE Futures Europe Exchange as of 11:48 a.m. in London, and traded at a $6.24 premium to West Texas Intermediate.
WTI for November delivery lost 32 cents, or 0.6%, to $57.77 a barrel on the New York Mercantile Exchange, after climbing 5.9% last week.
The attacks set off an unprecedented flurry of activity in the oil futures markets last week, with both Brent and WTI contracts setting records in weekly aggregate volume with more than 17.2 million contracts traded.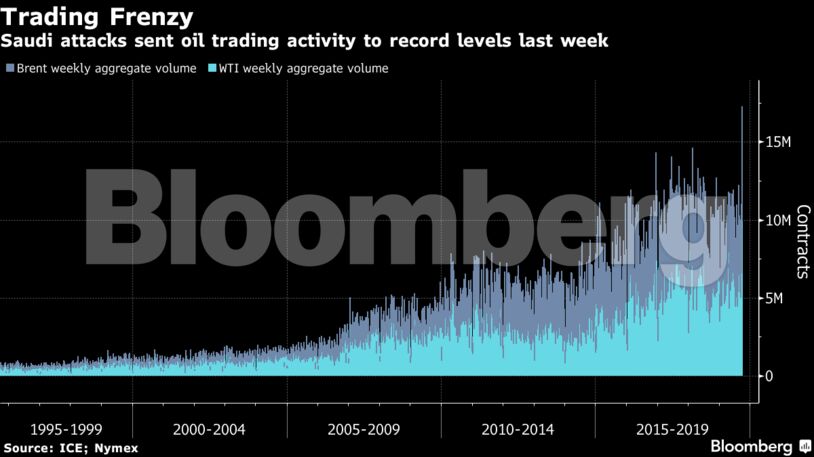 Saudi Arabia has said Iran "unquestionably sponsored" the attacks and the U.K. said the Islamic Republic was "very likely" behind the strikes which knocked out about 5% of global supply and led to the biggest price spike on record. The U.S. on Friday slapped terror-related sanctions on Iran's central bank.
Iran's response has been a mix of defiance and an attempt to ease the tension. President Hassan Rouhani said on Sunday the Persian Gulf nation would lay out a peace initiative for the region at the United Nations General Assembly that would involve a coalition of regional and foreign countries, while Zarif said "I'm not confident that we can avoid a war."
Other oil-market news
Money managers cut bullish bets on Brent oil by 3%, the first decline in three weeks, according to data released Friday.
U.S. working oil rigs declined by 14 last week to 719, the fifth straight weekly drop, according to data released Friday by oilfield-services provider Baker Hughes.
In Saudi Arabia, half of the initial shut-in capacity will come back over the next two weeks while the majority of the remainder will be restored in October in JBC Energy's current base case, the consultant said in a note.
Share This:
---
More News Articles