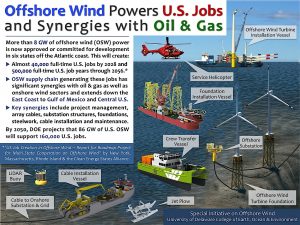 HOUSTON, May 3, 2018 /PRNewswire/ — At an energy panel in Houston this week, industry and policy leaders highlighted the road map and milestones marking lift-off of America's burgeoning offshore wind (OSW) industry, which now has 8 gigawatts (GW) of firm commitments in six Northeast states, a project pipeline of almost 25 GW, and potential to generate tens of thousands of U.S. jobs, market-competitive clean power for U.S. coastal consumers, and high value for U.S. companies in the supply chain.
The experts said U.S. OSW has achieved the needed scale to light up boardwalks and boardrooms up and down the East coast with gigawatts of clean wind power from the sea. A new U.S. heavy industry is taking shape to install, connect and service offshore wind turbines – 'steel in the water' – supported by a supply chain that partners OSW developer initiative with expertise from U.S. oil & gas firms, onshore wind manufacturers and European OSW leaders, to maximize U.S. jobs, synergies and value.
"A vast market for U.S. offshore wind power is coming into clear focus in the Atlantic states," said Stephanie McClellan, Director, University of Delaware's Special Initiative on Offshore Wind (SIOW). "In the past two years, the U.S. industry has made dramatic advances in policy commitments and investor confidence. We no longer wonder if this industry will make it to America's shores. U.S. OSW has arrived and is accelerating with utility-scale commitments that already exceed 8 GW of market visibility and a project pipeline that totals nearly 25 GW. There's good reason to be excited – and U.S. offshore energy and OSW industry leaders are working to ensure that U.S. companies bring their full expertise to this effort."
Roy Francis, Vice President, Business Development, Gulf Island Fabrication (GIF), a Texas-based offshore energy construction firm, told the panel about GIF's strategic relationship with OSW developer Bay State Wind and German steel pipe maker EEW to create a renewable energy supply chain and more jobs in Massachusetts. "The European offshore wind market is 27 years old," said Francis. "We are taking the best from the mature European industry and pairing it with American know-how."
"The industry is moving at a phenomenal pace," said Walter Cruikshank, Acting Director, Bureau of Ocean Energy Management (BOEM). "There is great industry-wide confidence in the market," he told the panel, held during the Offshore Technology Conference. "There are strong policy commitments from the states, particularly in the Northeast and mid-Atlantic, and a strong commitment from this Administration," he said. "We are actively working with leaseholders to move their projects forward."
"Offshore wind is an important diversification opportunity," said Joseph Orgeron, Special Projects Manager, Falcon Global, a subsidiary of Louisiana-based SEACOR Marine and liftboat operator that helped install the Block Island, RI offshore wind farm. "We're using our assets and putting employees to work alongside local workers on the East coast. It's all positive commerce."
"There's lots of room for partnership," said Randall Luthi, President, National Ocean Industries Association (NOIA), on potential synergies between OSW and the U.S. oil & gas sector. "Offshore energy service companies can build anything out in the ocean. It doesn't matter if it's an oil rig or a wind farm," he said. "We can, should and will continue to work together."
"The U.S. supply chain is fantastic," said Chris van Beek, President, Deepwater Wind. "OSW is a tremendous opportunity. We estimate that 70 percent of the capital expenditures of an offshore wind farm can be delivered by the U.S. supply chain."
The panel noted U.S. OSW's major milestones and data points.
More than 8 GW of OSW is approved or committed to by six states –

Connecticut

,

Maryland

,

Massachusetts

,

New Jersey

,

New York

,

Rhode Island

. A recent study finds this will create:

Almost 40,000 full-time U.S. jobs by 2028 and 500,000 full-time U.S. job years through 2056.
Supply chain synergies with oil & gas and onshore wind sectors, from East Coast to

Gulf of Mexico

and central U.S.
Synergies include project management, array cables, substations, foundations, steelwork and maintenance.

Department of Energy (DOE) reports the project pipeline for U.S. OSW includes 28 projects off the East and West coasts, Great Lakes and

Hawaii

, totaling almost 25 GW of potential installed capacity.

Along with wind turbines and towers, estimates indicate this will require 7,000 km of offshore export and array cables, 3 million tons of steel on foundations, 100 crew transfer vessels and 2 new generation jack-up vessels.
About SIOW
The Special Initiative on Offshore Wind (SIOW) is affiliated with the University of Delaware's (UD) College of Earth, Ocean & Environment (CEOE) and supports offshore wind power (OSW) as part of a comprehensive US energy solution, offering expertise, analysis, information sharing and strategic partnership to build understanding and drive deployment. UD has a long record advancing OSW through the CEOE, College of Engineering, Center for Composite Materials and more. Please visit http://www.ceoe.udel.edu/siow and http://www.ceoe.udel.edu/research/affiliated-programs/wind-power-program.
SOURCE The Special Initiative on Offshore Wind
CONTACT: Dr. Stephanie McClellan, Director, SIOW, 302-943-8264, [email protected]
RELATED LINKS
http://www.ceoe.udel.edu/siow
Share This:
---
More News Articles