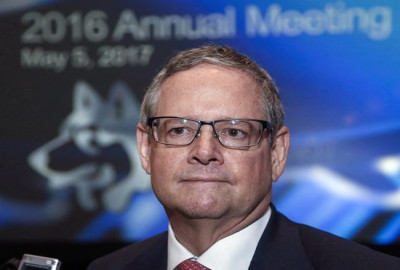 CALGARY — Husky Energy Inc. (TSX:HSE) is planning to increase its capital spending in 2018 to between $2.9 billion and $3.1 billion.
That includes up to $1.1 billion on growth projects and up to $2 billion on sustaining and corporate spending. 
The 2018 capital budget is below the annual average of $3.3 billion a year anticipated in the company's five-year plan, but above its 2017 spending, estimated at about $2.2 billion to $2.3 billion.
Among other things, spending on Husky's thermal bitumen operations in Western Canada will rise to between $895 million and $930 million from between $560 million and $590 million.
Husky's spending on its Atlantic light crude operations will rise to between $750 million and $775 million, from $475 million to $500 million, and Canadian natural gas capital spending will rise $25 million to between $215 million and $225 million.   
The Calgary-based integrated oil and gas company says new project funding is contingent on meeting a forecast minimum 10 per cent rate of return with a benchmark price of West Texas Intermediate crude at US$45 per barrel. 
Next year's annual production is estimated to average the equivalent of 320,000 to 335,000 barrels of oil per day — about the same as this year.
The Canadian Press
Share This:
---
More News Articles