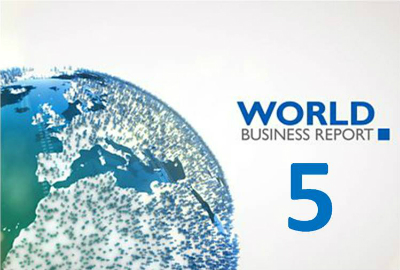 (Bloomberg) 
A raft of central bank decisions, tax overhaul's latest challenge, and it's PMI day. Here are some of the things people in markets are talking about today.
Central bank day
After the Federal Reserve raised rates as expected yesterday, and China's tightening overnight, today it's the turn of central banks in Europe. Already this morning we've had the Swiss National Bank – no change on rates, with a promise to intervene on currency markets if needed – and Norwegian central bank, which gave forward guidance on an earlier stimulus exit, causing the krone to surge. At 7:00 a.m. Eastern Time the Bank of England will give its latest monetary policy decision, with the European Central Bank at 7:45 a.m. Neither bank is expected to change headline rates, with investors on the look out for any changes in guidance.
Fiscal fight
Senator Susan Collins of Maine and Senator Marco Rubio of Florida have criticized the tax cuts for higher earners in the latest compromise for the proposed fiscal overhaul. While it's unclear if either will withhold support for the legislation, together their opposition could kill the bill. President Donald Trump said yesterday that Senate and House negotiators are "very, very close" to an "historic" deal. Outgoing Fed Chair Janet Yellen yesterday suggested the changes would bring a modest and mostly short-term impact on the economy.
PMI day
The euro-area economy's strong performance in 2017 is set to end on a high note after momentum unexpectedly accelerated. A composite Purchasing Managers' Index rose to 58 in December from 57.5 the previous month. Germany continued to lead the pack, with manufacturing PMI for the country rising to 63.3, the highest level since the survey began in 1996. Markit PMI data for the U.S. are due to be published at 9:45 a.m.
Markets slip
Overnight, the MSCI Asia Pacific Index increased 0.1 percent, while Japan's Topix index closed 0.2 percent lower in the wake of the Fed and PBOC decisions. In Europe, the Stoxx 600 Index was 0.4 percent lower at 5:35 a.m. ahead of rate decisions. S&P 500 futures added 0.1 percent, the 10-year Treasury yield was at 2.373 percent and gold was higher.
Brexit defeat
British Prime Minister Theresa May suffered a setback in parliament yesterday when some members of her own party voted against her government's planned Brexit legislation. This means lawmakers now have a chance to vote on – and possibly defeat – the final deal, something which May had sought to avoid. The prime minister is in Brussels for a European leaders summit today. Elsewhere in the U.K., there was some good news for the economy as retail sales data for November showed British consumer spending was stronger than expected.
Share This:
---
More News Articles