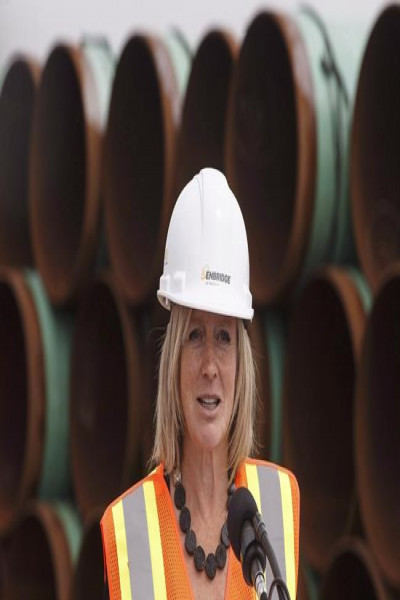 TORONTO — Alberta Premier Rachel Notley says Nebraska's decision to allow TransCanada's Keystone XL pipeline to run through that state brings North America closer to greater energy security.
Nebraska's Public Service Commission on Monday approved the pipeline's passage in a 3-2 vote, although not along the preferred route for the $10-billion project.
The panel ruled the new pipeline should be nearer to TransCanada's (TSX:TRP) existing pipeline in Nebraska to maximize monitoring and to reduce the impact on habitat for endangered species.
Notley said the decision is another step in Alberta's broader effort to bring more of its oil to the world and to diversify markets.
"What it means is the Keystone pipeline will ensure that we're able to maintain our existing markets and, to some extent, some additional markets to the Gulf Coast and definitely less expensively and more safely, so it's good news," she said following a speech to business leaders in Toronto.
Notley added the decision underlines the need for Canadian regulators to follow the U.S. example.
"We also need to access the Asia-Pacific market and we need to diversify our markets in order to get the best price for our product and to reduce the degree which we suffer through a pretty significant discount in Alberta," Notley said.
"So what we still need to do is get that pipeline to the West Coast constructed and that's good for all Canadians and the Canadian economy, not just for Albertans."
The $7.4-billion Kinder Morgan Canada (TSX:KML) project plans to expand an existing pipeline to the British Columbia coast through Burnaby, B.C., so Alberta can get a better price overseas for its oil.
TransCanada shelved its Energy East pipeline to the East Coast in October, citing delays resulting from the regulatory process and associated cost implications.
Notley spoke at the Empire Club on Monday as part of a speaking tour to stump for the Trans Mountain pipeline.
The line was approved last year by the federal government, but is opposed by B.C.'s governing NDP. Burnaby officials have been accused of delaying the project by dragging out permit approvals.
Alberta has put a hard cap on oilsands emissions so any pipeline expansion to a coast does not increase carbon emissions, Notley told the lunchtime business audience. Alberta's measures help Canada meet its climate-change goals and reduce emissions, she said.
"If you care about the climate, if you care about jobs and working people, if you care about building a society where everybody matters, if you care about building a national economy that can compete and win in the global marketplace — if you care about these things like I do, and you still want to keep Alberta landlocked and stop us from diversifying our markets, then, please, give your head a shake."
Alberta United Conservative Leader Jason Kenney also applauded Nebraska's decision to approve the Keystone XL pipeline.
"Today's news is a welcome development for the hard-working Albertans in our energy sector," he said in a statement. "Keystone XL will provide much-needed market access for Alberta oil, allowing our industry to grow and prosper."
The Canadian Press
Share This:
---
More News Articles